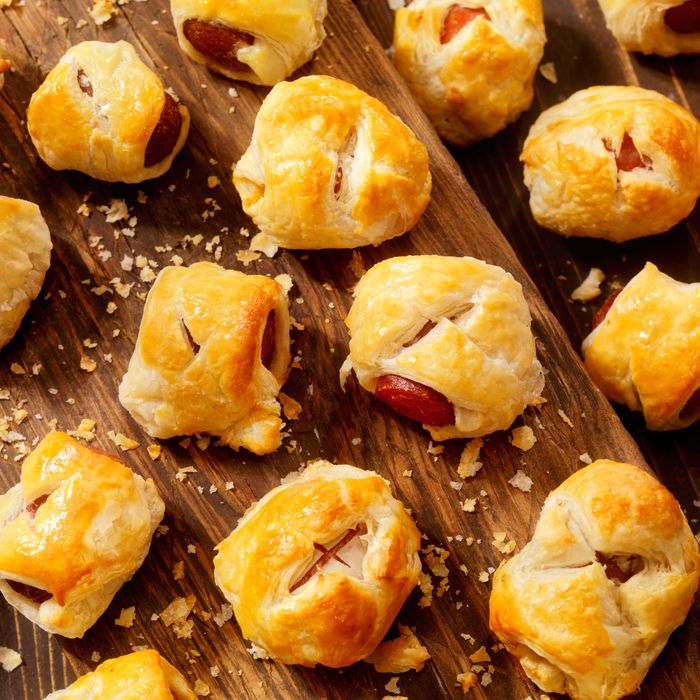 Yes.
Photo: Lauri Patterson/Getty Images/iStockphoto
Everyone knows the real reason to host a Super Bowl party is not the football; it's the food. Who cares about a game between the San Francisco Whoevers and the Kansas City Something-or-Others when you can instead focus on creating a spread of glorious dips, copious carbs, and pitchers of margaritas? There's no expectation of a full meal, only the need to deliver a powerful array of snacks. And the one snack that rises above all others is a platterful of pigs in a blanket.
Pigs in a blanket are the Tom Hanks of party snacks: universally beloved. Unassuming, inoffensive, yet somehow still a joy to behold. They are a national treasure. They are neat as a pin.
"But what about nachos?!" a few misguided souls are screaming right now. It's true that the first bite can be wonderful. But by bite No. 2, they've begun their journey toward room temperature. By your third trip to the nacho platter, they will be a cold, congealed mess and someone else will have already eaten all the bites with guac.
By comparison: Every single bite of a pig in a blanket feels like a gift.
"WHAT ABOUT WINGS?!" you scream now, even louder. "Enjoy your bowl of discarded, spit-covered bones," I say, calmly, as I pop another pig into my mouth. "Here's a wet nap for your fingers."
Spinach-and-artichoke dip is so easy to screw up that it barely warrants a mention.
Pigs in a blanket can never go wrong. You can buy them premade. You can buy the dough frozen and assemble them yourself. You put them in the oven, and they come out perfect. The only questions you need to answer are, How many pigs should I cook, and what kind of mustard should I put on the side?
They are tiny embodiments of joy, and they have no time for hassles like expectations or commitments. They only exist to make everyone happy.
Include some pigs in your Super Bowl spread. Grab that chance at happiness, and then dip it in some mustard.