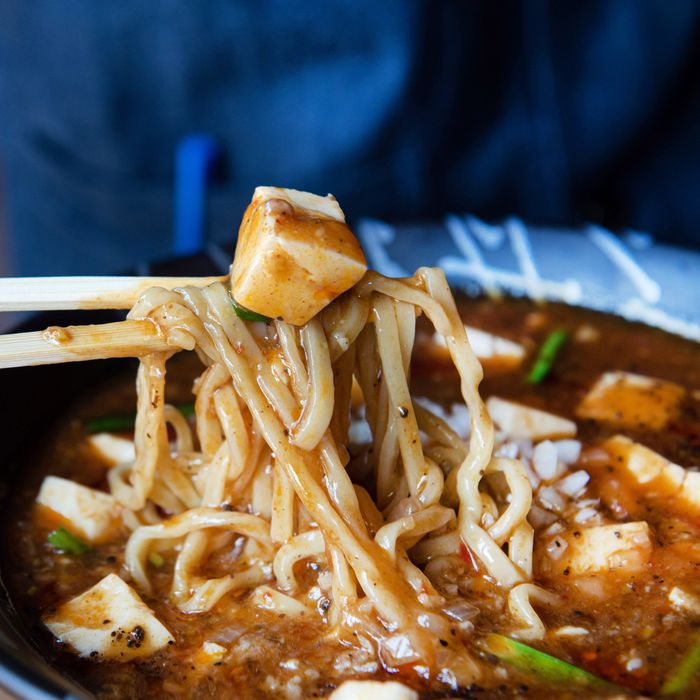 You want this.
Photo: Liz Clayman
Mabo tofu ramen is one of those culinary crossover dishes that makes so much sense you wonder why you haven't just been making it yourself all along. The fantasy crossover combines two of the world's great dishes, and the result is, in essence, a pot of Sichuan's thrillingly spicy mapo tofu, with its meaty gravy and heavy dose of mouth-tingling Sichuan peppercorn, spilled into a bowl of Japanese ramen. ("Mabo" is the Japanese spelling of "mapo.") The dish hasn't been completely unheard of here in New York, where it's been served by the likes of Rai Rai Ken, as a special at Ramen Shack (which recently reopened in Manhattan), and the now-closed Sapporo and Shinobi. It's also a specialty of the Japanese ramen chain Sanpoutei, which considers its version to be unique.
Opening today in the East Village, Sanpoutei hails from the home of mabo tofu ramen, Niigata Prefecture. (It's a noodle hotbed known for its shoyu ramen made with fish stock.) The chain has 30 locations worldwide, including one in Vancouver and the Niigata Sanpoutei Tokyo Lab for ramen experimentation and advancement. Mabo ramen can be made by simply tipping ramen with a healthy dose of mapo tofu, but at Sanpoutei they make the mapo tofu soupier and put the noodles right on top. Their version is made with minced pork, chives, chili oil, ground Sichuan peppercorn, and onion. The combination of these dishes didn't require any real tinkering, but it definitely makes sense. It's like pasta with gravy, only the gravy is mapo tofu. What's not to like? It's available only during lunch (noon to 3 p.m.) starting January 28.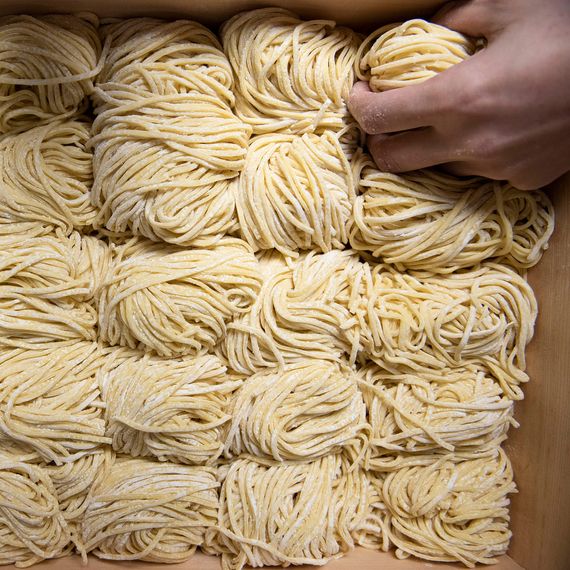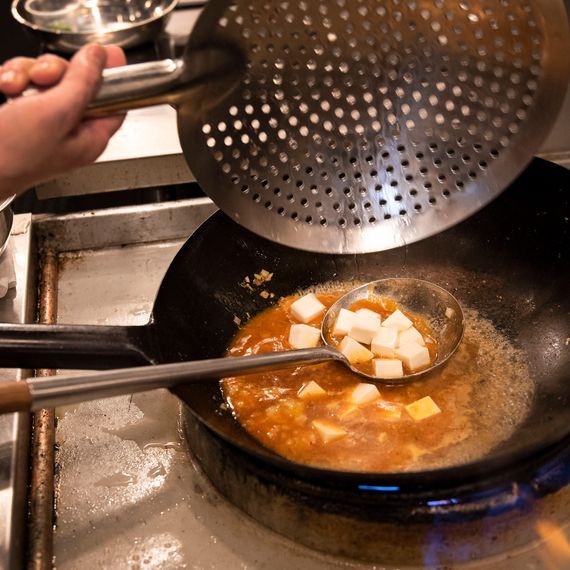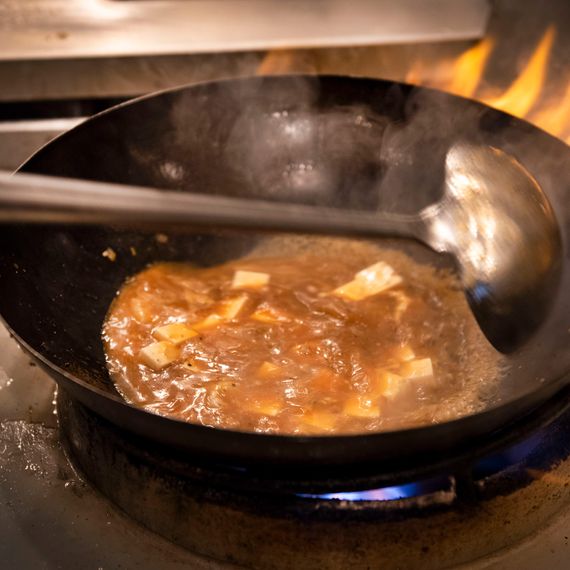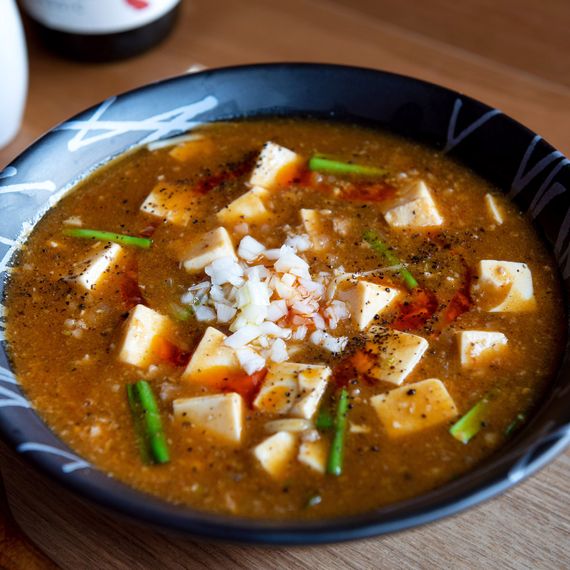 New York's only Chinese-Japanese or wafa chuka restaurant closed in 2016, and Sanpoutei's other dishes bring a focus on the cuisine back to the city. Some of the dishes are riffs on familiar Chinese ones. If you like Shanghainese drunken chicken, which gets marinated in rice wine, your interest will be piqued by the Niigata sake drunken chicken, with Korean chili powder, sesame, and ginjo sake sauce. There's edamame enhanced with Sichuan peppercorn, as well as meaty dishes including braised miyazaki wagyu with Sichuan pepper oil and lamb chop with cumin and black bean. There are spring rolls, including one stuffed with chicken, gochujang, and cheese.
Other dishes incorporate Western ingredient or techniques, like the pickled tomato with its white wine or the salmon confit salad, and there's plenty more seafood, like the fluffy fried crab meat with scrambled egg and sweet-and-sour sauce. Along with ramen, the chain is known for its gyoza. Good things come in threes, and so do the dumplings here: pan-fried pork and cabbage, deep-fried prawn and edamame, and pan-fried beef and semi-dried tomato and caper.
As for the ramen, there are seven varieties available during dinner. All come with noodles made in-house. The signature dish is the Sanpoutei with niboshi stock, which is made with dried sardines that lend the broth a pungently fishy flavor, and cha-shu. Others include a rich chicken paitan, the poultry alternative to tonkotsu; miso and spicy miso made with paitan broth; and a vegetarian tan-tan with soy milk. There is also the dipping ramen called tsukemen, both with paitan broth and niboshi powder, that you can get spicy or not. With your noodles, you'll be able to order beer, wine, and sake from Niigata.
The New York ramen craze seems like a phenomenon from the last decade, but interesting places that expand the city's scene have continued to open over the last few years. Ones like the untraditional Ivan Ramen; seafood specialist Yuji Ramen; Nakamura and its mazemen-focused sibling spot, Niche; the experimental Ramen Shack; and more. Santoupei not only adds to the city's ramen scene, but takes it a step further and brings Chinese-Japanese cooking back to the five boroughs.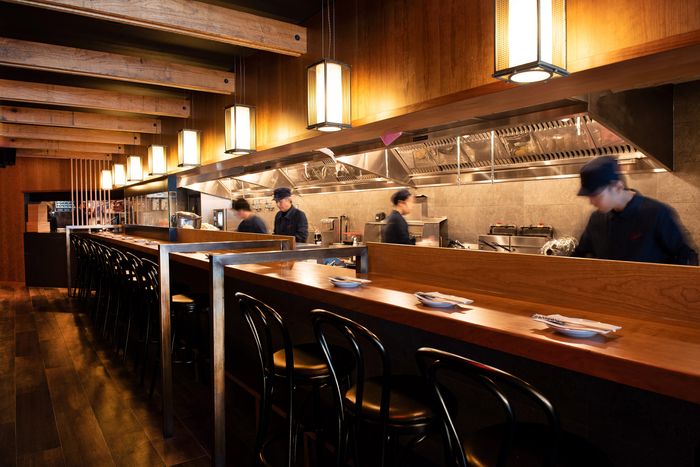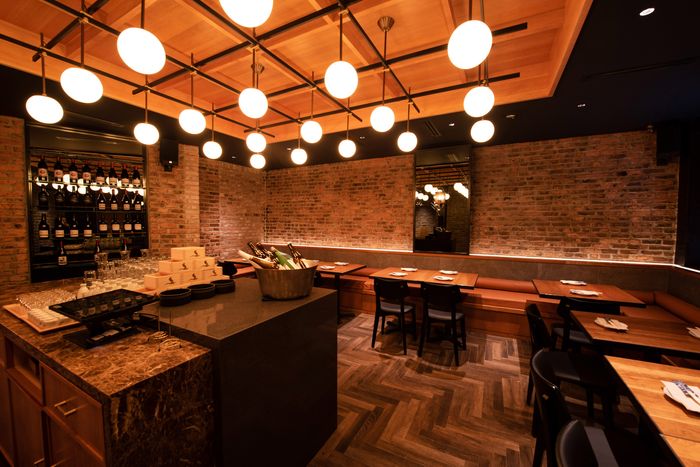 Sanpoutei, 92 Second Ave.; nr. E. 6th St.; 646-964-4357