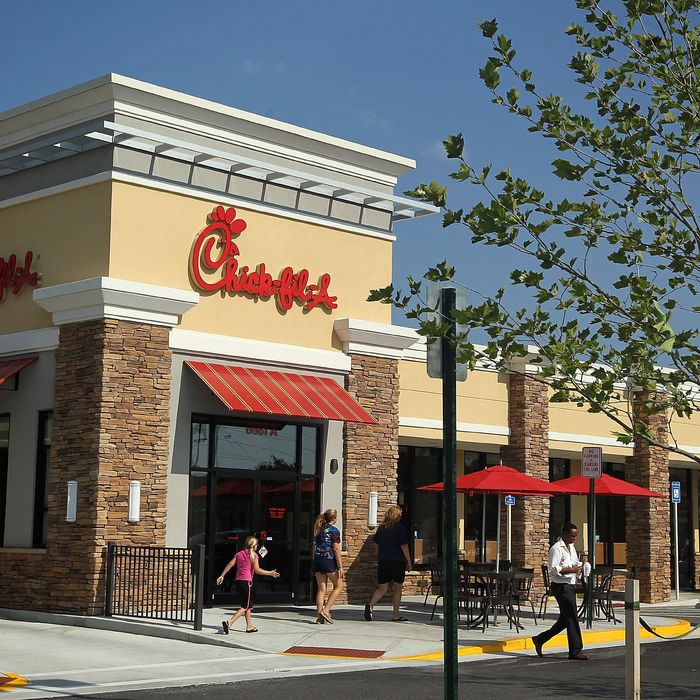 San Antonio: "No, thank you."
Photo: Alex Wong/Getty Images
There was a time when Chick-fil-A could waltz into just about any major city and be greeted with open arms. But those days are long gone. Look no further than the City Council of San Antonio, which voted last March to keep the Georgia-based chain out of the local airport over its support of anti-LGBTQ organizations.
Ten months later, local CBS affiliate KENS5 reports that the city has paid a staggering $315,000 over the decision. The City Council and Mayor Ron Nirenberg have been embroiled in two lawsuits — one filed by the state, another filed by residents of San Antonio — and have been the subject of a federal investigation over the Chick-fil-A ban. (Note: San Antonio proper is already home to a handful of Chick-fil-A locations.)
"The City of San Antonio's decision to exclude a respected vendor based on the religious beliefs associated with that company and its owners is the opposite of tolerance," Texas attorney general Ken Paxton said in a statement one week after the council rendered its decision. "The city's discriminatory decision is not only out of step with Texas values, but inconsistent with the Constitution and Texas law."
San Antonio is hardly the first city to turn against Chick-fil-A. It's been met with protests in Toronto and Buffalo, New York, and last year, protesters in the U.K. fought the chain's arrival at the Oracle Mall in Reading. Chick-fil-A announced that it would soon leave, but as of this week, it's still listed as a dining option at the mall. Meanwhile, Chick-fil-A officials announced in November their decision to stop donating to anti-LGBTQ organizations in an apparent bid to appease detractors.