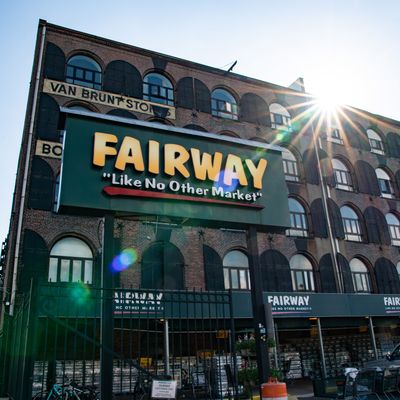 Fairway in Red Hook.
Photo: Jeenah Moon/Bloomberg via Getty Images
Red Hook's Fairway is the neighborhood's sole grocery store. It also may not be long for this world. Managers have let employees know that the store could close within four to six months, the City reports, as it was not one of five locations that Fairway will sell to Village Supermarket. All of those locations are in Manhattan, and the fate of Fairway's nine other stores — including the Red Hook outpost — is up in the air. The chain says it will talk with other companies about those locations, though this isn't exactly what you'd call a good sign.
When Fairway opened in Red Hook back in 2006, it was greeted with excitement — and anxiety. In the years since, the neighborhood has seen real-estate prices rocket upward, and the opening of pricier restaurants like the hugely popular Hometown Bar-B-Que. Residents also tell the City that prices at Fairway started rising after Hurricane Sandy, which devastated the neighborhood and caused the store to temporarily close, meaning this shop is no longer affordable for the neighborhood's low-income residents.