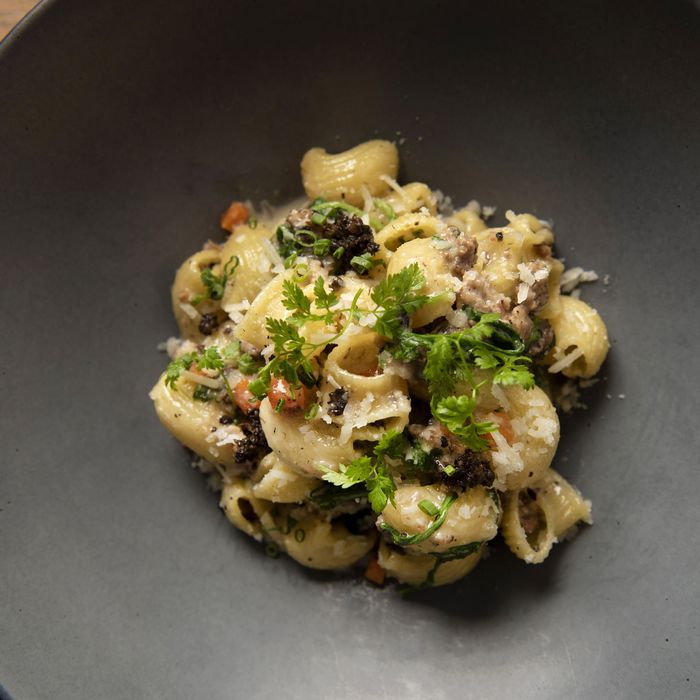 Lumache with Bolognese bianco, short rib, and black truffle at Portale.
Photo: Liz Clayman
Most of you reading this column probably don't think of the stern-faced, spotlessly attired Alfred Portale as one of the wild, bomb-throwing revolutionaries of the culinary set. But in his day, the recently deposed chef and co-owner of that august Union Square dining destination Gotham Bar and Grill was famous for all sorts of radical notions and innovations. He was one of the original pioneers of a certain downtown Greenmarket cuisine that came to be called "farm to table" cooking, of course, and the father, famously, of the imitated stacked-plating method known as "vertical cuisine." He turned simple preparations like seafood salad into the height of style before gourmet comfort dishes were fashionable, and let loose the scourge of tuna tartare on an unsuspecting dining public after spying a tuna hand roll in a local Japanese restaurant.
You won't find any of these exotic touches during the course of dinner at the chef's eponymous post-Gotham venture, Portale, which opened a few months ago on an anonymous stretch of 18th Street off Sixth Avenue, but it's apparent from the scale and sensibility of the place that he and his new partners have been paying attention to the populist dining trends of the last decade or two. In contrast to the grandiose space at Gotham, the narrow rooms here have a snug, neighborly feel. There are wooden rafters on the ceilings and white painted brick walls, and the tables and leather-cushioned black metal chairs look like something you'd see in an upscale airport café. Like at Gotham, there's an elegant bar up front serving lavishly priced cocktails, but it's smaller and more intimate than the one back on the mother ship, and while you sip your cocktail, you snack on meatball sliders costing roughly $8 apiece.
"Gotham had that classic '80s vibe. This seems like an early-aughts kind of place, so Portale's come up a couple of decades," said my guest, a gourmand from one of the distant dining regions of Brooklyn who knows a fine meatball slider when he sees one. There were also bowls of lemony, thickly battered fritto misto among the bar-style "snack" dishes we sampled and a generous salumi butcher board decked with wedges of toasted fettunta, freshly baked in house just like the pint-size slider buns. This being the early aughts, we also enjoyed some hamachi crudo (garnished with avocado, oranges, and a slightly overbusy basil purée), along with a sip or two of that trendy cocktail of the decade gone by, the Negroni, which comes in four varieties, including the lavish $28 Maserati made with blood oranges, a touch of Barolo, and what our bartender accurately described as "top shelf" gin.
Portale is styling his new venture as an Italian restaurant, which has long been a theme in his particular brand of New American cooking, and also remains the most reliably bankable formula in this increasingly formulaic dining era. When I managed to secure a table in the comfortably appointed dining room, the pastas arrived in choreographed waves — flat, ruffle-edged campanelle poured with a rich duck ragù; little foie gras–stuffed tortellini floating in chicken broth with carrots, celery root, and black lentils; elbows of chewy lumache macaroni tossed with a sophisticated white Bolognese made with crumblings of pork, short rib, and a soffrito of fennel, garlic, and onions. There were perfectly al dente risottos, too, stirred with various mushrooms and Fontina, and, if you have the resources, I recommend the opulent combination of Parmesan, shaved white Umbrian truffles, and a single poached egg.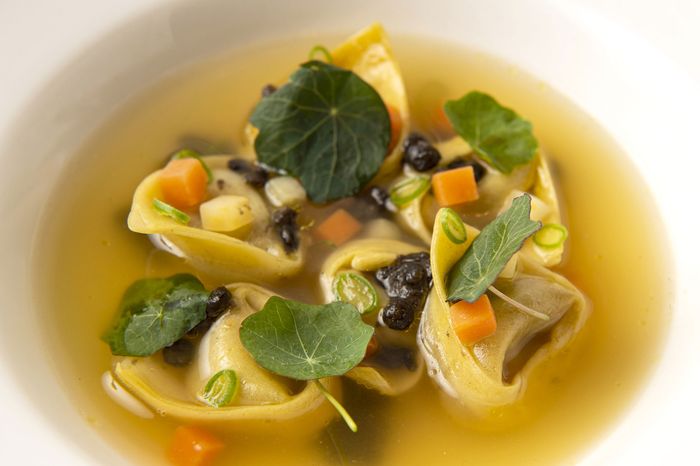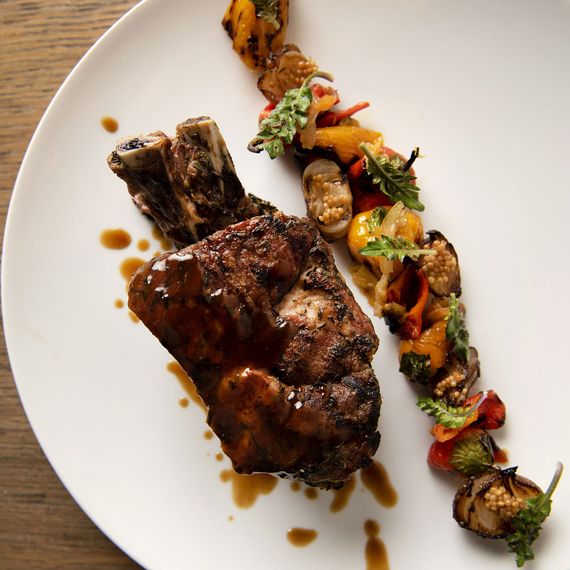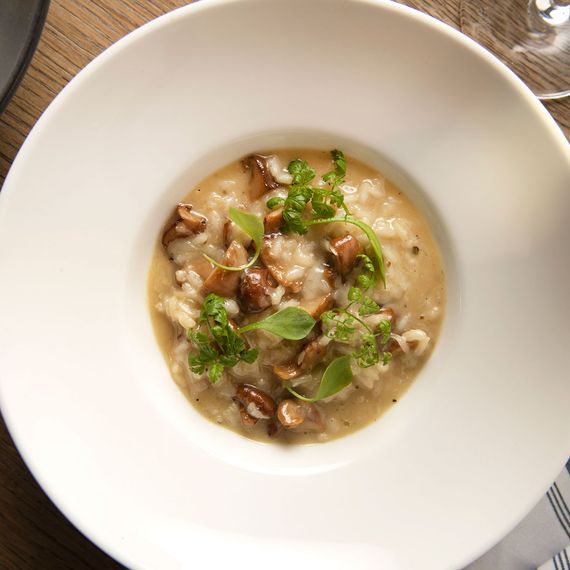 The larger entrées at Portale were less satisfying and more reminiscent of the stolid, reliable, connect-the-dots gourmet fare beloved by the old regulars at the Gotham, and after the rich heaviness of the pasta section, you might want to take a short rest before diving in. Not that I didn't enjoy my bite of the country-size pork chop (served bone in, with a garnish of sweet peppers and orange mostarda) or the bountiful roast chicken, which was bolstered, on the evening we ordered it, with a chicken gravy speckled with wild mushrooms and a moon-shaped wheel of blue-corn polenta so imposing that we pushed it to the side. For lighter eaters, there are the usual fish options (salmon, branzino, a perhaps overly sturdy fish soup sitting in a scrim of lobster broth), along with a professionally executed seared duck breast that the kitchen enlivens with some sunchokes and a touch of spicy Calabrian honey.
In terms of originality or ambition, does this kind of cooking rival what Chef Portale has done in the distant past, not to mention what his successor, Victoria Blamey, is doing now at the newly revamped Gotham Bar and Grill? No, it does not. Is it worth traveling down from the Upper East Side, say, not to mention Bushwick or Harlem, for a taste of honeyed duck breast or a spoonful of excellent, though not inexpensive, mushroom risotto? A slightly less hearty "no" to that too. But if you live nearby (in a general, 20-block radius like your humble critic does, let's say), or if you happen to be wandering through, and if you're in the market for a stylish, well-crafted cocktail or an inventive take on a classic Italian dessert (the shiny chocolate-topped tiramisu, the brûléed panna cotta set over a bed of fresh-sliced figs), then this is the restaurant for you.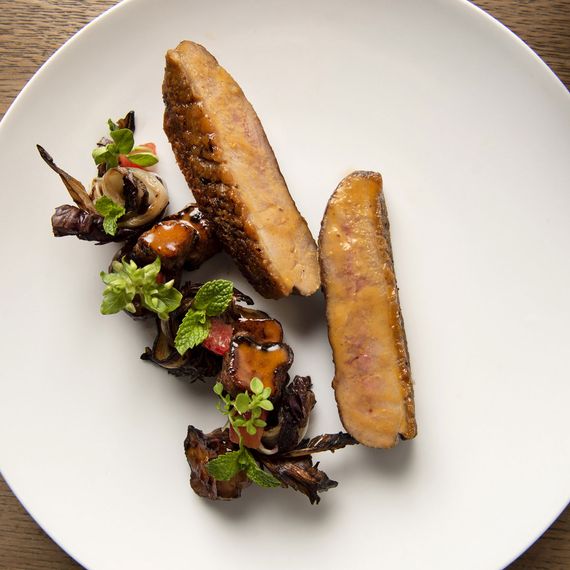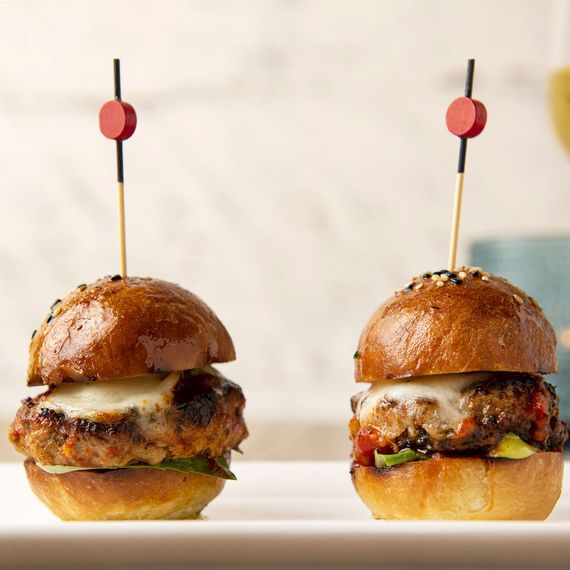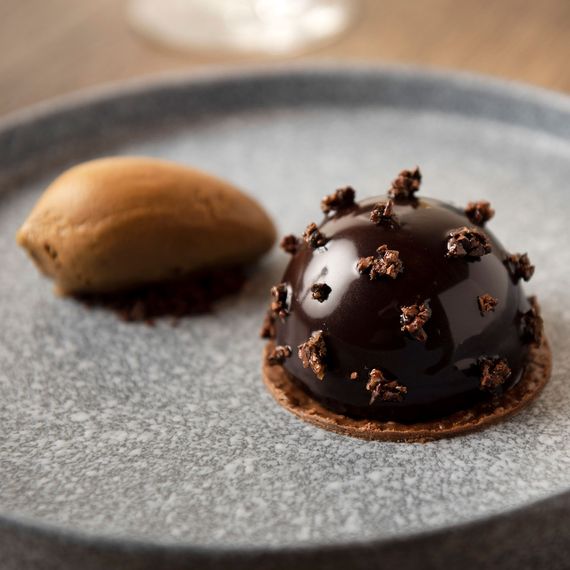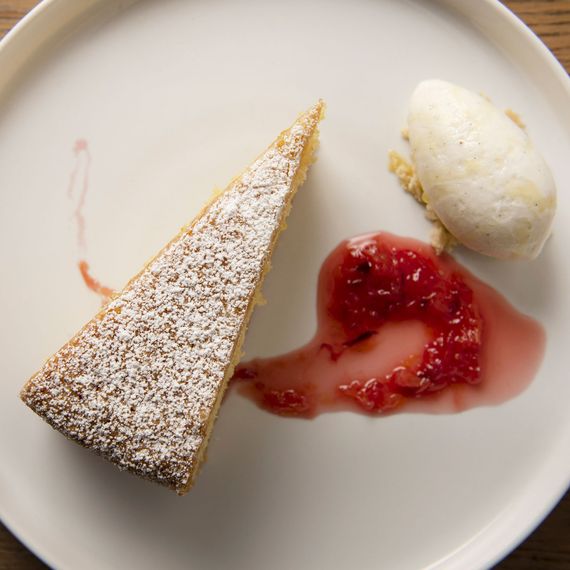 *The rating scale of 0 to 100 reflects our editors' appraisals of all the tangible and intangible factors that make a restaurant or bar great — or terrible — regardless of price. See The Thousand Best for 999 more great places to eat and drink.
*This article appears in the January 20, 2020, issue of New York Magazine. Subscribe Now!