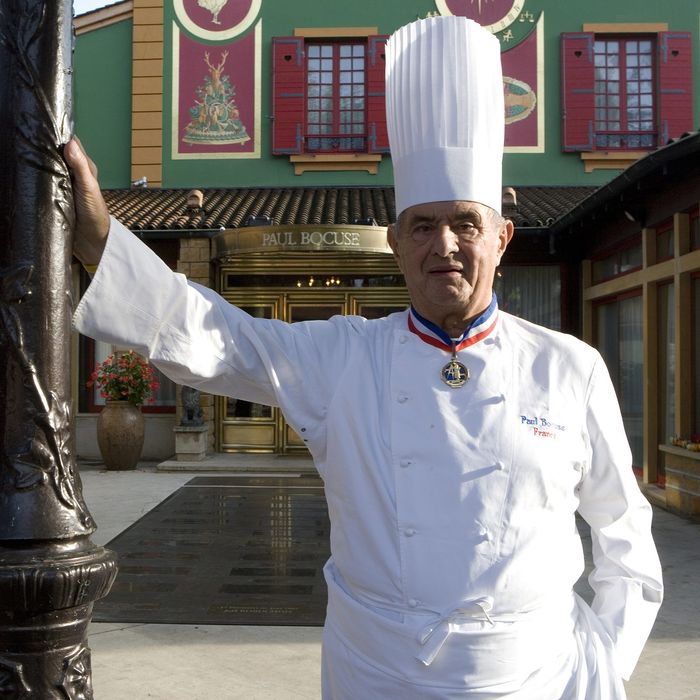 Photo: Maurice Rougeont/Gamma-Rapho via Getty Images
First they came for Jiro, and now the Michelin Guide's inspectors have struck the legacy of France's most famous chef, as well as his restaurant L'Auberge du Pont de Collonges.
L'Auberge, also known as Paul Bocuse or simply "Bocuse," is the flagship restaurant of the late chef of the same name, the world-renowned creator of nouvelle cuisine and the founder of the Bocuse d'Or, the Olympic-level chef competition. Every year since 1965 — a run of 55 years — the restaurant has been awarded three Michelin stars, the guide's highest honor. But this week, the ratings guide announced that the restaurant is now an establishment that warrants a mere two stars.
In a statement, the Bocuse family said, "Although we are upset by the inspectors' judgment, there is one thing we never want to lose, and that is the soul of Paul." All-in-all, they seem to be taking it better than French chef Marc Veyrat, who recently lost a court case against Michelin after the organization stripped him of his third star and refused to let him see the reviewer's notes.
Still, it's not clear that Bocuse himself would have taken this demotion so well. He was famous for his macho attitude, sometimes talking about himself in the third person, and once referred to the Michelin guide as "the only guide that counts."