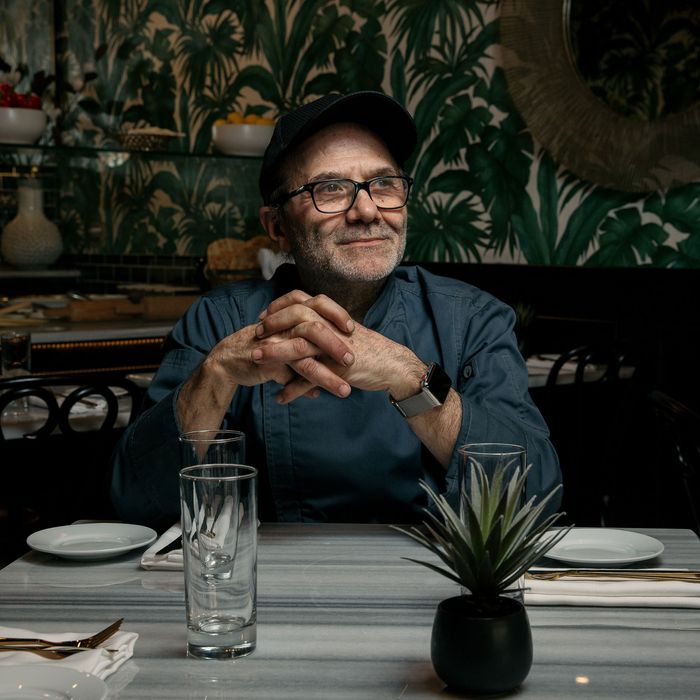 Yegen, at his restaurant Lokanta in 2019.
Photo: Scott Heins
Orhan Yegen, the Kenny Shopsin of Turkish cuisine, died this week at the age of 65 from a surprise heart attack. If you ate at any of the nearly two dozen restaurants he's run in New York since the 1990s, you know that we haven't just lost a talented chef, but also America's most passionate and outspoken Turkish culinary ambassador.
New York has a decent supply of Turkish restaurants and bakeries, but none comes anywhere close to the elegance and soul of Orhan's creations. For the city's Turkish-food mafia, which I've been lucky to sneak peeks of thanks to some extended family, one of the first questions to ask about any new Turkish restaurant is whether Orhan is involved. Everyone has a story about Orhan — the cook; the artist; the quixotic, viciously funny character — and I'd like to tell you mine.
Back in 2012, I gathered a dozen food friends at his flagship restaurant, Sipsak, to introduce them to his singular Turkish cooking. At other restaurants, a server asks if you've eaten there before. Orhan, instead, ambled over to our table with a Cheshire-cat grin, then demanded to know if any of us knew anything about Turkish food.
"Yes," I said meekly, "a little from traveling in Turkey, and yours is the only food that sends me back to Istanbul."
Orhan wasn't impressed.
"But did you eat in Istanbul in the '70s, when they really knew how to cook?" No, I had to admit. I wasn't born yet. "Then you don't know anything," he said with a happy snarl. I didn't know you could snarl happily until I met Orhan. "What you are eating here is my culture," he said, pointing at our table piled high with salads and dips. "It has to be like this. There can be no other way."
The food, like always, was exquisite. Orhan's chopped-lamb adana was the apotheosis of kebabery. His cheese-filled, fried sigara burek were shatter-crisp and greaseless. He could slow-cook a leek until its fibers broke down into something as voluptuous as Wagyu beef.
Orhan Yegen grew up in the southern Turkish city of Adana and moved to New York in 1977. He started in restaurants as a busser, then slowly worked his way up the ranks until he opened his first restaurant, Deniz, in 1994. After it closed, he complained that guests were afraid to order whole fish because of the bones. Many more followed — restaurants and complaints. You may remember Sea Salt, an upscale East Village fish restaurant, or Bi Lokma, a fast-casual spot devoted to Turkish late-night snacks such as roast lamb's head and intestine soup. Or Dervish. Efendi. Francela. Most of them lasted just a few years, or at places like the still-open Turkish Grill in Sunnyside, shuffled on as shadows of their former selves once Orhan got fed up and left.
"Cooking is an art," Orhan would often say, "not a business. And it should only be practiced by people who care." In Orhan's Manichaean universe, the list of "people who care" besides himself was short. When Rebecca Flint Marx interviewed Orhan for Metromix in 2007, he had this to say about renowned seafood chef Eric Ripert: "I don't want to be compared with him. He had his chance because Americans don't know anything about fish." Tell us how you really feel about American palates, Orhan! "[Julia Child] was not a cook," he said. "She was a baker. Thank god she died."
Given his prickly persona, I guess I shouldn't be surprised that Orhan's talent was rarely recognized. Critics usually fawned over his dishes, but press mentions beyond reviews are few. He never hit the short or long list for the James Beard Awards. He had little patience for television.
But Orhan had a vision for Turkish food — his Turkish food — and he executed it with uncompromising dedication. When we think of the romantic chef-auteur, toiling away in the kitchen to make food of incomparable quality, while chumps of lesser talent soak up praise through publicity stunts, we should see Orhan's face. If you were smart enough to love Turkish cuisine, he figured, you would know enough to find him, ask in advance for the specials, and grow as a human being after eating them. He wasn't wrong.
The abruptness of his death means his legacy, and the future of his extant restaurants Sipsak and Lokanta, is uncertain. Banu Oz, his restaurant manager of 16 years, said on Wednesday that both restaurants are currently closed, and their teams are figuring out a way to move forward. A funeral service is being held today in Paterson, New Jersey, for friends and family.
I last saw Orhan this past summer, on a breezy evening at Lokanta. He was sitting just outside the front door in his trademark baseball cap and ponytail, greeting newcomers and chatting up old friends. I'd noticed he seemed more laid-back in recent years, age softening his rough edges. Still, this sighting felt different. I never thought I'd be able to say this about one of New York's greatest curmudgeons, but he looked content.