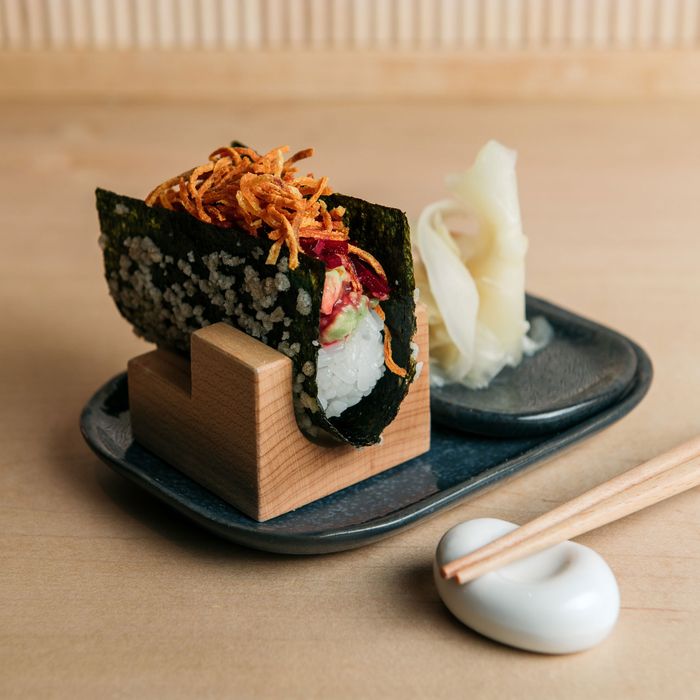 Avocado "toast" temaki at Nami Nori.
Photo: Scott Heins
"Let's go here, Dad," said my 16-year-old daughter, who, like the rest of your humble critic's restaurant-weary family, never wants to go anywhere new or strange or interesting to eat around the big city unless it involves different varieties of dim sum, perhaps, or a bowl of pork-laced ramen (from which she always daintily removes the actual wheels of pork) or a slice or two at the latest photo-ready pizza joint. Every once in a while, however, a new place comes along that emanates a certain kind of alluring glow. Maybe the room has a bright, stylishly casual look to it. Maybe the menu has a certain clean, uncluttered economy ("Dad, stop ordering so much!" is a constant refrain on our restaurant nights out), or maybe the kitchen manages to rework a popular, crowd-pleasing formula (the California roll is another one of her favorites) in an inventive new way.
Did I mention that if there's a line somewhere for food or clothes or the latest cosmetic hand soap, my daughter is happy to join it, which is probably another reason we found ourselves, early on a dark fall evening, stamping our feet outside the new Greenwich Village hand-roll sensation, Nami Nori. The glow from the bright, neatly appointed, white-and-blond-toned dining room lit up the sidewalk, and through the glittering glass window you could see the staff prepping for service behind two wooden sushi-bar-style counters, one on either side of the room. As we loitered in the ever-growing line, my daughter checked the compact, alluring little menu on her phone ("They have California rolls, Dad"). The doors opened at 5:30 precisely, and by 5:37, according to my own vintage iPhone 8, the seats and tables were completely full and another line was forming outside.
In case you haven't heard, Nami Nori is the brainchild of three young sushi veterans — Lisa Limb and her chef-partners, Jihan Lee and Taka Sakaeda — who met while serving apprenticeships with the father of the great overpriced omakase extravaganza himself, Masa Takayama. It was their somewhat radical idea to offer a more democratic alternative to the increasingly stuffy, absurdly expensive sushi tasting rooms around town by focusing on that adaptable, populist portion of the meal: the temaki hand roll. I counted 17 varieties on the one-page menu, including ones enlivened with salmon roe or dabs of caviar and others featuring sea bass paired, deliciously, with shredded daikon and Korean chojang sauce, or sweet scallops topped with XO sauce, flying-fish roe, and lemons. Most of these treats cost under $10, and all of them are served in small wooden holders designed to highlight their aesthetic, Instagrammable appeal.
"Yummmy," said my daughter as she composed a shot of her California roll, which cost all of $6 and was made, unlike the plasticated deli version she'd grown up on, with chunks of avocado and a generous spoonful of snow crab from Southeast Asia mixed with dabs of mayo. My first roll was a standard yellowtail and scallion served, like all the temaki here, in the form of an open, square-edged, toasted-nori taco instead of folded over or cut into little rounds. This deft hack allows for the mixing and matching of toppings and generous dollops of sauce in all sorts of unexpected styles, like a soy-and-onion-flavored tuna poke piled with crispy shallots; vividly red bits of salmon mingled with an equally red chopping of tomatoes, all dressed with chives and a tasty substance called "onion cream"; and maitake mushrooms broiled with truffle salt and truffle oil, laid over rice, and, for an extra fee, piled with drifts of shaved white truffles.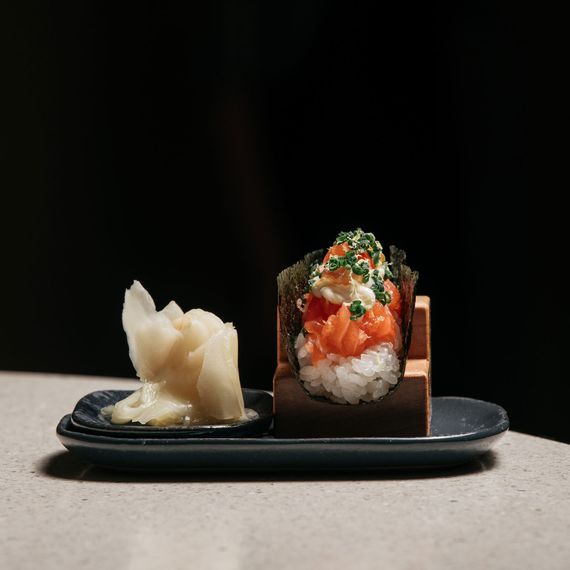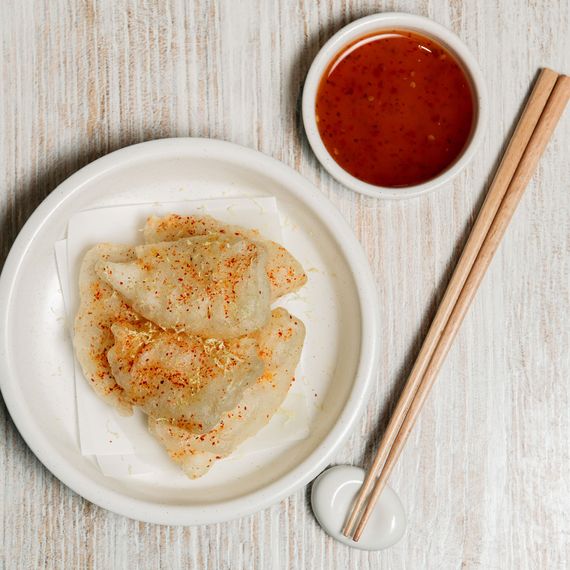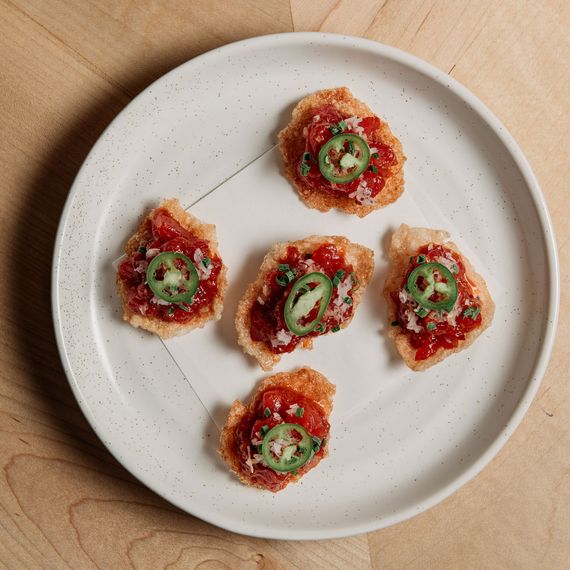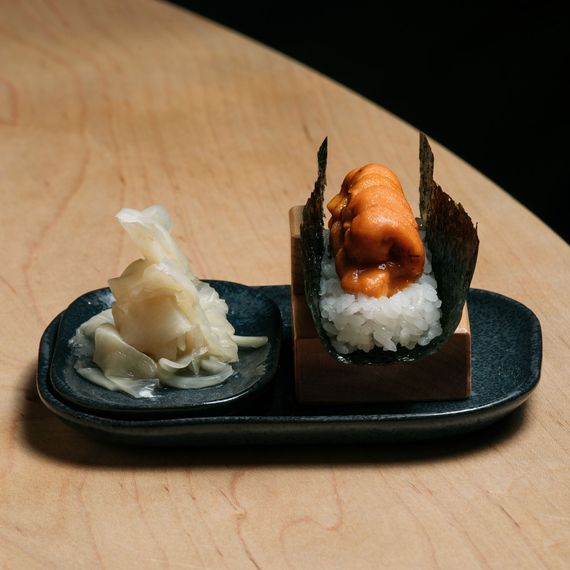 "I'm coming back here with friends, Dad," my daughter announced as we tasted some non-temaki creations — helpings of steamed edamame flavored with ume-plum water and a dash of sesame salt, along with a stack of crunchy, just-sizzled nori chips that we dipped in a mix of yogurt and chives, and an artful little house salad made with chopped iceberg and a tart buttermilk dressing. Not surprisingly, the most cost-effective hand rolls reside in the seasonal vegan section (try the one made with warm nickels of green squash flavored with ginger and cilantro), although if you want more bang for your buck, the "Crunchy" portion of the menu contains an interesting riff on avocado toast (the "toast" being bits of crunchy rice) and the chef's signature Spicy Crab Dynamite, which is loaded with warm crab mixed with sriracha mayo and served in a nori pocket dappled with more popped rice.
Twenty-eight dollars buys the five-roll "chef's set" omakase, which means you can devour seven or eight dinners at this pleasant little establishment before approaching the cost of a single meal in the grand, Masa-influenced tasting parlors around town. For those who pine for the old, gilded style, however, there were five different grades of uni to choose from on the evening I dropped in, including three from the uni capital of the world, Hokkaido, and for an additional fee, you can add spoonfuls of caviar or shavings of truffle to your temaki. The small reserve-wine list offers a variety of wines and sakes, including bottles of brut blanc de blancs Champagne and premier cru Burgundy for $222 and up. My daughter and I avoided this glamorous hard stuff on our visit, of course, but she would like her dad to give a final thumbs-up to the diminutive taco-shaped dessert sandwiches (try the fior di latte topped with matcha cream), which, like most everything else at this improbable hit restaurant, are tasty and economical and will slide neatly into your Instagram feed.
*The rating scale of 0 to 100 reflects our editors' appraisals of all the tangible and intangible factors that make a restaurant or bar great — or terrible — regardless of price. See The Thousand Best for 999 more great places to eat and drink.
*This article appears in the January 6, 2020, issue of New York Magazine. Subscribe Now!