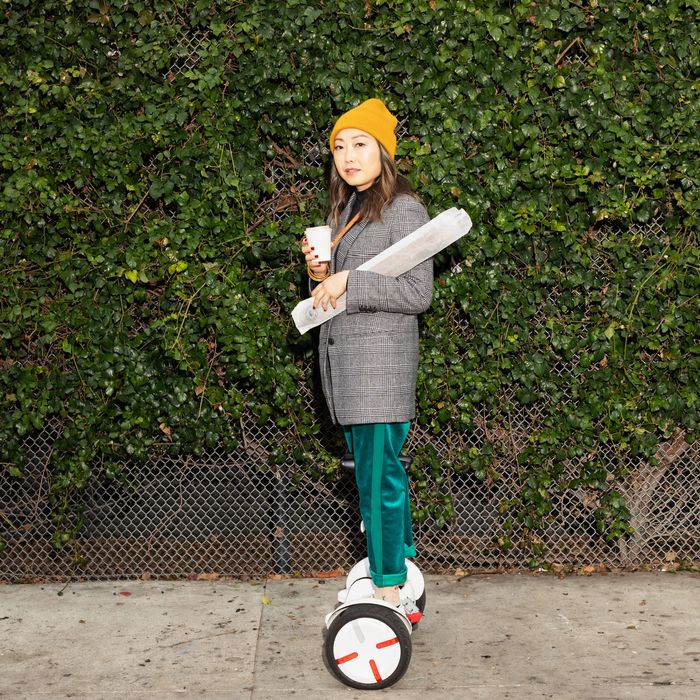 Lulu Wang and her baguette.
Photo: Photo: Maggie Shannon. Hair & Makeup: Julie Hiles for Exclusive Artists
Lulu Wang comes across as exactly the kind of person you'd like to eat with: someone who clearly loves food, and wants to try as much as possible. In fact, food plays a central role in the director's touching and critically acclaimed film, The Farewell, which also explores the relationships between grief, identity, and love. Called "simultaneously dryly funny and a four-hanky drama" by our friends at Vulture, the movie was named one of AFI's films of the year, and its star, Awkwafina, took home a historic Golden Globe. While Wang is currently busy in a writers' room in Los Angeles, she carves out time for weekly meals with her chef brother. This particular week, she also celebrated Chinese New Year's with dumplings at the spa and dinner at Tasty Noodle House; and grilled herself a solo steak dinner. Read it all in this week's Grub Street Diet.
 
Thursday, January 23
I'm currently running a writer's room on weekdays, so our PA gets us coffee daily from Lo/Cal. I got a hot Americano. Since I was recovering from the flu, I also had a bone broth with ginger and turmeric from Belcampo Meat Co., plus orange juice and a Boss Tonic from Raw Juicery. Lots of fluids!
I tend to prefer a lighter breakfast these days. I used to eat more in the mornings, but since we order lunch every day in the room, I've been keeping my breakfasts minimal.
Lunch is a big thing in the writers room — we spend a lot of time discussing what we're going to order, and by the time it arrives, we're all starving. This time, our order was from Gjusta. I love the heftiness of the veggie sandwich but I also wanted the banh mi Americano, so one of my writers and I split an order of each. Even though the banh mi runs the risk of putting you to sleep with all the paté and roast chicken, it's definitely worth it and a half order was perfect. (I also love the smoked brisket at Gjusta. If you get it as a bahn mi, it comes with pickled veggies, cilantro, and all that good stuff.) We also ordered a couple arugula salads to share, and a kiwi shrub.
At night, my brother Anthony came over for dinner. He's currently the sous chef at Auburn on Melrose, and we always try to hang out on his days off. I've been traveling a lot and missing him, so it's really nice to be home. Normally we'd go out, but he knew I was just getting over the flu so he offered to come over and cook. I wanted soup and comfort food so he stopped by H Mart in Koreatown to pick up ingredients for zha jiang mian — it's a noodle dish we grew up eating a lot, and he makes it according to our mom's recipe. Anthony also made me a pork rib soup for the week. The classic recipe calls for winter melon, but since H Mart didn't sell it, he used daikon radish instead.
All of the best food in America comes from immigrant cultures. My brother and I grew up in Miami, in a Chinese immigrant family, so we've had a lot of cultural influences when it comes to food. Miami is known for its Cuban cuisine, but there's also a lot of South American food. It's great when there's a large enough immigrant population that restaurants in those neighborhoods exist to service their own community rather than adapting or assimilating. I think I would get bored living someplace that didn't have a large variety of food from different cultures. California has a wide array of immigrant communities and is a fantastic city for food, and I'm not just talking about the tacos.
Friday, January 24
Breakfast was from Lo/Cal again. This time it was an Americano and yogurt parfait with blackberries, granola, and honey.
For lunch, we ordered KazuNori, the hand-roll place from the same people as Sugarfish. I got a 16-piece set of toro, scallop, crab, and cucumber with a side order of yellowtail. This place is a staple for me. I started going to the Kazunori when it first opened in Downtown L.A., and was super excited when one opened in Santa Monica.
As an afternoon treat, we ordered bubble tea from Boba Guys. My greatest claim to fame is that I have a VIP Boba Guys card, gifted to me from Bin and Andrew, the guys behind Boba Guys. (The card allows me one free Boba drink every single day for the rest of my life and it's definitely one of the best things that's ever happened to me.) My usual is the matcha strawberry latte (with boba of course).
I was meeting up with a friend that night so I suggested Birdie G's. I've become a neighborhood regular and there's a bartender there who knows my drink so that's always nice. My partner Barry is currently shooting out of state, but when he's back in town and we're on the west side, he only wants to go to Jeremy Fox's restaurants. It used to be exclusively Rustic Canyon because whenever I tried to get us to diversify, we'd both be disappointed and regret not just going back to Rustic Canyon. When Birdie G's opened, Barry begrudgingly agreed to go with me and loved it. When I told him it was the same chef and owner as Rustic Canyon, he said "oh well that makes sense."
I have my usuals when I go: chicken scallopini, the grass-fed corn beef tongue, the matzo with butter, and matzo ball soup. I've been really into the assortment of pickled vegetables with vegan cashew dip (just to throw some veggies in there). Also, the Texas toast with chicken liver mousse or sweetbreads is outstanding. On this particular night I was with a vegetarian so I stuck with my favorite non-meat dishes including the egg salad Texas toast, sweet and sour beets and the trumpet mushroom fritti.  Everything was outstanding, including my black Manhattan and an effervescent orange wine. I've been really into skin-contact wines lately — the funkier the better.
Saturday, January 25
Brunch at Auburn. I go there whenever I can, with whoever I can. It's great to be able to visit Anthony, but also, the food is fantastic.
I went with a friend and we ordered the crudite, the Sonoma duck egg and sausage with grits, and the broccolini with egg. The kitchen sent a smoked eel with potatoes and sorrel plus the roasted prawns with bone marrow and pickled pepper romesco. I ended up adding a country boule which comes with Normandy butter, but I prefer the avocado butter that the bread normally comes with at dinner. Luckily, the crudite comes with avocado butter so we had plenty of butter options. Yeah, I know what you're thinking — it was a lot of food.
During the afternoon, I went to Hugh, a Korean spa. I love it so much that I almost don't want to name it because I'd hate for it to get overrun with people. I don't think it will though because it's very specific and probably not everyone's cup of tea. I guess for me, it feels like being in the family room of my parents house while my mother cooks for me. There's one Korean woman who cooks everything in the kitchen, and her steamed dumplings are handmade. It's an all-women's spa, so I sit in the kitchen in nothing but a robe eating dumplings. It's very, very chill.
Since it's only one woman in the kitchen, it can take her a really long time to make the food, so you definitely need to have some time and patience to hang here. Sometimes when I'm waiting, I'll go lie in the salt room and sweat out the toxins, or I'll read in the lounge area. It was Chinese New Year, so I decided to treat myself to a full spa afternoon with a scrub, a 90-minute massage and of course, dumplings. I think you're supposed to eat dumpings for Chinese New Year's. Maybe it's noodles, but I'm pretty sure it's dumplings. I also got the edamame which is covered in a delicious vinegar and togarashi (red chili pepper seasoning).
How often do I do this? Not often enough. But I'm trying to make it more regular thing.
Then, because it was Chinese New Year, I went to Tasty Noodle House with a few director friends. There's a group of us that initially organized as women of color directors, but we organically became really close friends. They've honestly been my saving grace these past two years, cheering me on when I was struggling, and celebrating me when I hit important benchmarks, because I have a hard time remembering to celebrate my achievements. The last time we were all in the same room together was two years ago, when they sent me off to go make my movie. This was our first reunion in two years, so we all got together for a feast to ring in the year of the rat!
We got the Shanghai buns or sheng jian bao, they're the big ones that are crispy on the bottom. We got green beans, sauteed shrimp, garlic beef, cumin lamb, fish filet with preserved vegetables, dumplings… It was a lot of food. They ran out of black sesame balls, which was upsetting, but we decided to go to Auburn for dessert.
Since Auburn was just down the street, we decided to finish the night with desserts and drinks there. Dyan Ng is the pastry chef at Auburn and she's amazing. I'm not big into sweets, much more of a savory person, so I love that their desserts are not super sweet or heavy. There's a pichuberry sorbet that reminds me of my childhood, because I ate a lot of gooseberries in Miami as a kid. I think they were from the Chinese market? The apple chantilly is my absolute favorite, with thin wafers stacked between delicate pieces of apple with chantilly cream. Dyan also sent some meringues with cream that are off-menu and tasted like clouds. The menu at Auburn changes frequently with the seasons. Anthony often asks me to taste things they're working on, and this is my favorite task in the world.
Sunday, January 26
Went out for brunch. We went to Gjusta first, but it was an absolute zoo so we ended up only ordering coffee and I got a baguette for the road. That's what happens on weekends. I prefer Gjusta for a quiet dinner at the bar.
We decided to go down the street to La Isla Bonita instead. I'm here all the time and they're known best for their seafood. I got a ceviche tostada and a couple tacos: the carne asada and carnitas.
Afterwards, I swung by Bay Cities Deli and debated grabbing a Godmother as a snack for later. I love that place. I love all of it. I love the sandwiches, I love the deli. The Godmother is pretty much the perfect sandwich. Normally I'd have it during the week for lunch or something, but I decided against it since I'm in the writer's room and we order lunch. Instead, I picked up some of Meredith Dairy's marinated sheep and goat's milk feta.
For dinner, I made some hanger steak, which I had with roasted pepper relish (mixed with vinegar, olive oil, and herbs) and charred broccolini. I opened a bottle of Charbono, which is a wine made by our friend Matt Morris up in Napa. He was in L.A. and dropped off a few bottles and it was perfect with the steak. I do have a Weber outside, but I'm usually too lazy or too cold to use it so I usually just make steak in a cast iron on my stovetop. I also made some chicken broth to have for the week.
I like to spend Sunday night preparing for the week — practically and mentally. Cooking is really meditative for me and helps me to relax and focus. Because I travel a lot, I eat out all the time when I'm on the road and I'm really bored with most fine dining. After a while, it's all the same and I really crave simple foods like roast chicken with rice and beans and pico de gallo or a whole grilled fish perfectly seasoned. It sounds simple but if it's done right with fresh ingredients and plenty of flavor, it's exactly what I want after a long trip.
There are a lot of restaurants in LA, but I usually don't end up craving anything from those places even if I enjoy the experiences. The restaurants I go back to are places that have specific dishes that I think about long after I've left. Kali is probably the one I go to most other than Birdie G's and Auburn. Kevin Meehan is the chef and he makes really simple but unique and delicious food. Their black barley risotto is probably the dish I crave the most from there. Our favorite spot is at the bar with a couple cocktails, chatting with Kevin or his chef de cuisine Adrian.