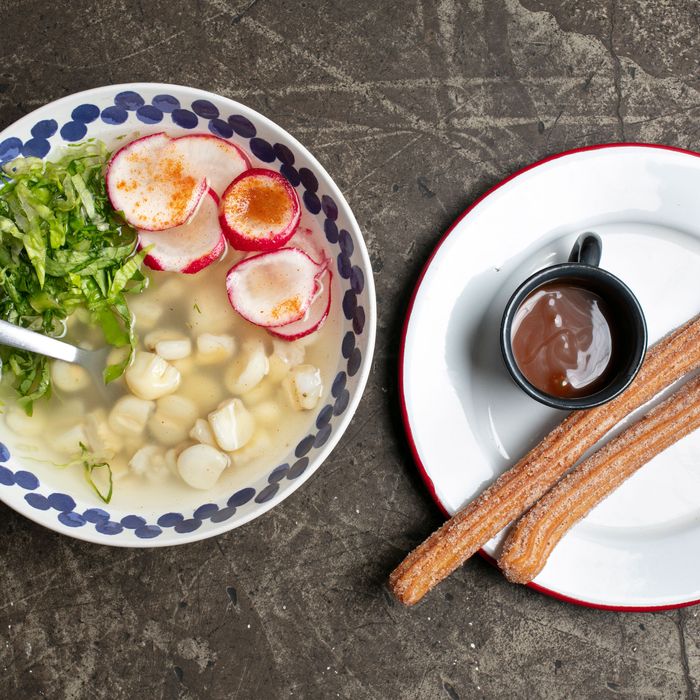 The white pozole with La Newyorkina's churros.
Photo: Melissa Hom
The pastry chef and La Newyorkina owner Fany Gerson is a scholar of Mexican sweets — literally, she wrote the book on them — but she's also a soup fiend. For the last few years, she's hosted friends for a Three Kings Day meal of the pastry rosca de reyes and pozole, the hominy soup beloved in Mexico. (My best friend from college and his family joke that it's the "Mexican cultural contribution we're most proud of.") While pozole is most famously made with pork or a pig's head, which lends a gelatinous element that makes for a particularly rich broth, it's a dish with many variations and different proteins. It's comfort food on the order of mapo tofu or pho, an intoxicating synthesis of its ingredients: fat kernels of corn floating in soothingly rich broth, the zap of tart lime, and the fresh crunch of ingredients like sliced radish.
Pozole is one of Gerson's favorite foods, and the same can be said of her friend Danny Mena, the chef who runs Brooklyn's La Lonchería (you may know him from the now-closed Hecho en Dumbo). New York has its fair share of taqueria and torta spots, tamale vendors, panaderias, and a few specialists in regional obsessions like birria. It's not hard to find pozole in New York, though it's usually part of a broader menu or maybe a weekend special (it's said to have mystical powers for curing a hangover). Mena had been thinking about opening his own pozole spot, in fact, when Gerson approached him with her own idea: How about a pop-up at her West Village ice cream and pastry shop, La Newyorkina? "It was kismet," she says. Called La Pozolería, it opens today.
Mena's long love affair with pozole is well documented. He recommended the pozole spot Los Tolucos as one of his favorite spots in Mexico City (both chefs' hometown), and called the pozole verde his favorite recipe in his recent cookbook, Made in Mexico. At the pop-up, you'll be able to choose from four kinds of pozole ($8 to $14). Mena's recipes are drawn from various Mexican states most famous for the dish. There's a Morelos-style white pozole, made with a pork broth sans chilies; a Jalisco-style red pozole, with chicken stock and roasted chicken; and a Guerrero-style green pozole, with pork broth seasoned by pumpkin seed and chiles, lifted from Mena's book.
These are the three famous variations — what most people think of when they think about pozole. But the most compelling and unique is the fourth version, a vegetarian one made with a corn broth served with corn kernels and the Mexican instant-ramen brand called Maruchan. Gerson got the idea for the dish when she was doing research for My Sweet Mexico and a friend took her to a place that sells that best esquites she says she's ever had.
"They sell the instant ramen with, instead of water, the broth of the esquites, and then top it off with esquites and the whole sort of toppings situation," Gerson explains. Her and Mena's version takes it more firmly into pozole territory. "It's going to be like a ramen pozole, the hominy but cooked in the way you cook esquites with esquites. A very rich, corn-based broth."
Gerson also says they take inspiration from the Mexico City pozoleria Casa de Toño, which served just pozole and flautas when it opened. Gerson and Mena's flautas ($6 for two) are long and thin, like stretched-out cigars, and come stuffed with either tinga, the shredded chicken in chipotle sauce; requeson and epazote; or potato and cheese. "A lot of places here offer flautas but they're really tacos dorados," Gerson says. "Flautas means flute, so they're supposed to be long.
The menu is rounded out by extras like esquites ($6), add-ons like adobo pork ribs ($4) and roast cabbage ($2), and three combo meals of flautas with a small pozole ($12), a large pozole with churros ($15), and a sort of three-course meal of guacamole with a small pozole and churros ($19). Gerson isn't shy to admit that she's turning to pozole during soup season to compensate for ice-cream sales lagging during the winter. They've rearranged the shop a bit to make the pozole pop-up work, but there's no definite end date. If it's successful and they keep it going after the winter, they'll introduce tacos al pastor. Either way, you'll still be able to get all of Gerson's sweets: the arroz con leche cheesecake, impossible flan, nieve de garrafa, and so on. Now you can just make it a meal.