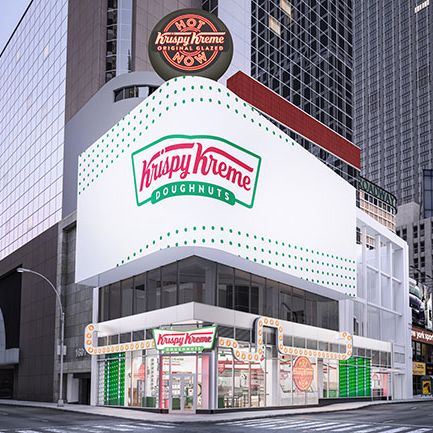 Photo: Krispy Kreme Donuts
A decade ago, Krispy Kreme gave up on New York City following its own financial troubles and since then, there has been just one place in the entire city to get their brand of hot glazed doughnuts fresh off a conveyer belt: Penn Station.
In 2020, that will change. CNN Business reports that nearly four years after the 82-year-old chain was purchased by JAB Beech (the parent company of Intelligentsia, Peet's, and Stumptown) for $1.35 billion, Krispy Kreme is ready to give New York City another try, opening six new locations through the end of the year.
Plans include an entirely revamped Penn Station store, which will reopen tomorrow, as well as brand new locations in midtown (opening February 4 at W. 37th and 6th), Harlem, the Upper West Side, the Financial District, and the Bronx near Fordham University. But the crown jewel of the whole operation will be a 4,500-square-foot Times Square location (announced last summer as the only new spot) that will be open 24 hours a day, 7 days a week. So open wide, New York, and embrace the glaze.