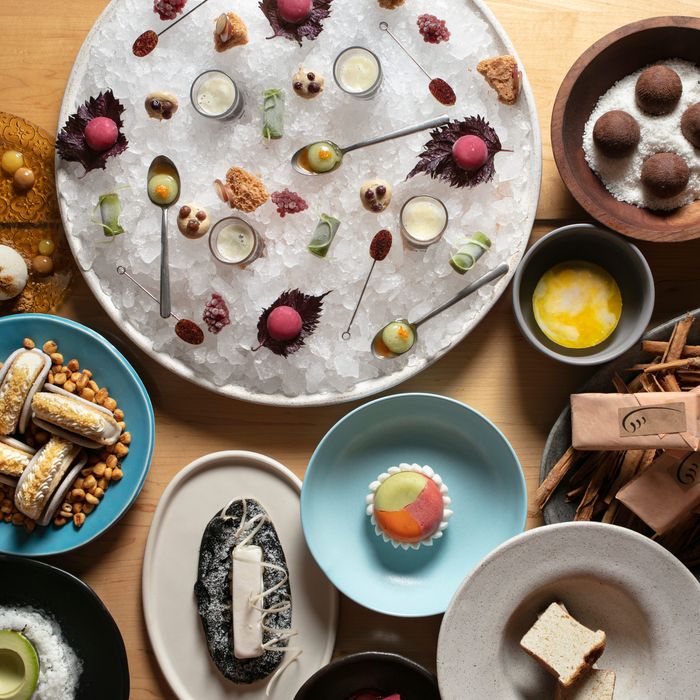 The spread at Alex Stupak's Empellón.
Photo: Melissa Hom
Think long and hard about your favorite dessert. Surely, it's sweet. (Cheese is not a dessert, sorry.) Is it gooey? Does it melt in the mouth? Does it take a long time to eat? Or is it something you have to devour quickly? Is it chocolatey, custardy, crunchy? Is it none of the above or all three? Whatever it is you're imagining — an affogato, a slice of pie, a delicate square of tiramisu — I can assure you, you've never felt that way about dinner. Because where dinner is about survival and avoiding starvation, dessert is about joy.
"Desserts are the toy department," says Alex Stupak, the chef and owner of the Empellón restaurant group, and a former pastry chef. "It's the one time that human beings eat purely for pleasure. We are born with this: I'm a good boy or a good girl. I finished my supper. I ate my vegetables, now what do I get? I don't think we should ever lose that as adults."
And I believe the surest way to feel like a kid again is to be presented with a long dessert menu. Because when eight to ten sweet options are laid before you, suddenly you feel like you're in a very sophisticated candy shop or a child-free version of Charlie and the Chocolate Factory. It's how I felt when I learned that Le Crocodile in Williamsburg has 12 desserts on its menu every night. Just when I thought dessert may be fading into the background, I was reassured that someone out there still cares.
What we have here is not only an extensive list of sweets, but one that hits every single dessert note worth hitting. Want something only slightly sweet? Go with the madeleines. Need a rich, creamy custard? Crème brûlée it is. (Plus a chance to do some Amélie cosplay.) How about something for our texture addicts? Try the mille-feuille, thin sheets of pastry sandwiched with fresh raspberries, or the maple pie surrounded by buttery crust. And for the chocolate addicts — and every table has one — chocolate cake or the profiteroles, delicate orbs of pastry filled with crème pate and literally afloat in a pool of molten chocolate. Personally, I went for the sticky toffee date pudding and the coconut sorbet … then I put them on the same plate. It's a powerful person who could resist the temptation to order one if not all of these desserts.
"Dessert is not an afterthought here," says Le Crocodile's pastry chef, Karly Kuffler. "We only have one food menu, and all of the savory dishes and all of the desserts are on the same menu. When guests get it, they feel like the desserts are part of this program that they want to see all the way through."
Her point being that as much thought and care is being put into the sweets as into the appetizers, cocktails, entrées, and all the other elements of a restaurant that chefs worry over. In doing so, dessert becomes a necessary third act of a meal, a graceful denouement toward true closure.
It would be a shame, for example, to eat at Crown Shy and to miss Renata Ameni's genre-defining sticky toffee pudding. It is classic — a sweet, steamed cakelet — but the addition of tart green apple sorbet takes it that one unforgettable step further. It's also just one of the seven options available.
Empellón also has a dessert menu that goes above and beyond. "We took a big swing at it and we just said, we're going to be known for desserts on day one," says Stupak. "Now, if I cut my pastry department, it would kill my restaurant because people come for that avocado."
That avocado is the a lime-and-avocado purée that's frozen in a mold and then turned out onto what looks like a bed of salt. It looks like it was shipped straight from Mexico, but tastes more like a Key lime pie. It is also just the entry point of the restaurant's full spread of desserts: Caneles airbrushed to look like little slices of toast, chocolate ice-cream sandwiches, banana ice cream that looks nothing like ice cream, and corn ice-cream tacos, which I think is what happens when two Choco-Tacos love each other very much.
Of course, there will always be people who eschew dessert in the interest of their waistlines or their wallets, but do what you can to push them to become better versions of themselves, ones who know that counting calories, or being "too full" is just another way of saying you've lost your sense of wonder — and there's an easy way to recapture it, one that's probably covered in chocolate.