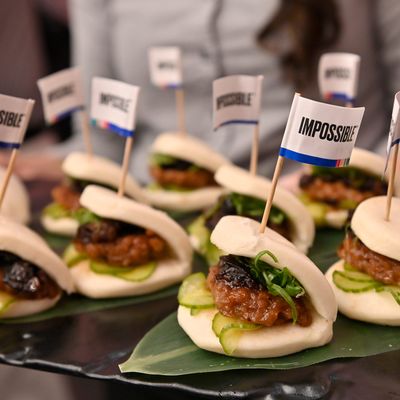 Impossible's "pork" char siu buns at the Consumer Electronics Show.
Photo: David Becker/Getty Images
First, they came for the cows. Now, flashy alternative-meat company Impossible Foods is coming for pigs — or, rather, attempting to rescue pigs from humans. Either way, Impossible Pork has arrived at this year's Consumer Electronics Show, and there's a lot to wrap our collective heads around. Here's everything you need to know about what will very likely be the hottest new meat alternative on the market.
So it's new meat at an electronics show?
Yeah. Impossible Foods seems to love the idea that they make tech products instead of traditional "food."
What exactly is the Impossible Pork made of?
It's soy-based. Impossible Foods makes all their products with a product called heme, which is made by injecting genetically engineered yeast with soy DNA. It's all very uncanny valley.
Alright … but how does it taste?
The only people who have gotten to try it are at CES right now. The Verge reporter Elizabeth Lopatto describes the Impossible Pork she was served as "very salty" and "a little spongy." But she's been a vegetarian since 1996. So, she had a meat-eater try it, and that tester agreed that the texture was off but the flavor was there. Lopatto tried a bánh mi sandwich, char siu buns, dan dan noodles, katsu, and sweet, sour, and numbing meatballs all made with Impossible Pork.
Wait, those are all Asian foods.
Oh, didn't you know? Impossible Pork is Impossible Foods' very transparent attempt to break into the global market, and more specifically, the Chinese market. Pork is the most widely consumed protein in the Far East country and Impossible Foods wants … those … yuans!
Why so thirsty for Chinese money?
Hey, Alexa, what's the population of China? As of 2017, the population of China is estimated to be 1.386 billion people.
Noted. But in North America, we love bacon. Did Impossible Foods announce bacon?
No, unfortunately they did not. CEO Pat Brown told USA Today, "We're not going to release a bacon product until we feel like anyone who is the most hard-core bacon-worshipper thinks it's awesomely delicious." Which is Silicon Valley speak for "We're nowhere close to creating alternative bacon."
But surely Impossible Sausage is on the way.
You bet your fast food–loving ass it is. On January 13, Burger King, home of the Impossible Whopper, will introduce the Impossible Croissan'wich at 139 locations in Savannah, Georgia; Lansing, Michigan; Springfield, Illinois; Albuquerque, New Mexico; and Montgomery, Alabama.
I don't live in any of those places.
You'll just have to wait. Or you can always grab Beyond Meat's plant-based sausage, introduced nearly two years ago, at any Dunkin' in America.