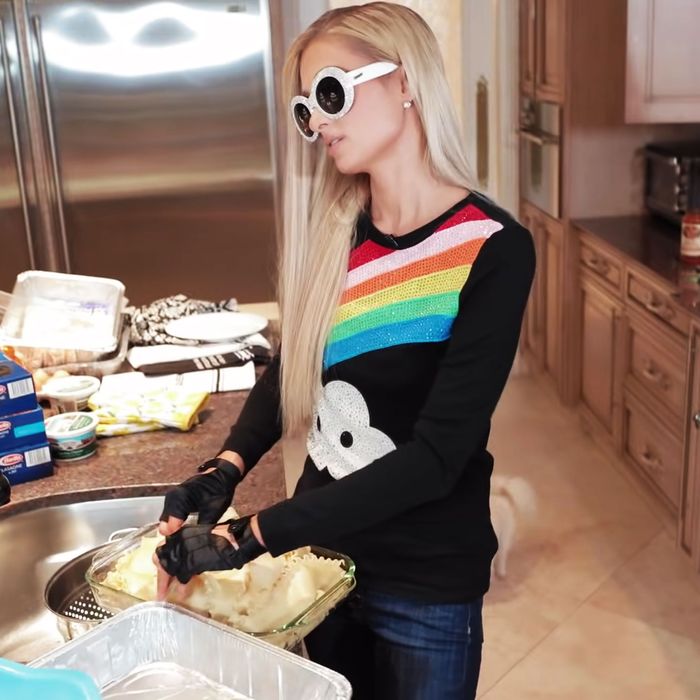 Paris proves there really is such a thing as "bad lasagna."
Photo: Paris Hilton/Youtube
"As you all know," Paris Hilton says, huskily, straight to camera, clutching her Chanel-clad Chihuahua, before stopping herself. "Well, maybe not all of you know, but people who do know, know that I am an amazing cook." Hilton then spends the next 16 minutes of her "Cooking With Paris" YouTube video demonstrating why she is not an amazing cook, failing to grasp basic kitchen principles, or even to wash her hands, while making what might be the world's only bad lasagna.
Two weeks since the video premiered, I'm still not sure if it's meant to be taken seriously, if it's merely an elaborate promotion for Hilton's new documentary, if it's possible that this is extremely unlikely cultural commentary, or if it's simply an ill-advised foray into a kitchen that is clearly not her own. But I also do not care because, intentional or not, "Cooking With Hilton" is a triumph of a new type of genre that I cannot stop watching: Celebrities who have nothing to do with food, making their own cooking videos.
Like many children of the '90s, I grew up with cooking television: My family would gather for episodes of the original (and superior) Japanese Iron Chef. Sick days home from school meant hours of binging Emeril and Ina. When Top Chef premiered, I became an instant fan, and I've seen every season of The Great British Baking Show at least once.
Of course, the age of YouTube means there are endless options to watch now. In seconds, you can find tutorials for dismembering a jackfruit, spatchcocking a chicken, or preparing a perfect duck à l'orange. You can join the masses in admiring Melissa Clark folding pie crust, or add another view to the millions who check in for Bon Appétit's latest episodes.
But lately, I've found myself propelled toward cooking videos that prioritize clicks over consistency, and pure entertainment over any kind of instructional value. There is something mesmerizing about watching Bun B put together a totally normal chicken pot pie. It is deeply soothing to scroll through the archives of Haylie Duff's "Real Girls Kitchen." Kylie Jenner's "Cooking With Kylie" features appearances from friends, siblings, and her daughter, Stormi. Tiffani Thiessen, show me the food that you make for your kids! (Even Bon Appétit dabbles in the form with its "Back-to-Back Chef" videos that force celebrities to cook alongside the magazine's own food editor.)
There are some celebrities who have made the jump from one successful career to a second act as a true food personality (Chrissy Teigen, for one), but for me, the less attached the host is to the food, the more perversely satisfying the video is. Here is a person of moderate fame, who can cook basically as well as anyone (or, in some cases, worse), but who nevertheless has the confidence to project it to the world, begging viewers to pay attention while they do something completely mundane. It is fascinating and, of course, Paris Hilton instantly mastered the medium with her video, by appearing unable to cook and, in fact, irritated that she's even been asked to try.
Standing near the stove, she immediately bemoans the fact that she has the wrong type of noodles. Holding up a log of solid mozzarella, Hilton recommends purchasing a pre-shredded version instead. She grumpily grates it while she explains that the fingerless gloves she wears are for "sliving" — a Hilton-coined verb that means slaying while living, apparently.
I wonder if this is all a setup. If someone like Curtis Stone will arrive to save the lasagna, and the day. But Paris soldiers on alone, pushing through this impossible task with only a rotating cast of miniature dogs by her side. Even the production team seems to have abandoned her. The whole thing looks like it was shot on an iPhone 8, and the lack of any real editing makes the already-lengthy 16 minutes feel both longer and more uncomfortable than they should. The final lasagna, of course, devoid of any real aromatics, seems like it will be a punishment to eat.
Like all great art, the video demands to be experienced again and again, revealing fresh nuances and new details to amuse and horrify. More than 3.2 million people have watched this video and I desperately hope there will be a sequel.
A few days after I saw this video for the first time, I got a newsletter blast from the New York Times touting their own classic lasagna. It contains garlic, onions, and fresh mozzarella. Delicious, undoubtedly, but far too boring, in my estimation, because what good is a lasagna recipe in the year 2020 if it doesn't even mention sliving?