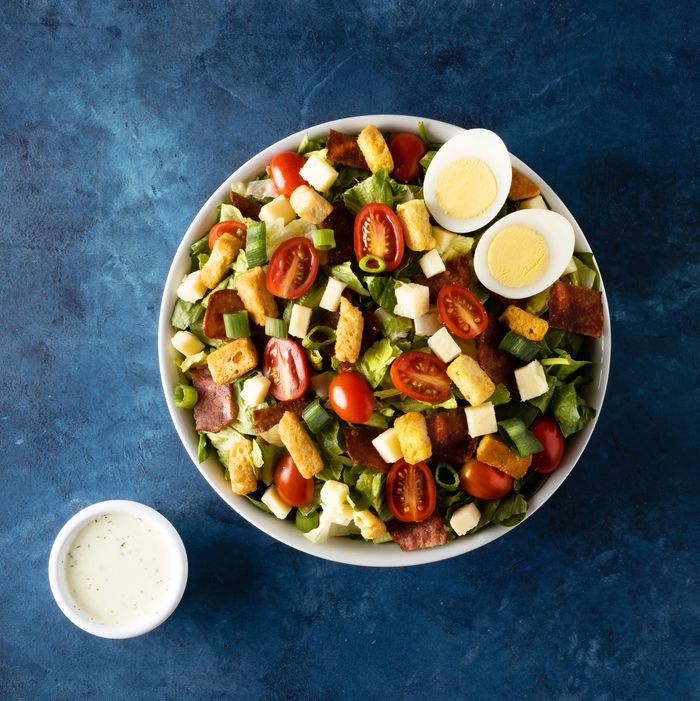 The Breakfast Salad.
Photo: Cody Rasmussen
The question you see in the headline above is one that has haunted Grub Street since at least 2018. It popped up when we began brainstorming ideas for a collaboration with Just Salad. It was, admittedly, just one thought of many, and ultimately, we landed on a Little Italy salad, our riff on a classic pizza-joint salad, one that also actually tasted good. We are very proud of that salad, and still order variations of it for the occasional weekday lunch, but the question of whether we could make a salad that tastes like a breakfast sandwich sat on the whiteboard, possibly destined to remain unanswered forever.
So when Just Salad asked us if we wanted to collaborate on another limited-run salad, we knew the time had come to finally solve this riddle once and for all.
Gathered together at Just Salad HQ a few months ago, we looked over the ideas and prototype salads that the test-kitchen crew had put together. Any of them would have made for a healthy, hearty lunch. We debated the relative merits of various greens, the appeal of certain dressing and topping combinations, whether a few ideas were too out there for people to enjoy during their lunch breaks.
Then we tasted the Breakfast Salad and knew that we had found something special.
To answer the most pressing question right away, it does not taste exactly like a breakfast sandwich. Instead, it tastes like the spirit of a breakfast sandwich, made fresher, more vibrant. It is somehow new and familiar at the same time. Yes, it was inspired by breakfast, yet it is an ideal thing to eat for lunch and dinner.
Here is what's in it: A base of spinach and romaine is mixed with crisp turkey bacon, hard-boiled egg, cubes of sharp white cheddar cheese, grape tomatoes, slivers of scallions, and crunchy croutons. It's tossed with Just Salad's buttermilk ranch, and if you'd like, it can even be finished with a drizzle of sriracha.
It is a deeply enjoyable salad, but you do not have to take our word for it. Instead, you can simply try it yourself. For the month of February, the Breakfast Salad will be available at all Just Salad locations, and we could not be happier about that. We suspect that, once you taste it for yourself, you will be very happy about it, too.
As part of its collaboration with Just Salad, Vox Media will receive a percentage of all sales of the Breakfast Salad.