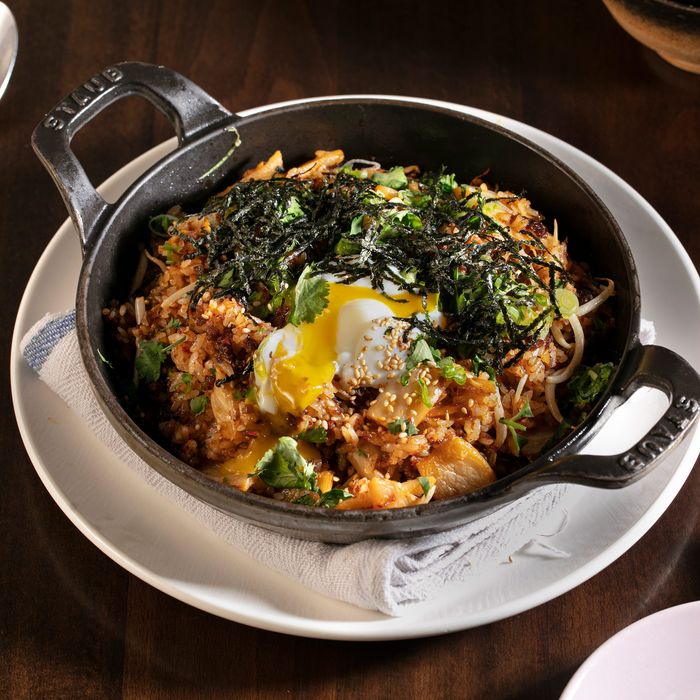 Nowon's kimchi fried rice.
Photo: Melissa Hom
Fried rice is as classic a meal as meatloaf or lasagna. It's day-old rice made suddenly new again, a steaming bowl of carbs to warm the soul. But for every classic, there's a more chef-driven take to dig into. New York City chefs have taken note, driving fried rice to amazing (and incredibly delicious) new heights. Chicken and egg have been usurped by octopus, crab, short rib, and even pepperoni, and toppings like nori, harissa, veal demi-glace, and dill have entered the mix, but one thing hasn't changed at all: Fried rice is still as comforting as ever. Here's where to eat next-level fried rice in New York City right now.
Octopus & Spam fried rice and kimchi fried rice
Where: Nowon
How Much: $24/$23
Pop-up turned restaurant Nowon just happens to have two stellar fried rice options that we couldn't help but highlight here. First, an elevated take on Spam fried rice with a straightforward base — octopus, Spam, scallions, ginger, fish and soy sauces, and garlic — and unexpected toppings, including dill, arugula, and harissa, which cut through all that fatty goodness in the best way. Then there's the kimchi fried rice, a Korean staple that chef Jae Lee enhances with dry-aged short rib and a runny poached egg.
Thai fried rice
Where: Piggyback
How Much: $17
In addition to the shrimp usually found in kao pad, chef Leah Cohen throws in sliced Chinese sausage alongside the usual egg, bird's eye chili, and Thai basil, which gives this enough weight to have it as your main course.
Pineapple fried rice chicken and shrimps
Where: Noods N' Chill
How Much: $15
At this new Thai restaurant from the same folks behind Plant Love House is the destination for Thai breakfast right now, but don't sleep on dinner either. Among the options is this slightly sweet, slightly spicy staple of the Thai diet that goes from side to main with chicken and shrimp.
Ika fried rice
Where: Chikarashi Isso
How Much: $18
The chefs at the new Japanese spot Chikarashi Isso don't put their squid on a skewer; instead, they marinate it in gochujang and then just barely sear it to preserve its clean, briny flavor and keep it tender. The squid arrives tableside on a bed of egg fried rice with garlic and scallions. It's a simple, but incredibly flavorful treatment for an old standby.
Hawaiian Spam rice
Where: Huli Huli
How Much: $3.50–$6.50
The team behind the East Village's Noreetuh has expanded with this Hawaiian stand at the new Midtown food hall the Deco. Though the focus is primarily on rotisserie chicken, you better believe there's Spam fried rice on the menu. There's no fancy treatment — just Spam fried with vegetables and day-old rice like they eat in Oahu — but you know it's the best version of that dish it could possibly be.
Omurice
Where: Bar Moga
How Much: $16
Most of us can trace our love of fried rice to chicken fried rice. It's a simple, childhood favorite. The most adult answer to that is the omurice at this Japanese bar, a mainstay of Instagram since its debut in 2017, where a bed of chicken fried rice sits beneath the loveliest, demi-glace-drizzled omelette you may ever set your eyes on. Throw in a highball and you've got chicken fried rice all grown-up.
Grilled short ribs over Spam fried rice
Where: Būmu
How Much: $28
For anyone who instantly gravitates to short rib on a menu, head to chef Joaquin Baca's West Village izakaya and dig into this dish. It's essentially a two-parter: Spam fried rice with the works (mirepoix, soy sauce, egg, white pepper) and Korean short ribs marinated in sticky-sweet galbi sauce. Think of it as two meals in one.
Curry beef fried rice
Where: Fan Fried Rice
How Much: $13
For a minute now, this tiny Bed-Stuy shop has churned out inspired takes on fried rice (pastrami and cumin lamb, for instance) and that includes the seasonal specials. For winter 2020, the restaurant has a curry beef special featuring marinated flank steak tossed with bell peppers, onions, eggs, and turmeric- and chili-based curry powder. It won't exactly set your mouth ablaze, but be sure to keep some water on hand anyway.
BBQ calamari with pepperoni fried rice 
Where: Don Angie
How Much: $16
Yes, it's possible to make fried rice with an Italian accent: Chefs Angie Rito and Scott Tacinelli have concocted a particularly intriguing take on fried rice at their West Village restaurant. It involves stir-frying jasmine rice with pepperoni, sweet peppers, oregano, and the usual cast of alliums, including garlic, onions, and scallions. To finish: some barbecued calamari and labne.