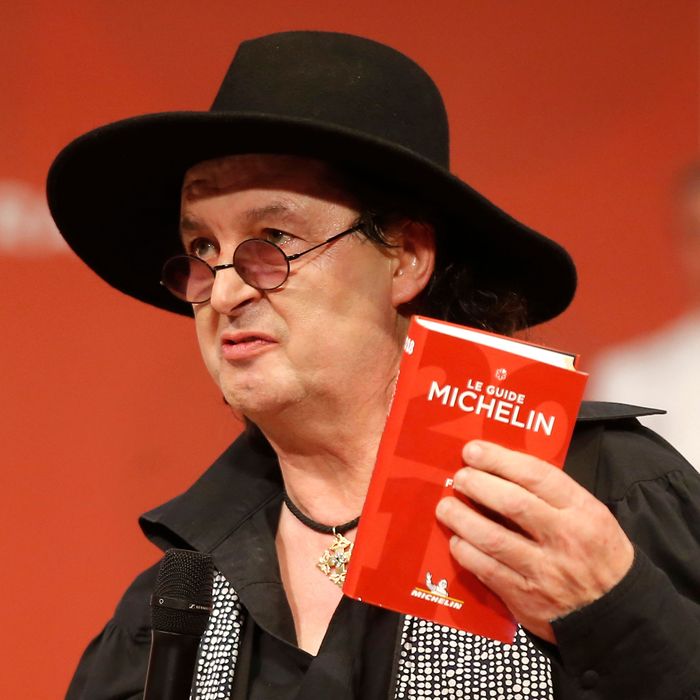 "Je deteste!"
Photo: Michel Euler/AP/Shutterstock
French chef Marc "Cheddar, I Hardly Know Her" Veyrat is back in the news as his war against the Michelin Guide rages on. However, he's lost his biggest battle to date: According to the Times, a French court sided with Michelin officials three months after Veyrat decided to sue them.
Here's a rundown of the very French tiff between the two: In 2018, Veyrat's restaurant La Maison des Bois, where a meal will run you between $330 and $440, was given three Michelin stars. It was a coup for Veyrat, who was considering getting out of the game entirely. A year later, Michelin stripped him of one of those stars. So, Veyrat sued the organization to get access to the reviewer's notes and receipts to understand why he was downgraded. He also asked to have all his stars taken away so he could sleep at night.
While Michelin says it sat down with the chef to explain why he lost a coveted star, it still refused to share any documentation with him or let him opt out of the Michelin Guide system entirely. As the head of the Michelin Guide, Gwendal Poullennec, put it to Le Monde, "The stars from the Michelin Guide do not belong to the chefs. It is not up to them to give them up."
If Monsieur Veyrat really wants to get rid of those stars, he should try the Jiro Ono method and make it so difficult to get a reservation at the restaurant that the guide officials throw their hands up and remove him from the list.