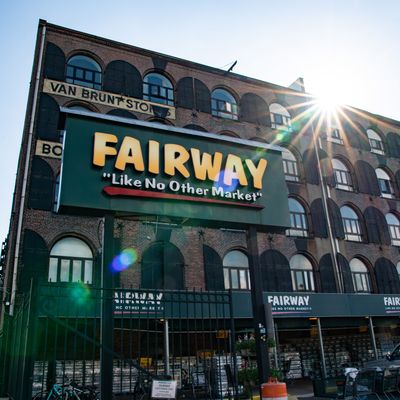 RIP.
Photo: Jeenah Moon/Bloomberg via Getty Images
Grocery drama! The New York Post reports that beleaguered grocery-store chain Fairway is finished. Per the tabloid, "Fairway will close all 14 of its stores, including its flagship store at Broadway and West 74th Street … The liquidation could be announced as soon as Wednesday, sources said."
The news would not exactly be surprising: The company lost $300 million during the first half of the 2010s, and saw its stock hit ever-new lows, going from a meager $2.16 per share in May 2015 to, at one point, roughly 30 cents. The next year, the company filed for Chapter 11 bankruptcy, by which point it was $267 million in debt. New Yorkers were left scratching their heads: What happened to the chain that, just a few years earlier, had Upper East Siders lining up during an opening?
So, another New York institution is a goner, right? Not so fast, says Fairway:
But this denial, too, is not exactly correct. The day after these reports, and the original statement, emerged, Fairway announced that it will sell five of its stores and file for voluntary bankruptcy protection.
In 2016, former Fairway employee and author Hannah Howard wrote for Grub that the chain's financial crisis was the product of several issues, "including an overly aggressive and poorly executed expansion plan and rising competition in the quality-produce business." (That competition came from national chains Whole Foods, which had not yet been bought by Amazon, and Trade Joe's.) One executive told Howard, "The leadership was completely incoherent."
On social media, the initial news was met with, mostly, a mix of sadness and anger, including from the likes of Representative Alexandra Ocasio-Cortez and New York City comptroller Scott Stringer. It can be summed up in the words of one former buyer for Fairway, who told Howard, "What happened was an injustice."
This post has been updated throughout to include Fairway's official statement, as well as the update that the chain will sell five of its locations.