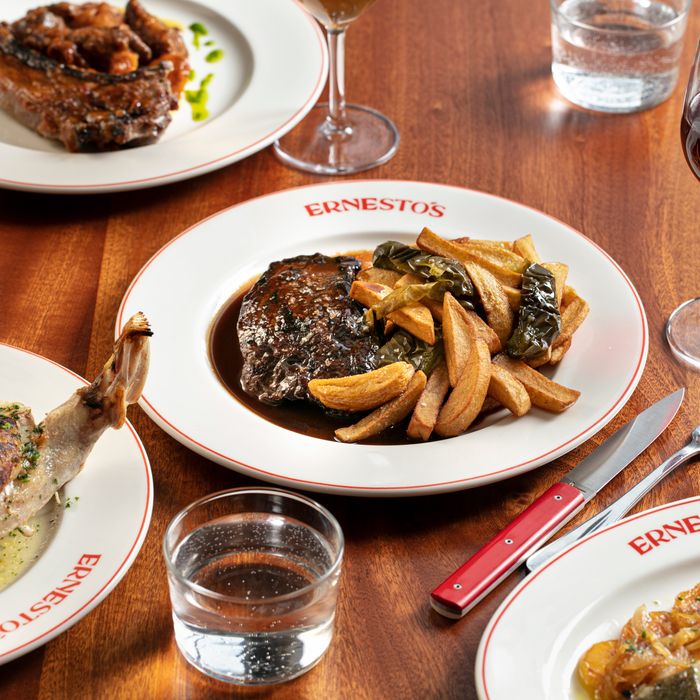 Living your Basque life at Ernesto's.
Photo: Melissa Hom
This week, the Lower East Side welcomed a new restaurant to the neighborhood: Ernesto's, an ambitious operation specializing — mostly, anyways — in Basque cuisine. Located in the corner of the area that's home to Mission Chinese Food and Kiki's, it's a 55-seat space with a menu that doesn't read like a rehash of the same old Spanish restaurants.
"I wanted to do something distinct and special to New York, but you could still see it if in San Sebastián or Paris or Madrid or London," Ernesto's chef, Ryan Bartlow, says. "But I don't think there are that many other places in town that I would connect this to." A native of Chicago who worked at his hometown's fanciest restaurant, Alinea, Bartlow spent some of his formative years in San Sebastián at the progressive Basque restaurant Akelarre while living above a tavern in a village, before moving to New York, where he has worked at Frankie's Sputino, Quality Eats, and Frenchette.
To open the restaurant, Bartlow tapped Frenchette's former head bartender Sarah Morrissey and Pierre Darrien, who had been the sommelier at Sota Atsumi's famous Clown Bar in Paris.
Given the team's experience, the breadth of the menu, and Bartlow's history working at boundary-pushing restaurants, Grub Street asked the chef to talk us through his entire exciting, extensive menu. He gladly obliged.
Cocktails
"Other than the gin-and-tonic, hard liquor isn't always a classic accompaniment to this style of food and restaurant," Bartlow says. Ernesto's has beer, wine, cider, vermouth, and other lower-proof drinks, while Morrissey's cocktails are fun and uncomplicated: a 5 Finger Martini (with Palo Cortado sherry and two types of vermouth, sans gin or vodka) and a section of "redemption cocktails," slightly spruced-up versions of lowbrow drinks like the Kalimotxo, here with lime and Mexican Coke.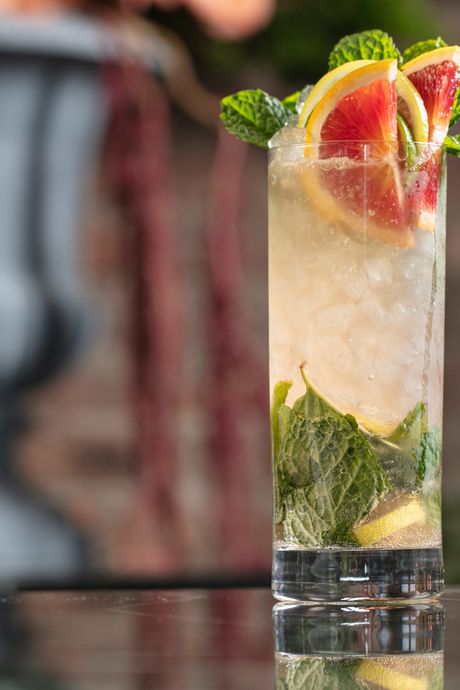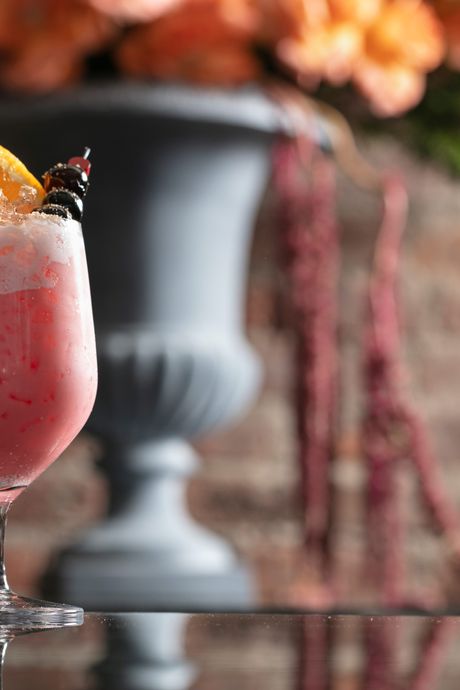 Para Picar
These are the snacks, all $10, if you just want something to nibble on: shrimp toast; the pepper, olive, and anchovy skewers called "gildas," served with canned tuna belly; croquetas de gallina, for which chicken gets poached in milk that is then used to make the béchamel; and albondigas en salsa, made from beef trimmings. "It's kind of this hodgepodge between a broth and a purée," Bartlow says of the meatballs' Espagnole sauce. "It's like a gravy — very traditional."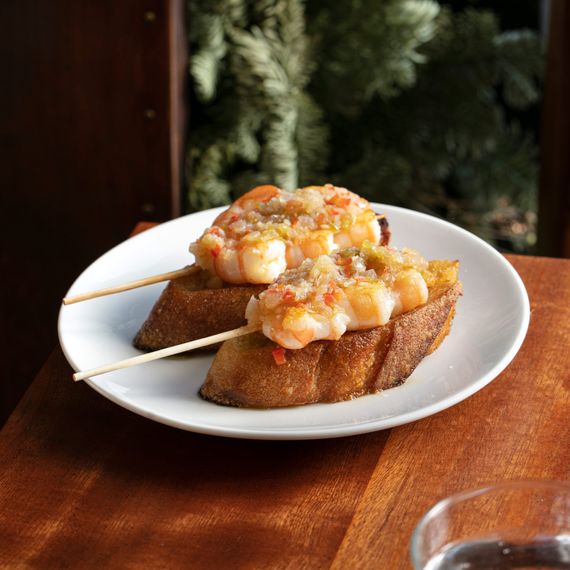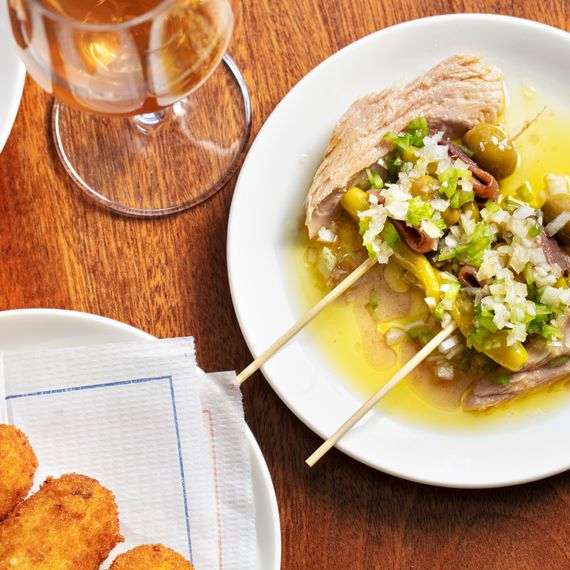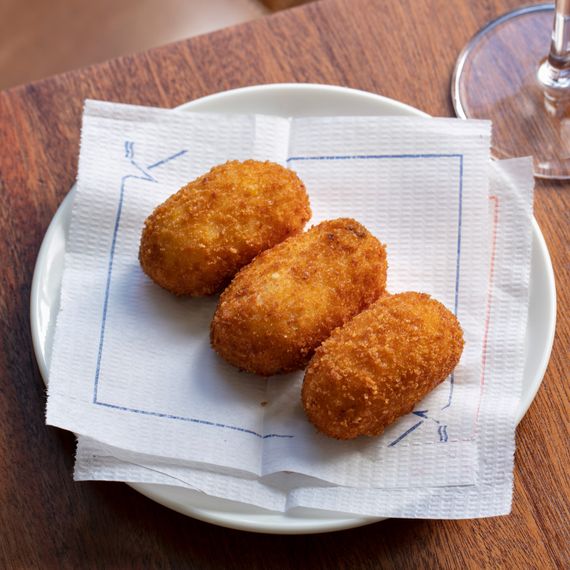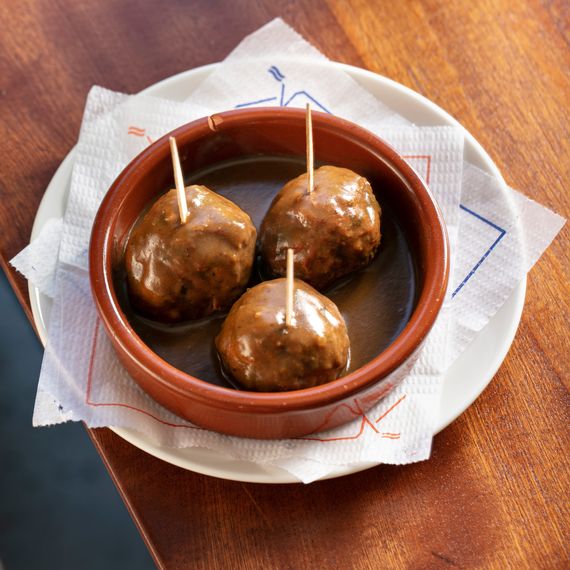 Paleta Iberico Con Chips
Ibérico ham may be standard issue at New York's Spanish restaurants, but how many places serve it in a mesmerizing, towering mound with equally thin, nearly translucent potato chips? This is vertical food for the 21st century. As for the ham, the Ernesto's kitchen alternates between Covap and Cinco Jotas, depending on what's available. "It's still better than anything domestic," the chef says.
Brotxetas de Pulpo
"Skewered octopus is common in pintxos and tapas bars," Bartlow says of serving the seafood this way. It comes with pear and salsa bravas, a potent, tangy tomato-based sauce you likely know best from your potatoes.
Blowfish Frito y Rabas
"I do blowfish tail, as it has a light, natural flavor and is suited well for batter frying," Bartlow says. "We take the bone out and leave the flesh together at the tail, creating less work for the diner."
Porrusalda
Porrusalda is simply a humble potato-and-leek soup," the chef explains. "I ate a lot of it in wintertime when I worked in Spain. I still eat it a lot. Vegan and nourishing."
Orejas y Sepia
"It's a classic combination, particularly in Catalunya — surf and turf," Bartlow explains of this dish of sepia (cuttlefish) with Mulefoot pig's ear. "A lot of times, you'll see these ingredients with lentils and/or fried egg, so we decided to put it all together."
Callos de Joan
Yes, there is tripe. "It's not for everybody," Bartlow says, "but I wanted to have it on the menu because I love it. People who are into it really dig it. People who aren't into tripe really love it." Called "callos de joan," or "Madrid-style tripe," the dish requires an elaborate cooking process that involves boiling the tripe alone; cooking it for several hours with calf's and pig's hooves, a ham bone or ham hock, and a bunch of other stuff; making a sofrito and a roux; and cooking it for a couple more hours with paleta ibérico, dried chorizo, morcilla (blood sausage), hot and sweet paprikas, and tomato.
Piquillos Rellenos
Served warm, two to an order, green and red piquillo peppers are stuffed with braised lamb neck from the Hudson Valley's Kinderhook Farm and then served with a jus and topped with fried minced garlic. "It's an homage to one of my favorite restaurants, which was pretty close to where I lived in San Sebastián: Rekondo," Bartlow says. (Other meat dishes use less-popular cuts, like the pork cut called secreto, which gets grilled and paired with chickpeas.)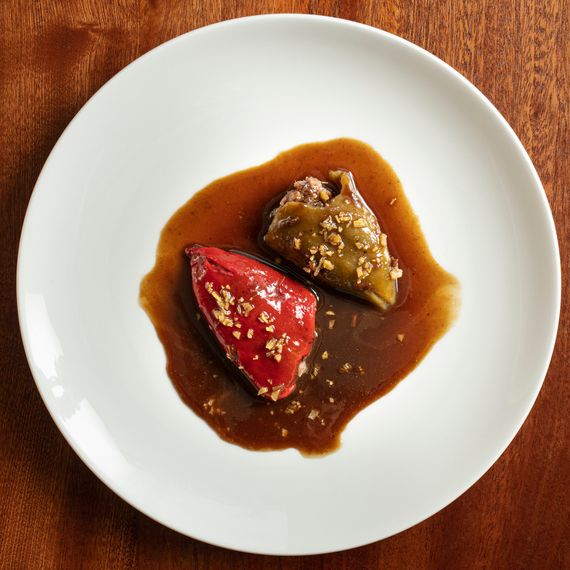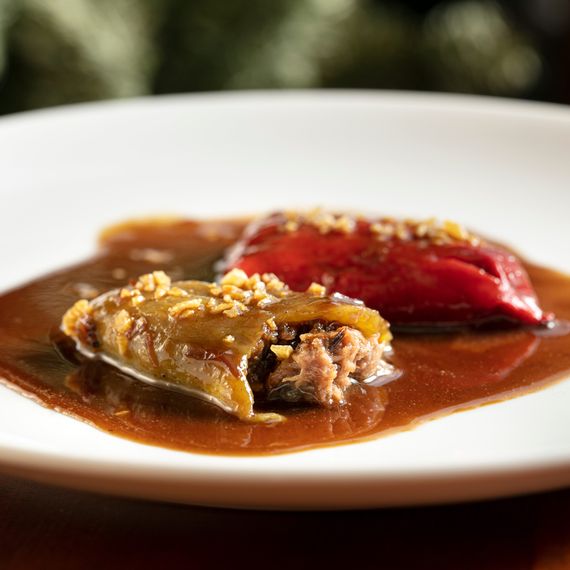 Foie Caliente
Unsurprisingly, the most exciting part of the restaurant's foie gras dish isn't the fattened liver. It's the corn cake. "It's made from taking popcorn and pulverizing it to a powder, then folding in egg whites and piping it into a ring mold and cooking it on the griddle," Bartlow says, explaining that the result resembles a dacquoise more than it does the traditional Basque talo. "That dish is an homage to Pedro, Felix, and Borja, from Akelarre, and pretty much out of their 2004 menu playbook."
Ensalada Ernesto
A house salad in the style of places like the tavern Bartlow lived above in Spain. It's just a green-leaf lettuce with an acidic vinaigrette, shaved raw onion, sliced hard-boiled egg, and white asparagus. "I wanted to keep it vegetarian — a lot of times, you'll see canned tuna or anchovies," he says.
Calamares en su Tinta
You could make a nice meal out of just the calamari at Ernesto's; it's the main ingredient in the first of six dishes in the "Pescados y Mariscos" section of the menu. Stewed in an ink sauce that Bartlow describes as a "cleverly fish-flavored tomato sauce," it comes with pan frito made from the restaurant's house brioche. "Someone said it reminded them of mozzarella sticks," the chef says. "A perfectly fried, golden-brown piece of bread with a tomatoey thing."
Bacalao a la Vizcaina
Of course, there's salt cod, in the form of a Basque-style codfish stew — a dish that's now served in various regions of the former Spanish empire including Mexico and Puerto Rico. "The sauce comes from choricero peppers that we rehydrate in hot water then purée into a sauce," Bartlow explains.
Rape a la Plantxa
You can have your monkfish with your shellfish, too: It's served with clams and salsa verde. "It's simply garlic, parsley, fish stock, and a little cooking liquid from the clams," the chef says of the sauce.
Rodaballo a la Parilla
Grilled turbot gets matched with patatas panaderas ("baker's potatoes"), sliced potatoes seasoned with garlic and onion and baked in white wine and olive oil. "We make a quick pil pil from the piece of grilled turbot and sauce it over the fish and potatoes to finish," the chef says.
Carillera de Buey
"It's a very classic staple," Bartlow says of the braised beef cheek served with potato purée. The meat is cooked in wine, aromatics, and beef broth, which he then turns into the sauce. "It's a perfectly vicious and yet unctuous sauce," the chef explains. (If you prefer poultry, there's a confit de pato, or duck confit, with alubias de Tolosa, black beans stewed with chorizo and blood sausage.)
Cordero Chilindron
"This is something you see a lot in northern Spain, especially Navarre, Rioja. I'd have it every weekend when I'd hang out at my friend's house in Rioja," Bartlow says. It's lamb two ways: a grilled chop served next to a shoulder that was cut into cubes, dredged in flour, and browned, then cooked in a sauce with tomato, choricero pepper, white wine, potatoes, and more.
Bistec con Salsa Oporto and Txuleta de Vaca Vieja
"We worked out a program where we're getting whole cows or half-cows at a time and aging the strip loins and rib eyes to have our proper chuleta, a large-format steak for two on the grill," the chef explains. That's the txuleta de vaca vieja, a beef chop from an older cow that, for good measure, is made even a little older by dry aging it for 60 days. Meant for two, it comes with a green salad (eat your vegetables, kids) and a piquillo gratin, the peppers broiled with olive oil and garlic until they're a bit charred. But there's also a more affordable, tavern-style option: For the bistec con salsa oporto, the cut will rotate depending on what the restaurant has available. It's served with a comparably luxurious port and foie sauce — high-low! — and fried potatoes.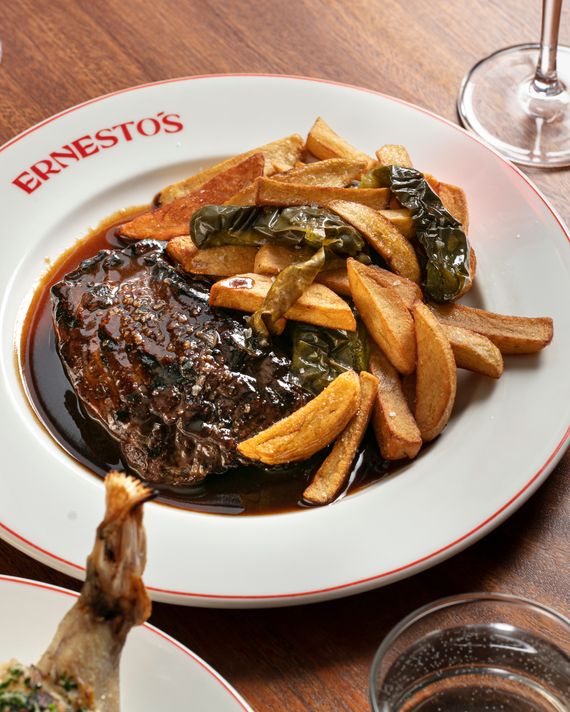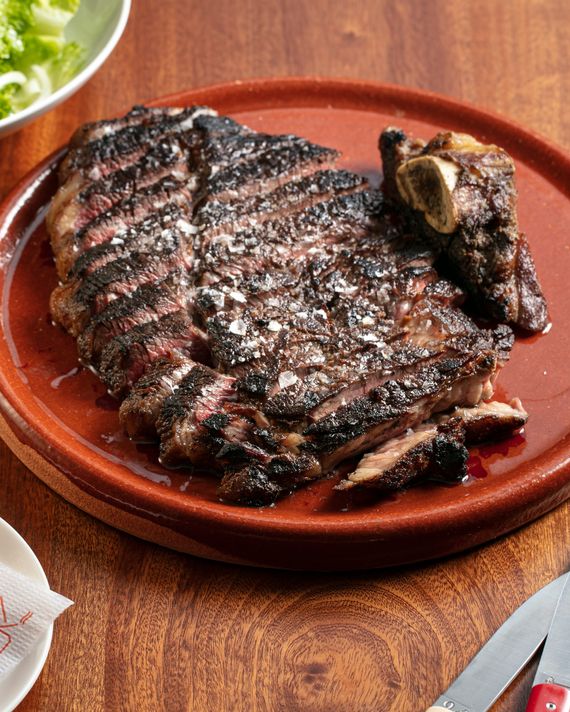 Salsifi a la Parilla
Finally, there is a trio of vegetable dishes. There's grilled salsify with migas (bread crumbs) and a fondue made of Idiazábal, a hard sheep's-milk cheese. "It's a riff on a dish you might see in the springtime," Bartlow explains.
Cardos Estofados
You'll also find cardoons in almond sauce, which Bartlow calls a "very traditional" dish.
Hongos con Huevo Juan Mari
"Mushrooms with egg are seen all over pintxo bars in San Sebastián. This is our version," the chef says. "The egg is cooked in the classic Arzak style as another homage to one of the other legends of Basque cuisine."
Torrijas
Come dessert time, you can keep it simple and order the three cheeses Ernesto's is serving right now: bonde du Poitou from France, Jasper Hills Farm's Calderwood from Vermont, and Twig Farm's goat tomme, also from Vermont. Or maybe you're a breakfast-for-dinner type — in which case, you should order the torrijas, often called Spanish-style French toast. It's made from the restaurant's house brioche and served with helado de leche — keep it simple, stupid — also made in-house.
Canutillos
"Canutillos are essentially Basque cannoli. A hybrid of puff pastry and tuile batter is wrapped around a cone mold and deep-fried," Bartlow explains. That then gets filled with pastry cream and served with cinnamon ice cream.
Gâteaux Basque
"The filling for the gâteaux Basque is Armagnac-soaked prunes, chocolate, and a touch of pastry cream," Bartlow says of his version of the famously flaky tart.
Tocino del Cielo
"It's a sweeter, richer, denser flan than normal," Bartlow says. "It is made from primarily egg yolks and simple syrup. It's garnished with a little meringue for texture and some Chantilly cream."
Pastel de Chocolate
"The chocolate cake is a traditional chocolate bizcoco, a cake that gets puréed roasted beets folded into the batter for richness and lightness," Bartlow says. Topped with chocolate meringue, it's served with a coulis of sweetened reduced beet juice and olive-oil ice cream.
Sorbetes
In the event those desserts are a bit heavy after a big meal, you can just opt for a sorbet that the chef says will change seasonally. Right now, there's lemon or blood orange.
Ernesto's, 259 E. Broadway, at Montgomery St.; 646-692-8300