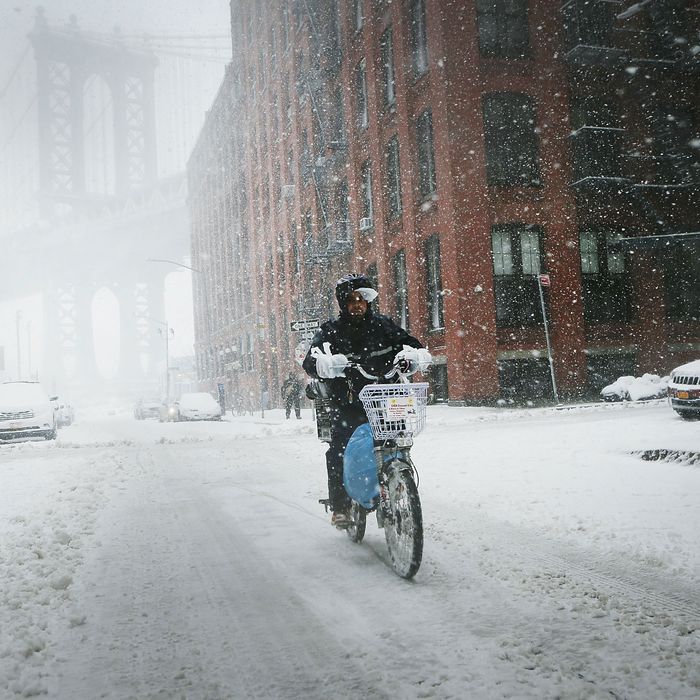 Photo: Spencer Platt/Getty Images
Delivery workers who depend on e-bikes, throttled-assisted bicycles that can reach up to 28 mph, are on edge following a string of thefts. The suspects haven't attempted to steal cash or food, but rather the bikes themselves, which can cost as much as $2,000.
According to the New York Times, the same two men have been implicated in 22 different robberies since September. In each case, delivery workers were held at knifepoint or pepper-sprayed before having their e-bikes stolen. The report doesn't mention a neighborhood or hot spot for the thefts. Another two e-bikes have been stolen but the cases do not appear to be related.
Delivery workers are in a particularly vulnerable position: Not only do they deliver to distant neighborhoods after dark but their right to use e-bikes is not protected under the law. Late last month, Governor Andrew Cuomo vetoed a bill that would have legalized e-bikes and e-scooters, citing safety concerns.
In a Queens College study cited in the same report, less than half of delivery workers who have been robbed said they filed a police report. Part of that can be chalked up to their status as immigrants. But the NYPD is encouraging them to come forward regardless or, at the very least, work with police to find ways to prevent future targeting.