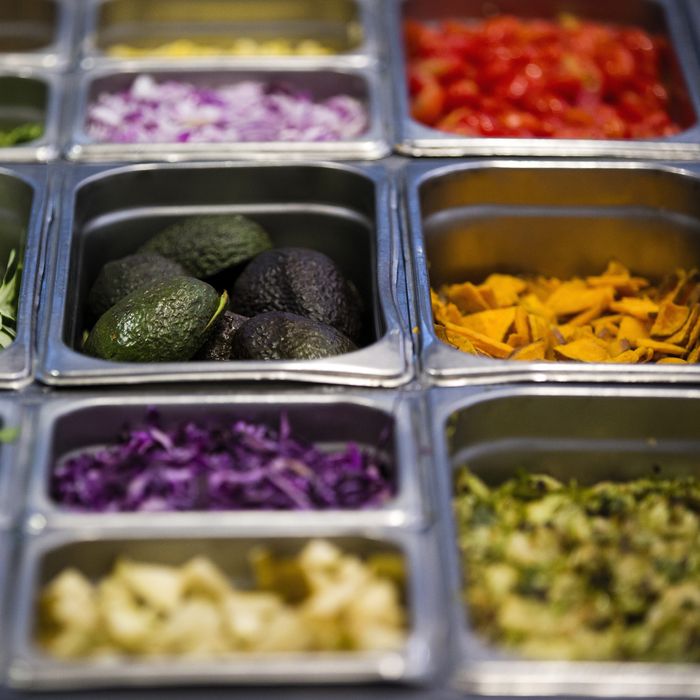 Texture, texture, texture.
Photo: Adam Glanzman/Bloomberg via Getty Images
Lines at salad bars are never worse than at the beginning of the year. After a month-plus of holiday indulgence, everyone and their mother is eager to get their diets back on track, and salads seem to be the universal calling card for wellness. If you're part of that contingent, you may feel overwhelmed by all the possibilities, but Grub is here to help. We asked 11 chefs and food folks to share their approach to gaming the salad bar, so no one has to eat a sad desk salad ever again.
Amanda Wilson
Culinary director, Daily Provisions
"My go-to order usually consists of wild rice, baby spinach, basil, cilantro, cucumber, onion, blackened chicken, avocado, feta, tortillas with cucumber-tahini dressing, hot sauce, and some lime juice. It's a mix of two of my favorite cuisines: Mediterranean and Mexican flavors in one bowl. Feta, cucumbers, and the tahini dressing work really well with traditional Mexican flavors and foods like tortilla chips, cilantro, and hot sauce."
Jeremiah Stone
Chef-owner, Contra, Wildair, and Una Pizza Napoletana
"For a salad, I want something that feels clean without sacrificing interesting flavor. I almost think of it like a slaw with a lot of crunchy elements. Use shredded cabbage and cilantro for your base, adding on red onion, roasted almonds, za'atar bread crumbs, and pickled carrots and celery. A hard-boiled egg and shaved Parmesan add some body. For dressing, pick something creamy like the spicy cashew dressing, and top it off with some extra-virgin olive oil and a fresh-lemon squeeze."
Ayesha Nurdjaja
Executive chef, Shuka and Shukette
"For me, texture is everything, so I like a salad with a lot of crunch. I'd start with romaine and red cabbage, add red onion and lots of herbs like cilantro, parsley, and basil — I love herbs in any salad. Add to that chickpeas, olives, and tomatoes (but only when in season), and top with feta, nuts, and seeds. For protein, I'd add chicken, but only a whole breast, not strips. I can cut my own chicken, thank you. Dress simply with fresh lemon or lime juice and olive oil, or pesto if available (more herbs!)."
Julia Sherman
Author of Salad for President
"For me, a chopped salad has to have crunch, something fatty and silky, and a dressing that brings it all together. I do a mix of fresh veg and a little protein: Chopt lettuce blend, grilled chicken, avocado, Mama Lil's spicy peppers (spicy and acidic), celery, rainbow carrot, and crispy chickpeas. I tie it all together with the Chopt tahini dressing — they use Seed + Mill tahini, which is the fanciest stuff on the market."
Darren Pettigrew
Executive chef, Valerie
"Salads have to be interesting. Seasonal leaves. A good Arcadian mix works well. Lots of different flavors and crunchy bits. My salad order is kale, cabbage, beets, chickpeas, raisins, almonds, hot sauce, and vinaigrette with blackened-chicken thighs. I like to have a combination of textures and flavors, which I get by adding nuts, dried fruit, legumes, and other ingredients. Keeps the salad interesting."
Farideh Sadeghin
Culinary director, Munchies
"We have a Sweetgreen outpost at our Williamsburg office, and I can't lie: Sometimes ordering a salad from there is a nice change from the daily recipe tests (especially in winter, when there is nothing growing on our rooftop garden!). My ideal salad needs some crunch and texture, and I love a creamy dressing. I'd order romaine as my base. (Don't do the kale — you don't always have enough time to massage the kale, and that shit is hard to take otherwise.) Throw in some cabbage and cucumber for crunch, as well as the spicy sunflower seeds, almonds, and bread crumbs for texture. Definitely some feta, avocado, and then either the sesame tofu or the blackened chicken. For dressing, sign me up for either the miso-sesame-ginger dressing or the curry-yogurt dressing. Skip the bread."
Garrison Price
Executive chef, Il Fiorista
"If I'm hungry and pressed for time after a workout, my go-to is usually Sweetgreen. My own salad concoctions revolve around arugula (spicy), romaine (crunchy), raw beets (high in folate), broccoli (anti-inflammatory), sunflower seeds (vitamin E), almonds (biotin), avocado (B5), and spicy cashew dressing (healthy fat). I'm obsessed with seeds and nuts because they are good for you and filling, but also add great texture to the salad."
David Burke
Culinary director, Mister French
"I worked at La Cremaillere in the early '80s, and when I go to make my own salad, I always try to re-create a 'Salad Gourmand,' with spinach or mixed greens, artichokes (if they have), ham, haricot vert, chickpeas, goat cheese, raisins, almonds, and mustard vinaigrette. It's like the French version of a Cobb salad."
Lukas Volger
Editorial director, Jarry magazine and author of Start Simple
"My main-dish salad formula is often the same: base, protein, body veg, accents. This time of year, I'll drive the salad in a winter-squash direction, going with whatever of that variety they've got on offer, which is roasted butternut squash. Play with the sweetness by adding some shredded raw beet and carrot too — the raw sweetness alongside the cooked sweetness is great. If I were making this salad at home, I'd rub a smear of hummus around the bottom of the bowl for looks, but here they'll blop it on top, and instead of using one of their salad dressings, it'll be hummus plus olive oil and lemon for earthiness and to balance the sweetness. Shower of almonds and sunflower seeds on top, as well as sesame seeds if they've got them. And a hard-boiled egg to top it all off."
Chris McDade
Chef-owner, Popina
"I'm a big fan, so salads with lots of textures and acidity. Also, something that eats well at room temperature and can hold well. Black rice is a good base, filling and full of umami. Then, add roasted broccoli and Brussels sprouts for a savory vegetable element. The rest is where you can have fun building and layering flavors. I like cranberries, toasted almonds, raw and pickled onions, jalapeños, and a handful of herbs. Toss it all with creamy green-goddess dressing and sprinkle some crispy shallots over top. Delicious!"
Meryl Feinstein
Founder, Pasta Social Club
"The Sweetgreen salad bar isn't unlike my fridge at home: I always have arugula, a cucumber, red onions (usually pickled), and chickpeas in the house, not to mention tahini and za'atar, which I usually whisk with great olive oil and yogurt to make a quick, flavorful vinaigrette. So I'd definitely gravitate toward those veggies, the hot chickpeas, za'atar bread crumbs, tahini-yogurt dressing (with extra-virgin olive oil and lemon), and — what the hell — some roasted steelhead trout on top wouldn't hurt either!"