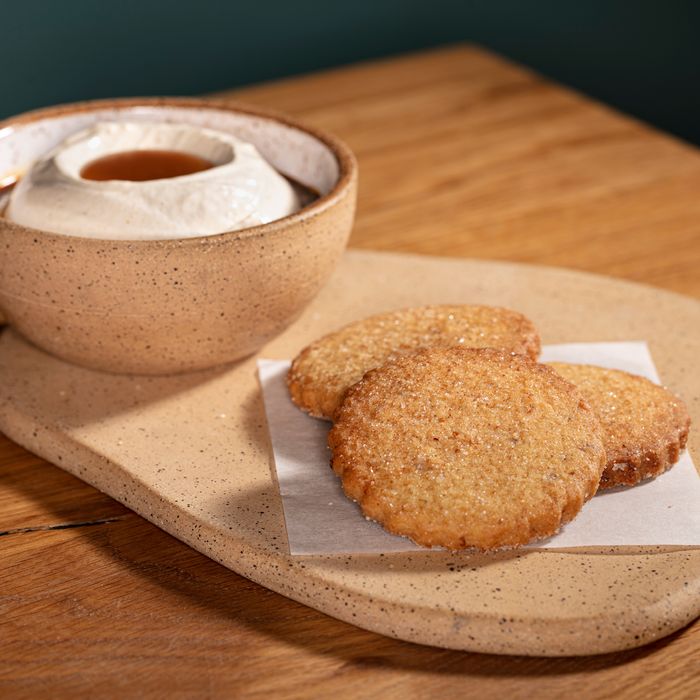 The Banty Rooster's bizcochito is served alongside affogato.
Photo: Melissa Hom
Two U.S. states have official state cookies: Massachusetts, which claims the chocolate chip cookie, invented at the Toll House Inn in the town of Whitman; and New Mexico, where, since 1989, the state cookie has been the bizcochito.
A bizcochito is essentially an enhanced sugar cookie that's cut into a star or crescent-moon shape. Its name is Spanish in origin, but the cookie was developed by Mexican immigrants, who baked it at Christmas time, adding cinnamon, anise, and orange zest to a base of sugar and lard.
Unless you grew up in New Mexico or a neighboring state, however, it's very unlikely you've ever heard of a bizcochito. That can all change with a trip to Delores Tronco-DePierro's the Banty Rooster, a new West Village restaurant, where elements of southwestern cuisine feature prominently on a menu from chef (and spouse) Johnny DePierro.
"Bizcochitos are only served on special occasions," says DePierro, who was born in Queens and spent his formative years in El Paso and the American Southwest. "When Delores and I got married in New Mexico, we actually served them at our wedding. It was a little nod to ourselves when we put them on the menu, just to remind us of our wedding and something that was special and dear to our hearts."
DePierro's cookie is traditional — though, they use butter instead of lard, citing modern "dietary preferences" — but the presentation is ever-changing. An early iteration, from pastry chef Olivia Morris, featured toasted-corn ice cream, but recently the restaurant switched to an affogato-style dessert featuring three bizcochitos alongside a bowl of vanilla ice cream, strong black espresso, and whiskey caramel. This combination is, it seems, the ideal vehicle for diners who might have no idea what a bizcochito even is, and are ready to be introduced to its spice-forward wonders.
"We wanted to make sure we gave ourselves some outs on the menu to not be so Southwest," DePierro says. "But the bizcochitos are one of things that we felt very passionate about having on the menu. They're so versatile and you can't find them anywhere else."