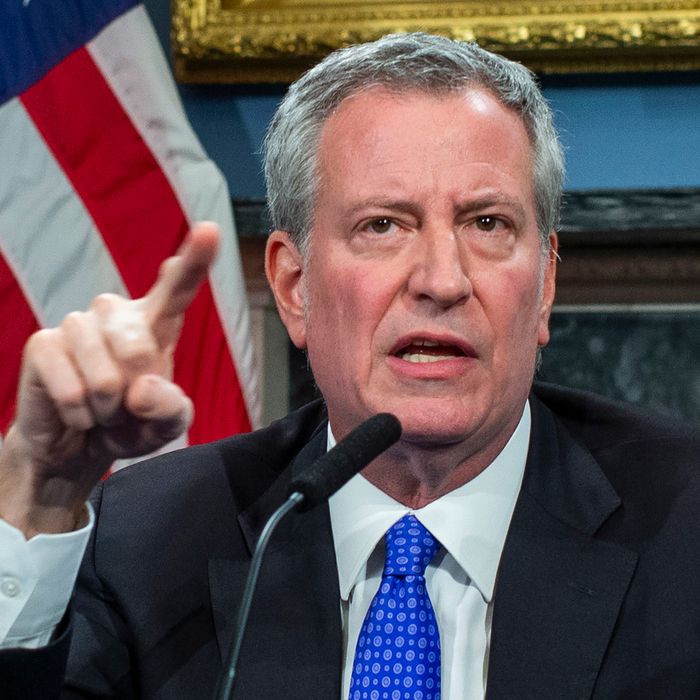 Bill de Blasio, man of opinions.
Photo: Eduardo Munoz Alvarez/Getty Images
New York mayor Bill "President" de Blasio, a man who roots for the Boston Red Sox, has once again reminded the public he exists by announcing his worst opinion yet. In a tweet that was first deleted (good call), then inexplicably brought back into the world (why???), Mayor Pizza Fork declared New York's best bagel to be whole wheat, toasted, with extra cream cheese.
Any New Yorker will tell it to you straight: This is gross. There is always too much cream cheese on a bagel — who would possibly ask for more? — and saying whole wheat is the best, rather than just a reluctantly healthier decision, is like convincing yourself that chickpea pasta is the superior option. There is also some question about whether this really is de Blasio's go-to bagel order. In his original, deleted tweet, he mentioned that he always gets it "toasted." He removed this detail from the second version of the tweet because, it would seem, Bagel Hole, the shop where he allegedly gets his bagels, apparently doesn't even toast!
But there is very much one thing that is very much getting toasted: Mayor Bill de Blasio, the man who just told the whole world that his go-to bagel is whole wheat, possibly toasted, with extra cream cheese.