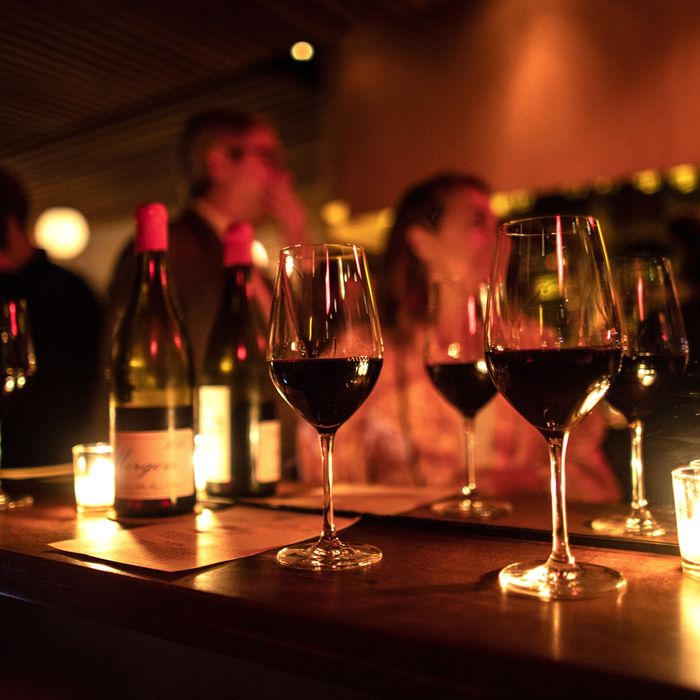 Inside the Four Horsemen, in Williamsburg.
Photo: Erinn Springer
By now, even your corner dive bar probably has a bottle or two of so-called natural wine — made organically, with minimal intervention — lying around. The last few years have seen an explosion in their popularity, and it's easy to see why: The wines are fun, funky, relatively affordable, and fans say the winemaking methods even help ease hangovers. (Let's just say Grub Street has some anecdotal data to disprove that last point, but still.) Last spring, we put together a comprehensive guide to all the shops, bars, and restaurants where natural wine is getting its due, but in the intervening months more than a dozen new options have popped up all over the city. Here are the 42 best spots for embracing the glou glou life in all its glory.
Restaurants and Bars
232 Bleecker
Greenwich Village
Dig Inn's first full-service restaurant may be all about zen, vegetable-centric fare, but that doesn't mean you have to drink a quiet, retiring wine when you dine there. Go all-in on the funk with the Domaine de l'Ecu Faust Chardonnay, a tart orange wine that gets its weirdness from eight months of prolonged skin contact, which gives the yeast that live on the grapes all the time they need to take this wine just left of center.
Chez Ma Tante
Greenpoint
At this neighborhoody French-Canadian bistro, named after a Montreal hot-dog shack, minimalist white walls and dark wood tables mean all the attention can be paid to the excellent food and wine. Order duck breast with turnips and tarragon, then dig in with a bottle of "Super MSG!" from Fausse Piste in Washington's Columbia Valley. This savory Rhône-style blend of Mourvèdre, Syrah, Counoise, and Grenache has an old-world earthiness and a new-world fruitiness.
Coast and Valley
Greenpoint
If Trump's wine tariffs go through, we may all be drinking more domestic wine very soon. This wine bar and restaurant, thankfully, specializes in wines from the Golden State. So the next time you stop by to indulge in their very good poached chicken, order a bottle of the 2018 Donkey & Goat Filigreen Farm Pinot Gris Ramato as well, a dry and intensely floral orange wine with notes of grapefruit and cranberry, fermented in the heart of Mendocino Valley.
Cosmico
Williamsburg
With the recent addition of this spot from the Colonia Verde team, National Sawdust has the distinction of being the all-in-one music venue and wine bar we've all been waiting for. Above all, husband-and-wife team Tamy Rofe and Felipe Donnelly love a bottle of wine with a good story, like the La Clarine Farm Primal!!! Tempranillo, a glou glou red from a musician turned winemaker that pairs nicely with the bar's nouveau Latin-inspired plates like salmon tostadas and vegan chicharrones.
The Fly
Bed-Stuy
The plan of attack at the Fly, on Classon Avenue in Brooklyn, is simple: Order some chicken and some wine, all from the team behind Hart's and Cervo's, excellent wine destinations in their own right. At the moment, partner Nialls Fallon is enamored with Carmelo Santana's wines from the island of Gran Canaria in the Canary Islands: "The fruit, the minerality, the saltiness — there is a real tension in the wines that I find so exciting," he says. "We've always been big into coastal and island wines at our restaurants. The acidity and salty character plays so well with our food, plus they're bright and usually low ABV, so you still feel like you can walk out after having a few glasses feeling fresh and light."
Frenchette
Tribeca
Riad Nasr and Lee Hanson's Tribeca brasserie has art-deco panache, cushy, spacious booths, rotisserie chicken served with drippings-soaked baguette slices, and a uniquely impressive list of organic, biodynamic and natural wines from sommelier Jorge Riera. Start with a bottle of Cuvée La Danseuse Vin de France, made by Englishman Toby Bainbridge in France's Loire Valley. La Danseuse translates to "The Dancer," and the pink wine has super-fine bubbles and a heady brightness.
The Four Horsemen
Williamsburg
The restaurant and wine bar is most famous for being co-owned by LCD Soundsystem frontman James Murphy and his wife, Christina Topsøe. But it's also the closest thing New York has to European-style wine bars, where the food is ambitious without feeling fussy, and the whole thing feels more like a party than a business. Wine Director and partner Justin Chearno's favorite wine of the moment is Judith Beck's Bambule! pinot noir from Gols in Austria's Burgenland, which he's pouring by the glass. "The wine does everything I want great natural wines to do," he says. "It's wide open and lively but still tastes like its grape variety."
Glou
Prospect Lefferts Gardens
Glou, east of Prospect Park, takes its name from "glou glou," the term for wines that are extremely … drinkable. They serve "natural-ish," mostly French wines like La Grange Tiphaine Trinqu'ames Sauvignon, which they describe as "green grass, lemon alum, white chalk, ruby red grapefruit pith." There are plenty of pours from $9 to $12 per glass, and dishes like lamb terrine and escargot for snacking or dinner.
The Jones
NoHo
The beauty of the Jones is really its size: so small that every meal feels intimate. And of course a lot of that meal will probably be of the satisfying seafood variety. Your best bet to impress the two or three people you're dining with is to go with a bottle of the Caesura, a stylish orange pét-nat that's fermented underground for nine days to rich, peachy effect.
June Wine Bar
Cobble Hill
This cozy, charm-filled spot specializes in European natural wines, for sipping at its long marble bar, comfy booths, or back patio as the weather gets nicer. Their La Grange De L'oncle Charles "Alsace" Field Blend — available by the glass, quartino, or bottle — pairs particularly well with the sunshine.
Kichin
Bushwick
What kind of wine could possibly stand up to gnarly ingredients like gochugaru, ssamjang, anchovy dashi, kimchi, and all the other spectacular flavors on display at Kichin? According to beverage director Jason White, that honor would have to go to Quinto Quarto Bianco Pinot Bianco 2018, from Italian producer Franco Terpin. It's an on-trend orange wine that goes down easy, but won't fade into the background.
Kilo
Hell's Kitchen
This cozy wine bar on a nondescript stretch of Ninth Avenue in Hell's Kitchen has good music, a wine list full of small production, organic, and low-intervention bottles, and craveable food, like mushroom tacos doused in chili oil and topped with a handful of cilantro. They promise you'll leave "with a new favorite you never knew you had," perhaps the Vending Machine Wines Horror Show from Napa, a juicy, totally drinkable blend of Sousao, Tannat, and Merlot with a label that changes every vintage.
Kindred
East Village
After years spent running the tiny wine bar Ruffian, the team has expanded with this full-service restaurant where the food leans decidedly rustic and Italian in the form of dishes like discs of corzetti with nduja sausage and ricotta, dumplings in mushroom broth, and gnocco fritto. What to drink with all those delightful carbs? The Macciocca Monocromo #3, a funky, acidic wine made with both red and white grapes that packs a slight punch.
Kleinberg's
Bed-Stuy
In addition to having some of the absolute best pancakes in New York City, this spacious Brooklyn restaurant also has a hearty menu that plays up owner Alex Kleinberg's Dominican-Jewish heritage. Should you order, say, the Cuban Reuben for dinner, you're gonna want an equally meaty red to go with it, like the Storchi Pozzoferrato, a bubbly wine with blackberry notes that's as pleasantly intense as the spicy mustard on that Reuben.
L'Accolade
West Village
When this French "neo bistro" appeared late last summer, we couldn't believe our good fortune: inventive entrees under $30 and an incredibly well-curated natural wine list that won't break the bank. The food menu is ever-changing, but there is at least one guaranteed hit on the wine menu that's always around: the Herbes Folles,"a completely unfiltered, unrefined Chenin Blanc from the Loire that's zippy and light, unlike the flat-tasting Chardonnays you might expect at lesser French spots.
LaLou
Prospect Heights
LaLou may advertise itself as a wine bar, but the globe-trotting menu comes with a pretty serious food menu as well. Kohlrabi Caesars, head-on prawns, roast duck with savoy cabbage, and more make this as much a dining destination as a place to try several glasses of wine. One idea for how to spend the night drinking and eating: over a bottle of Envínate Táganan Blanco 2018, which isn't as easy drinking as a fizzy Gamay, but more like mezcal in the form of wine, all salt and smoke, a nice complement to Spanish mackerel or the cheese plate.
Le Crocodile
Williamsburg
Old-school French restaurants might turn up their noses at vins naturels, but not so with the new school. Enter Le Crocodile, the replacement for the Wythe Hotel's longtime anchor Reynard, where the food is all very, very old school — country paté, pot au feu, steak frite du poivre — but the wine is decidedly 21st century. Try a glass of the Sebastien Riffault Les Quarterons Sancerre 2017 with notes of grapefruit and ginger, and a minerality that goes just as well with the seafood as it does the 32-ounce New York strip with béarnaise sauce.
Leo
Williamsburg
If you've been to Ops, then you know that this new bread-focused sandwich and pizza spot from the same team has an equally impressive natural wine selection, curated by an alum of natural wine spot Four Horsemen. Grab a bottle or glass of the Querciole, a fizzy orange wine from Italy's Emilia-Romagna region to wash down every rich bite of one of the shop's sourdough pies.
Pips
Brooklyn Heights
This wine bar from the people behind Gran Electrica and Colonie is an ode to coastal Italy with ingredients like clams, octopus, anchovies, and scallops as well as more vegetable-centric fare all playing a big role. Should you drop by, be sure to order the Casa Belfi, a fizzy red that drinks easily whether it's the dead of winter, the dog days of summer, or somewhere in between.
Ops
Bushwick
With Neapolitan-style sourdough pies, and a laid-back vibe in a former garage, Ops is the sort of place it's hard not to love. The bottles on the shelves and the knowledgeable waitstaff constitute the entirety of the "wine list," and they'll pour any glass for $12, even grower Champagne from Marie-Courtin. Winemaker Dominique Moreau named her estate after her grandmother, Marie Courtin, and her bubbly is tart and briny, with a minerality that goes beautifully with pizza.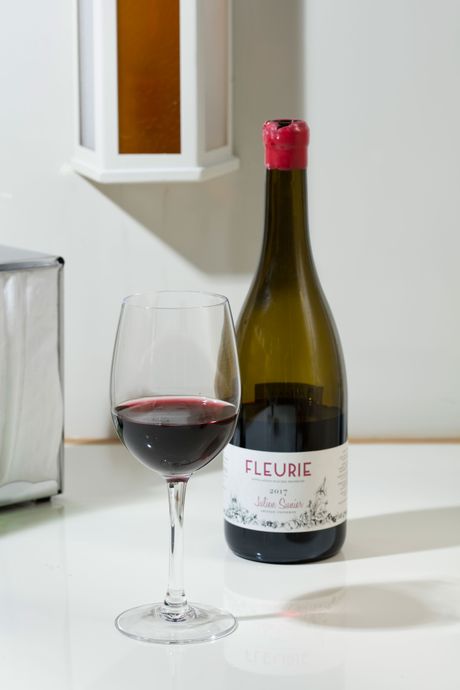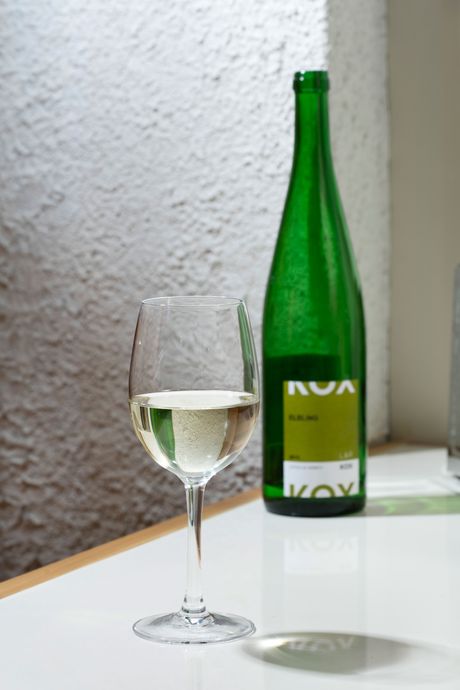 Racines
Tribeca
Sommelier Pascaline Lepeltier, the first female sommelier Meilleur Ouvriers de France, is the author of the book-length wine list at Tribeca wine bar Racines, which includes 2,500 mostly French and Italian bottles, many of them natural. Lepeltier recommends "the fantastic Pet' Nat of Les Capriades in the Loire Valley, especially their rose," which is "delicious, fruit-forward with serious bubbles." (Another highlight: The food, from Diego Moya, one of the city's most underrated chefs.)
Rhodora Wine Bar
Fort Greene
The bar formerly known as Mettā may now be chef-less and zero waste, but as long as owner Henry Rich is at the helm, there will always be a fantastic selection of natural wines. The restaurant turned wine bar now serves an elevated kind of bar food — grilled cheese sandwiches with mustard, lasagna for one, and tons of tinned fish — and simple menus almost demand simple wines. Try the aptly named Fleurs de Savagnin, a fruity bouquet of a wine that amateurs and wine enthusiasts alike can enjoy.
Roberta's
Bushwick
Yes, this pizzeria/tiki bar/radio station is held up as the proto-example for all sorts of New Brooklyn restaurant trends, but the fact remains that the original location has one of the most thoughtful, extensive wine lists in the entire city. Prices are reasonable, and the staff will happily guide you through (there's also lots of great stuff by the glass), meaning this is an excellent place to go find your new favorite bottle, like perhaps a 2014 Ruth Lewandowski Chilion, an orange wine from cult fave, Utah-based winemaker Evan Lewandowski, made with the equally obscure Cortese grape.
Roman's
Fort Greene
This famous neighborhood spot has a menu of local ingredients cooked into Italian-inspired dishes that changes with the seasons, and its list of Italian natural wines is constantly evolving, too. The brooding Oddero Barbera d'Alba is poured by the glass. A historic Barolo producer run for generations by men, Oderro Estate & Winery is now helmed by Mariacristina and Mariavittoria, the daughters of wine patriarch Giacomo Oddero. This structured, earthy Barbera is a great match for Roman's rustic, hearty food.
The Ten Bells
Lower East Side
The Ten Bells, behind an unmarked Broome Street entrance, is arguably the birthplace of the natural-wine movement in New York. And it's still very much worth a visit: there's a sexily nonchalant vibe, a $1 oyster happy hour, and a great, mostly local cheese selection. All the better to pair with wines from France, Spain, and Austria, or the Italian Andrea Cervini Vino del Poggio Bianco, an orange wine with a ciderish funk and dry blood orange finish.
Terre
Park Slope
More than 100 natural wines are available by the glass at Terre, a casual Italian Park Slope spot where the bottles are also the décor — they line the walls up to the ceiling. On offer is handmade pasta and the amber wine Camerlengo Accamilla Malvasia, fresh and food friendly with notes of honey and smoke from the slopes of Mount Vulture in Rapolla, Italy.
Wildair
Lower East Side
From Jeremiah Stone and Fabian von Hauske, the chefs behind Contra, this cozy spot serves some excellent bar food, like spicy tuna, scallion, and tomatoes on toast and a revolving crudo. With it, there's goes-down-easy natural wines like Tom Lubbe, Matassa "Coume de L'Olla Blanc" from Calce in Roussillon, France, a lightly skin-macerated white wine made of Muscat d'Alexandria, Muscat à Petits Grains, and Macabeo. Beverage Director Sam Anderson says, "Tom's wines are such soulful transmissions from his vineyards. A sure indicator of spring's arrival, 'Coume de L'Olla Blanc' has a gorgeous cherry-blossom hue as well as fresh tropical flower aromatics."
Shops
Chambers Street Wines
Tribeca
The vast majority of the 2,000 bottles here are small-production, and plenty are biodynamic, organic, and natural. The store isn't huge, but it can still be intimidating, so chat with the ridiculously informed staff, who will be happy to zero in on the specifics of soil, winemaking, and terroir. (If your heart is set on a big, lush red, the biodynamically grown and wild-fermented Paxton McLaren Vale Shiraz will make it flutter.)
Flatiron Wines & Spirits
Flatiron
This pretty shop, with exposed brick walls and bottles displayed on light-wood shelves, focuses on wines that express a sense of the place, made with minimal manipulation. Flatiron Wines also promotes emerging wine regions and local finds. Sebastien Riffault Sancerre "Les Quarterons" goes the other way — it's a little radical to make biodynamic Sancerre in the region, and this crisp, bright wine showcases the terroir of Sebastien's 12 hectares near Sury-en-Vaux.
Forêt Wines
Ridgewood
Ops' wine guru Marie Tribouilloy's 350-square-foot shop in Ridgewood feels like visiting a cool sommelier's apartment, stocked with bottles from France, Italy, and the U.S. — for example, Simon Busser "Pur Cot," which is what the French call Malbec; from Cahors, it's big, juicy, and bright, with plenty of plum and a hint of salinity.
Grape Collective
Upper West Side
The folks who own the Grape Collective on Broadway at 102nd Street make a magazine by the same name: they love telling the stories behind underdog winemakers and obscure projects. The store is small, and every single bottle is carefully chosen. Take the exuberant Dirty & Rowdy Mourvèdre "Familiar," a wine-geek favorite from winemaker Hardy Wallace in Napa.
Henry's Wine & Spirit
Bushwick
This shop is one of those NYC wonders, filled with great stuff — low-intervention wine and small-batch spirits in every sort of price range — in such a tiny space. Let the impressive staff point you to something delicious, like the Milan Nestarec Youngster Rosé. From a star Czech natural winemaker, this unfiltered Pinot Noir and Blaufrankisch rosé is syrupy and hard to stop drinking: Think roses and blood orange.
The Natural Wine Company
Williamsburg
About three quarters of the wine at the Natural Wine Company is full-on "natural," but every bottle celebrates sustainably grown grapes, small producers, and traditional methods. For a most likely dinner-friendly choice, Nathan K. Wines Finger Lakes Pinot Noir has silky tannins and a delicate freshness. It's made by Finger Lakes native Nathan Kendall with grapes from Seneca Lake Vineyards, with notes of forest floor and black tea.
Peoples Wine Bar and Shop
Lower East Side
This still-very-new spot from the team behind Contra and Wildair is special because it's one of just a few places where you can try a wine or three and then ask for a bottle of said wine to-go. And, of course, all those wines are natural, unfiltered, and wildly interesting. But if you have to choose just one, choose the Roue Libre from the tiny village of Marchampt. It's a light-body Gamay bottled as is. See if you don't taste the rolling hills of Beaujolais with every sip.
Slope Cellars
Park Slope
You'll find a plethora of French wines, an impressive number of won't-break-the-bank offerings, and tastings Thursday to Sunday at Slope Cellars, owned by Patty Lenartz and Ben Hagen.* Their selection of natural wines is thoughtful and impressive: Take the Brand "Cuvee Flora" Pur from a .6-hectare plot on the top of Sonnenberg Mountain in Pfalz, Germany. It's inky, with flavors of cranberry, pepper, and cucumber.
Stranger Wines
South Williamsburg
Andrew Tarlow's been opening cool restaurants in Brooklyn for more than a decade, so it figures that he'd open an equally cool wine shop. Enter Stranger Wines, which specializes in all things natural and organic while also delivering in-store tastings with winemakers from around the world, local deliveries, and craft spirits when wine just isn't enough. Best of all, almost everything is under $100.
Thirst Wine Merchants
Fort Greene
The husband-and-wife team behind Thirst exclusively stock wine from independent producers who showcase the "alive, interconnected, complex ecosystems" of their grapes. The small-batch wines tend to fly off the shelves (meaning that if you see something you like, grab it while you can), but they'll suggest something else wonderful, like the orange, aromatic Bianco Anfora Lammidia, made with 100 percent Trebbiano from Abruzzo, a cloudy wine that tastes a bit of nutmeg and Meyer lemon.
Uva
Williamsburg
Brave the hordes on Bedford Avenue for Uva's selection of Old-World wines and natural finds, including an impressive number of bottles under $15. Or splurge a bit for some Partida Creus, Catalunya Sparkling 'GT,' a super-alive sparkling red from Piedmontese couple Massimo Marchiori and Antonella Gerosa who moved to the Penedes in Catalonia, Spain and began making natural wines from indigenous grapes and yeasts. Not for the timid.
Vanderbilt Wine Merchants
Prospect Heights
At owner Greg Rubin's small Prospect Heights shop, helpful tasting notes and a labeling system make the hunt for a great natural bottle easier, as does the knowledgeable, unpretentious, always-friendly staff, who might point you to some gently sparkling Methode Ancestral San Juan South Vineyard Chardonnay from Scar of The Sea — great for a picnic in nearby Prospect Park.
Vinyl Wine
Upper East Side
If you're a certain type of nerd, this shop of 200 small-production wines and 1000 record albums is a sort of heaven. The bottles skew organic, biodynamic, and natural, like the red Clos Mathelisse – Exorde, from the tiny village of Aspiran in Languedoc. It's a "great introduction to natural wine," with plenty of acidity, tartness and spunk. (Try it chilled.)
*This post has been updated to correct the names of Slope Cellars' owners.