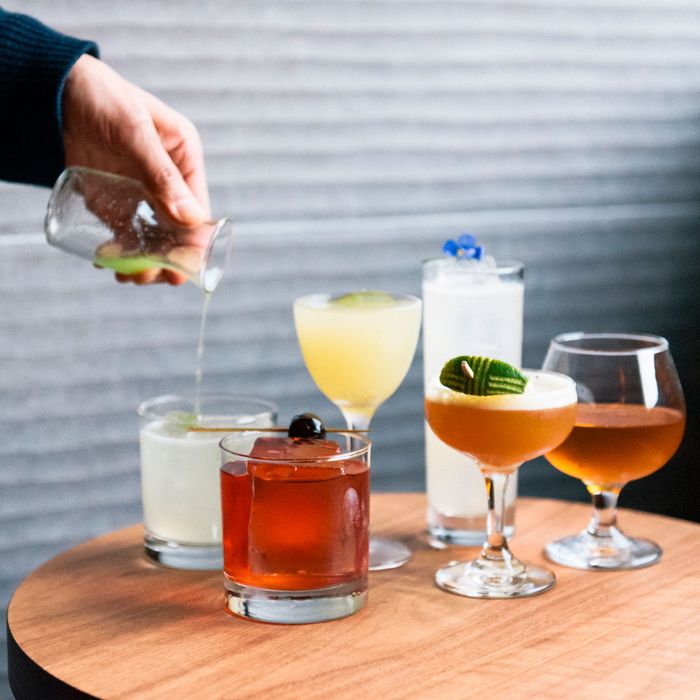 It's called making cocktails!
Photo: Charissa Fay
If you've got a friend visiting New York, and they asked for just one place to get a good cocktail — the place — you couldn't be blamed for immediately yelling out, "Bar Goto!" It's not only one of the city's best places to drink cocktails — owner Kenta Goto and his team even make mean saketinis — it's also one of the finest izakayas in the five boroughs, which offers hits like okonomiyaki and miso wings, as well as unexpected dishes like "kombu celery," a bar food you didn't know you wanted.
Goto, a Tokyo native, first developed his loyal following at Pegu Club, where he worked his first job in the industry, and is considered one of the city's most talented bartenders. Critic Tejal Rao once described him as "a quiet mastermind." Fellow bartender Sother Teague, who makes a point of going to the Lower East Side bar every Sunday, calls Bar Goto "church." It's a small space with just 30 seats, which meant bartenders could focus on making ideal drinks but also that the bar is frequently slammed — so maybe you don't get in as often as you'd like.
Some good news then, which you'll no doubt be pleased to hear: Goto is expanding with Bar Goto Niban in the former home of Bark Hot Dogs at the intersection of Bergen Street and frantic Flatbush Avenue.
"Niban means second, but Bar Goto Niban is not a copy of Bar Goto," Goto explains. "What will remain the same is the focus on quality and the relaxed vibe. What's different is the look and feel of the space, and the new cocktail and food items."
Niban, which officially opens to the public this Thursday, is roughly the same size as Goto's first spot, but a little longer. It can house 40 drinkers at the 16-seat bar, counters, and banquette up front. The design is also different, with more gold, lighter tones, and a custom, hand-painted wallpaper from Gracie Studio based on a 16th-century Japanese screen painting of a garden scene. (That wallpaper was the idea of Goto's wife Sarah, a partner in this location.)
While his bar is often described as Japanese, Goto massages that description a bit, as he once told the drinks website Punch that it's "a New York bar with Japanese flair." And that flair is evident on the menu at the Brooklyn location as much as at the Manhattan original, both in the cocktail ingredients and the food. Goto has once again tapped the chef Kiyo Shinoki, whose menu is anchored by korokke, a riff on croquettes made traditionally with panko. Here, they're made with finer breadcrumbs and come in five varieties: from the classic, with potato, beef, onion, and ginger; to the kare raise with Japanese curry rice and sundried tomato.
"Korokke are a food that all Japanese are familiar with. We all eat them as we're growing up," Goto explains. The kombu celery and miso wings have crossed the East River, as well, and you'll find dashi curry popcorn (available in vegetarian form, too) plus takokyu, a dish of octopus and cucumber. "The shiso pesto is a star," Goto says.
Still, you're here for the cocktails. A few Goto favorites have been brought along too, including the signature Sakura Martini, with its submerged cherry blossom, a Plum Rob Roy, and a pair of highballs. But five of the bar's eight listed drinks are brand-new interpretations of Goto's approach to cocktail-making: "When I create new cocktails for my bar," he says, "I always think about a Japanese viewpoint of classic drinks that people may be familiar with.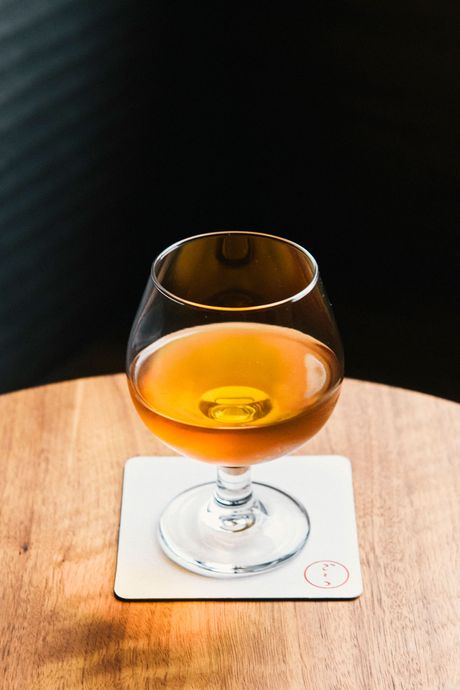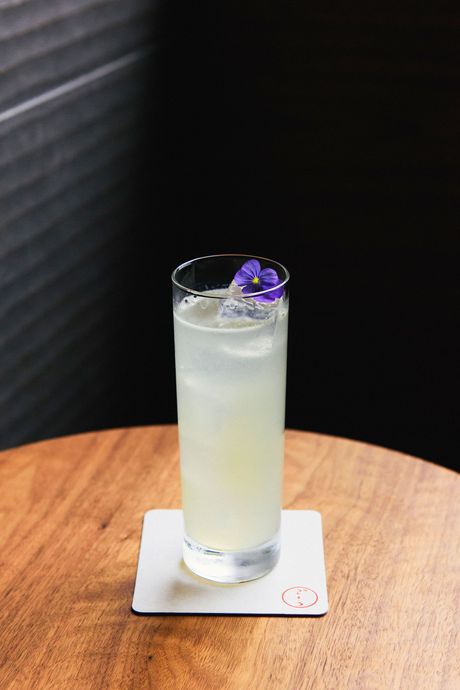 The new drinks run the gamut from earthier and smokier flavors (the rum-based Hoji-cha Fashioned with roasted green tea), to fruitier (the self-explanatory Kiwi & Shiso, made with gin and Chartreuse). "Right now I am very interested in bitters coming out of Japan," Goto adds. "The bitters introduce essential Japanese flavors; yuzu, shiso, umami, and hinoki," he says, adding that he's dashing Japan's first domestic bitters, Yamazaki. To that end, yuzu bitters and bergamot bitters are put to use in the Bergamot Sidecar, a riff on the classic cognac cocktail that's made with lemon and lime juice.
For another drink, the applejack-based Bergen Street, Goto makes use of one of his favorite ingredients, plum, by blending Campari with the brandy-based plum liqueur Choya to make his riff on an aperitivo. A drink called the Sumire, meanwhile, makes use of another Japanese staple: Calpico, the uncarbonated yogurt soft drink, which gets mixed with sparkling sake and shochu as well as gin.
Whatever you end up drinking there, you may start calling Bar Goto Niban church, too.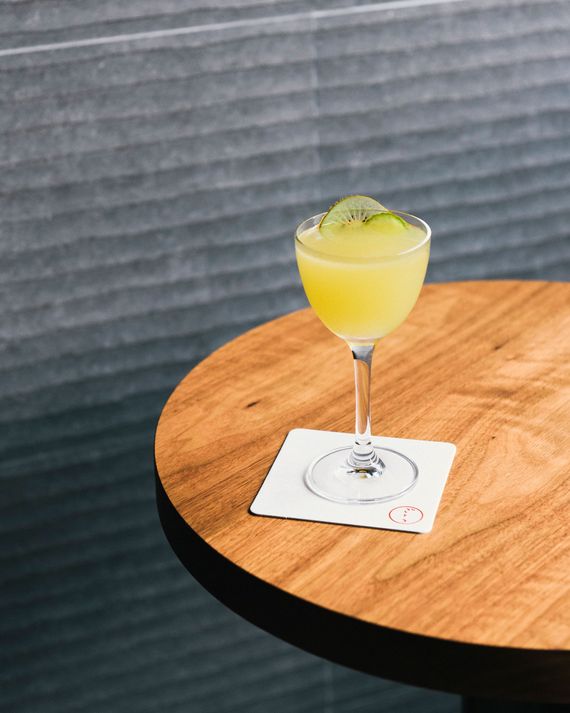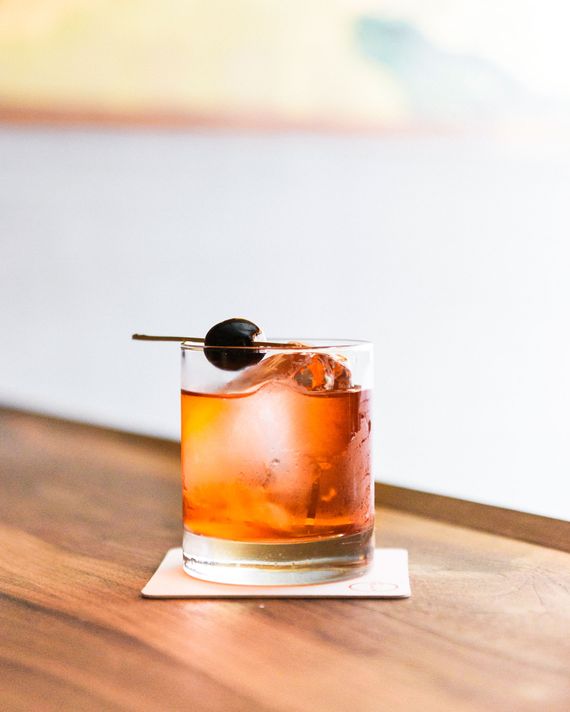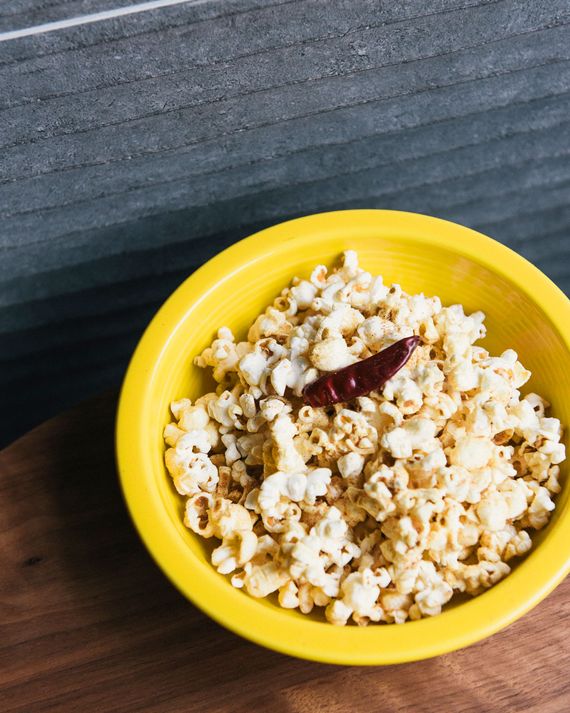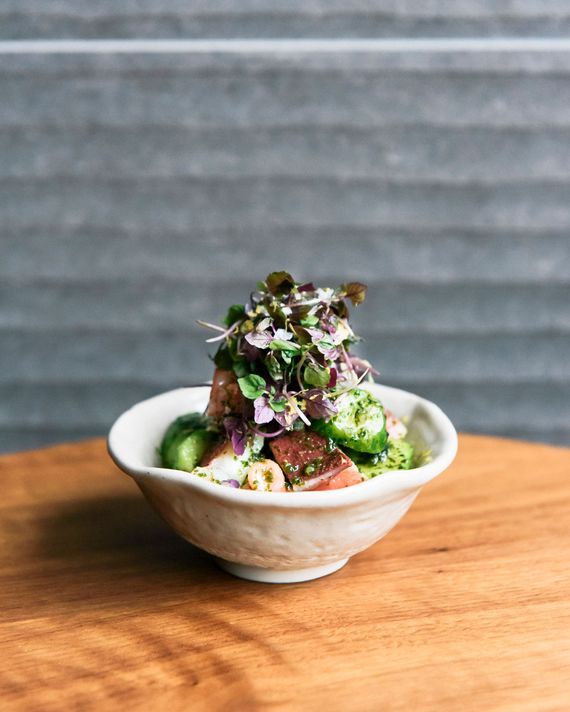 Bar Goto Niban, 474 Bergen St, nr. Flatbush Ave.; 347-599-2274