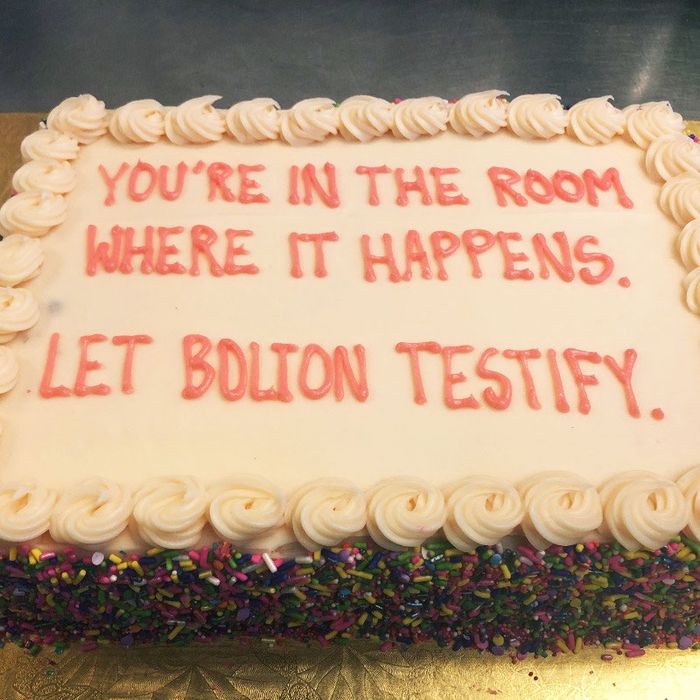 Photo: Colin Bishopp/GoFundMe
It's been 127 days since House Speaker Nancy Pelosi first announced plans to begin a formal impeachment inquiry. And while the trial zipped through the House, it's been an uphill battle in the Senate, especially where Republican senators are concerned.
One of the biggest concerns surrounding the trial has been whether or not witnesses will be allowed to testify before the lawmaking body, and especially former national security adviser John Bolton. Which is why Brooklyn bakery Butter & Scotch has undertaken the truly entertaining task of sending sheet cakes to 53 Republican senators asking them to let Bolton testify in the ongoing trial.
The cakes are the brainchild of clean energy advocate Colin Bishopp, who started a GoFundMe campaign this week to send the sheet cakes to senators. Bishopp managed to raise just over $6,700 and tapped the activist bakers at Butter & Scotch to decorate the cakes, which will be delivered throughout the day.
Each cake is being decorated with a different message, including "Don't Dessert Democracy," "You're in the Room Where It Happens," "This Trial Is Half-Baked Without Witnesses," and "This Is History in the Baking," and followed by the statement, "Let Bolton Testify."
According to an Instagram post from Butter & Scotch, Senator Ted Cruz turned his cake away (sad!), but that doesn't mean every GOP senator (or their staffers) will be able to resist the saccharine pleasures of a gigantic sheet cake. After all, it's hard to do democracy on an empty stomach.