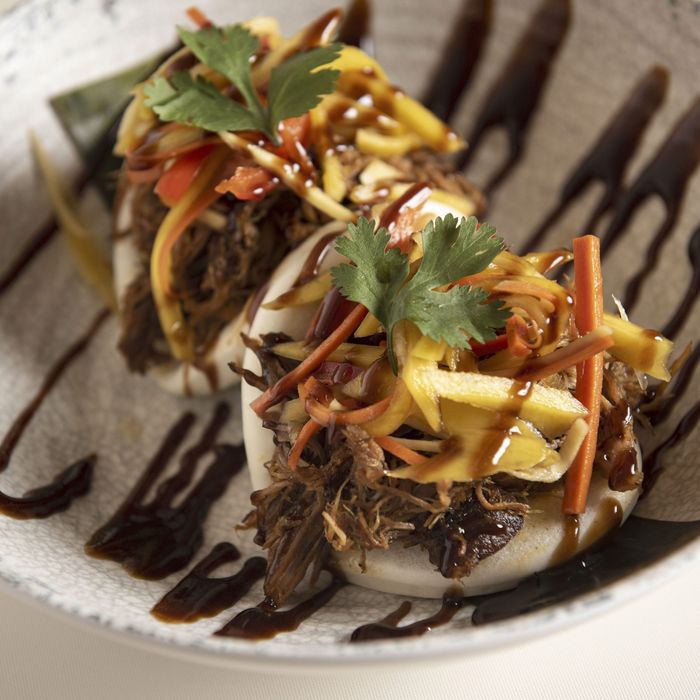 Pulled pork steamed buns are the restaurant's take on bao.
Photo: Liz Clayman
When Caribbean diner and bar Sally Roots arrived in Bushwick, people were divided. The restaurant didn't have West Indian pedigree yet that's the food the restaurant was serving: Oxtail, jerk chicken, ackee & salt fish. "The argument is, are we authentic or are we not authentic," says James Freeman, one of the restaurant's owners. "But quite honestly, there's nothing authentic, especially in a melting pot like New York City." Four years later, authenticity seems like a moot point.
So, now Freeman, alongside partners Matthew Maddy and Johnny De Piper, are expanding into Caribbean-Asian fusion and serving it all out of  Bed-Stuy outpost dubbed Sally's, which had its soft opening last month and promises tropical cocktails and reasonably priced food for a neighborhood that's anxious for both. "The neighborhood has really been turning out," says De Piper. "Plus, it's a good place with not that much competition around."
Sally's is in a particularly nebulous corner of Bed-Stuy where there isn't much in the way of nighttime dining. Throw in a dead simple formula — Caribbean ingredients in Asian packaging — and you've got a potential hit. That means wontons filled with oxtail and short rib, or a vegetarian-friendly version with jerk-seasoned cabbage, carrots, and pigeon peas. Pillowy steamed buns, their take on bao, are stuffed with either pulled pork and pickled veggies or mushrooms doused in Cuba's garlicky mojo sauce. Rice bowls round out the menu with five options: curried vegetables, curry chicken, pork fried rice, mushroom fried rice, or oxtail.
De Piper and the rest of the team plan to push into brunch and full dinner service in the coming months, but for now they hope the neighborhood will also appreciate having an attractive space — Maddy, who co-owns American Construction League, counts Lilia, La Lou, Weather Up, and Celestine among his many projects — where they can enjoy cocktails that could be described as tiki-light.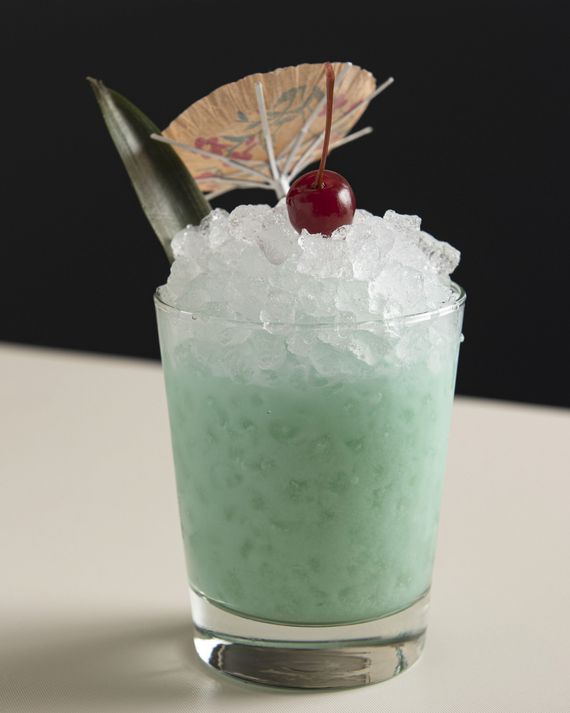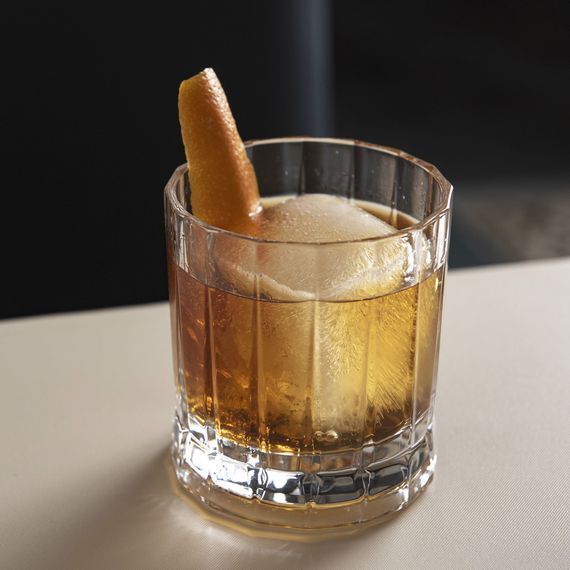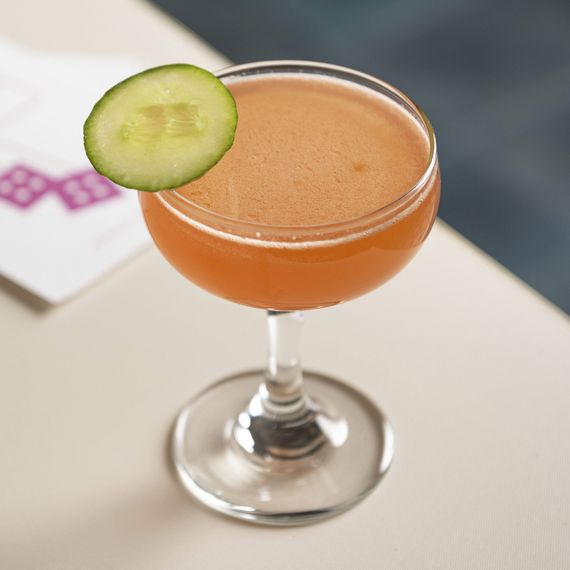 "We wanted to make them very pretty, colorful, and easy drinking enough that you can have five or six of them," De Piper says. One drink that exemplifies that is the Fugeddaboudit, a spin on the Blue Hawaiian that drops the sweet-and-sour mix for lime juice, and includes almond cordial for a pleasant nuttiness that plays well with the rum base. The Irie cocktail, meanwhile, uses juice from soursop, a tangy fruit that smells like a pineapple, but tastes more like an apple or an unripe strawberry. That shares a glass with Owney's rum distilled in neighboring Brooklyn.
"I appreciate sophisticated cocktails but sometimes, those drinks to me are just too aggressive," says Freeman, who grew up between New York City and St. Croix. "We want the drinks to be sessionable, so you can stay for very long periods of time and also come more than just twice a week."
Once the weather warms up, the bar's front patio and nearly floor-to-ceiling windows will finally come into play as well, sending a reggae-heavy playlist out onto Tompkins Avenue.
"We try to create local spaces," De Piper says. "Reasonably priced food, reasonably priced drinks, where people can come together and celebrate, you know? And that's what we hope Sally's will be."
Sally's, 151 Tompkins Ave., at Willoughby Ave.; 718-388-8788