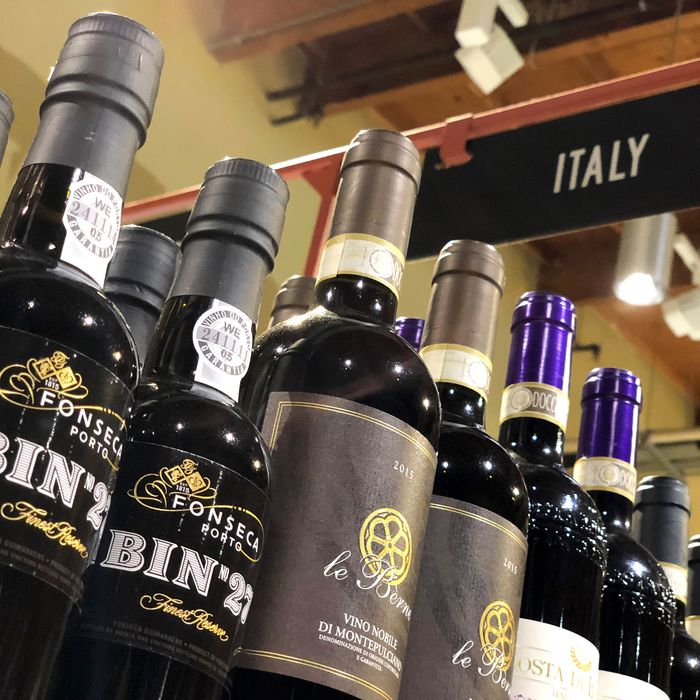 Tough times for European wine may be ahead.
Photo: Justin Sullivan/Getty Images
Trump's wine war has the industry bugging out. U.S. importers, industry watchers, and European producers are fretting about the impact of a proposed 100 percent tariff on European goods, including wine, that would go into effect in early 2020. That's … a hefty tax on your favorite Chardonnay. But what's it mean for everyone involved? Here's what you need to know.
Wait, didn't I just hear about 100 percent tariffs on wine a few weeks ago?
That was only for French wine. On December 2, the Trump administration announced it could — if it pleased — put 100 percent tariffs on Beaujolais and the like in response to France's tax on American tech companies like Google and Facebook. (Those companies don't have much physical presence in France.) The tariff was recommended by the Office of the United States Trade Representative, after an investigation into France's tax.
So this new proposal affects other countries?
Yes. The proposed tariff would affect all European Union nations, which means it could affect all those affordable bottles of funky Croatian wine that you've been getting into lately.
Why are they messing with my vino?
It's the latest punch thrown in a fight between the U.S. government and E.U. over subsidies for Airbus; in October, the World Trade Organization found the E.U. guilty of unfair subsidies.
Right, didn't they already impose a tariff in response to that?
This tariff is an expansion on the 25 percent tax that the Trump administration imposed back in October. That tariff only affected four countries.
Got it.
It also wasn't a big deal for you, Joey Consumer. The cost of the 25 percent tariff has been taken on by importers and producers, but that won't be the case this time.
I don't like the sound of that.
Neither do people in the industry, who are understandably all doom and gloom. One anonymous wine importer tells Wine Spectator "I'm freaking out," Renato Ratti's Pietro Ratti tells the publication the tariff "makes no sense at all," and Jean-Louis Carbonnier of Château Palmer says that "the price would be so daunting to consumers that they would change their purchasing." Line importer John Coyle said on the Drinking on the Job podcast that that "small importers will be out of business" as a result.
I don't want to change my purchasing.
Neither does Grub! We were just about to go all on a case of Friulano.
It also sounds bad for people who work in the industry?
To be clear: yes. Or, as Renzo Cotarella of the Italian wine company Antinori — which has a history dating back centuries — tells Wine Spectator, it "will be really devastating" for European producers. Leading wine writer Jon Bonne doesn't mince words: In a Twitter thread, he calls the tariff "a serious concern" and "an existential threat to the broader U.S. industry" and those who work in it. He also believes that it will be "devastating" for those who import and sell wine, and urges people to comment directly to the Office of the U.S. Trade Representative.
So, this sucks.
Exactly! One segment of the industry, though, may benefit. Following the news about the French tariff, the Financial Times reported that auctioneers and brokers believe it would be boom times for collectors of fancy wines. Sotheby's Wine chairman Jamie Ritchie tells the publication that retailers and restaurateurs are "going to look at every avenue" to get pre-tariff wine, while RL Liquid managing partner Everett Love predicted such a 100 percent tariff would cause a "run on Champagne that's already here."
That actually makes it sound even worse.
Exactly.