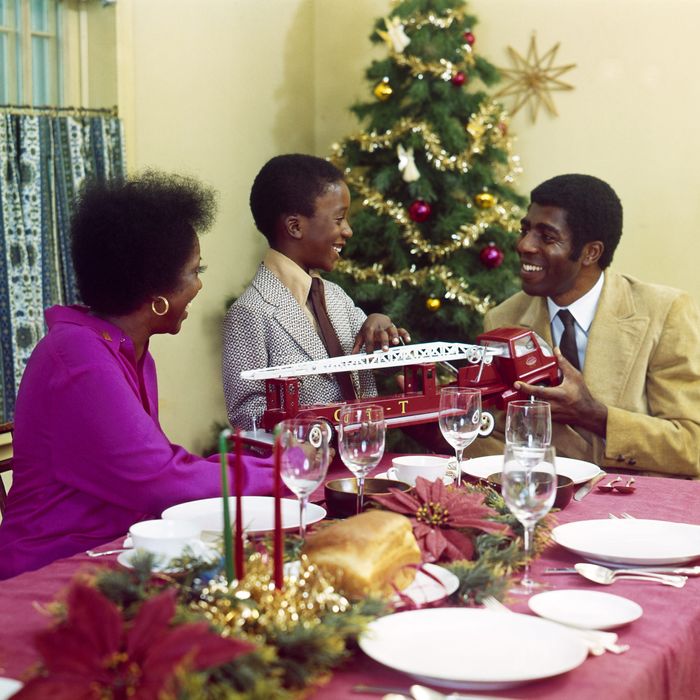 Sometimes, the food is the gift.
Photo: Photo Media/ClassicStock/Getty Images
Whether you're a native New Yorker or just don't feel like spending a month's rent on a flight to wherever you call home, New York will be teeming with spots to cozy up this Christmas and eat a lot of great food while doing so. There's a Chinese-American feast at Olmsted, several Feast of the Seven Fishes, and a Scandinavian Julbord that'll make you feel like you died and woke up in Stockholm. Here's where to grab lunch, dinner, or both around Christmas in New York City.
Kāwi
When: December 24
How Much: $85/person for a four-course, family-style meal
Once you finish up your last-minute holiday shopping at Hudson Yards, consider spending Christmas Eve at this Korean hotspot, where chef Jo Park will be serving her now-famous rice cakes, platters of raw seafood and kimbap, braised beef and pan-fried fish with a variety of banchan, finishing with a more standard holiday cookie spread. Grab tickets here.
Oxalis
When: December 24
How Much: $120/person for a five-course tasting menu ($170/person with a beverage paring)
Fresh off its one-star recognition by the folks at Michelin, this Crown Heights restaurant will serve a Japanese-inspired tasting menu that will include some very traditional winter time favorites: Roasted goose and earthy black truffles. Reserve a table here.
The Loyal
When: December 23
How Much: $45/person for a three-course meal
This isn't so much an Xmas dinner as it is a Seinfeld superfan gathering. Chef John Fraser and friends will host a Festivus dinner for airing of grievances as well as Caesar salad, dry-aged meatloaf and Italian-style bread pudding with hot buttered rum. Grab a table here.
Gran Tivoli
When: December 24
How Much: $89/person for a three-course meal
Here's a crossover you don't hear too much about: Australian-Italian cuisine. Gran Tivoli will prepare a Christmas Eve feast featuring specialties from both countries, including baked oysters Kilpatrick, ginger-roasted pumpkin, pulled suckling lamb sliders, and cannoli and all of it family-style. Grab a reservation here.
Harold's
When: December 24–25
How Much: À la carte
Most restaurants will be closed on Christmas Day, but hotel restaurants, thankfully, remain open. Accordingly, Harold's at the Arlo in Soho will be serving a special Christmas menu all week long featuring tortellini stew with squash, kale, and beans, roast Christmas duck à l'orange, prime rib, and Parker House rolls. And you don't even have to have a hotel reservation to enjoy it. Book a reservation here.
Aquavit 
When: December 24
How Much: $135/person
This Scandinavian restaurant won't be open on Christmas Day, but on Christmas Eve they'll bring a bit of the far north to New York with a Julbord special, featuring no fewer than 11 types of herring, lamb racks, Christmas sausage, lingonberry panna cotta, plenty of glasses of glogg to put you into a proper holiday stupor.
Carmine's
When: December 24–25
How Much: À la carte
Should you find yourself craving a sumptuous red-sauce Italian feast, Carmine's will be open on and serving favorites like carbonara, prime rib, capellini marechiara with red clam sauce, and more saucy delights so come hungry and not wearing any white clothing whatsoever. Book a reservation here.
La Ventura
When: December 24
How Much: $65/person for a four-course, prix-fixe dinner
For Christmas Eve, this West Village spot is going all comfort and all old-school. House-made gravlax with trout roe and crème fraîche for the noshing contingent, Beef Wellington to the meat and threes contingent, and popovers with butter for the carb contingent. Grab a table here.
Sakagura East Village
When: December 25
How Much: $100/person
Sakagura is doing the opposite: On Christmas Day revelers are invited to drop by for an evening of omakase, including chawanmushi, wagyu ishiyaki, and lots of sake. Call 212-979-9678 or secure a reservation here.
Leuca
When: December 24
How Much: $90/person prix-fixe or à la carte
In Italian-American tradition, Christmas Eve is dedicated to the Feast of the Seven Fishes, an all-you-can eat seafood fest in the name of J.C. himself.
 Andrew Carmellini's restaurant Leuca at the William Vale will host its own take featuring tuna crudo, uni crostini, mussels and clams, scampi ravioli, and all manner of briny delights as well as the usual menu. Make a reservation here.
Odo
When: December 24–25
How Much: $200/person
Okay, this kaiseki spot will not have any Christmas specials, but it will be open on both Christmas Eve and Day, and what better days to experience one of the best new restaurants the city has to offer. Just imagine: Merry Christmas. I got us a reservation at one of the best new restaurants in the city — for tonight. See, a perfect gift. Book a table here.
Antica Pesa
When: December 24–25
How Much: À la carte
This holiday season, Antica Pesa will serve its usual Italian fare plus a few specials, including a Christmas Lasagna special featuring the world's favorite casserole with Italian sausage, porcini mushrooms, bechamel, and real-deal Parmigiano Reggiano. If you're somehow still hungry after that, there'll be braised beef and polenta and panettone spiced with orange and cinnamon in a cloud of marscapone. Seating are 5:30 p.m.–7:30 p.m., 7:30 p.m.–9:30 p.m., and 9:30 p.m.–close. Grab a seat here.
Dirty French
When: December 25
How Much: $125/person for a prix-fixe dinner
For those who believe that Christmas dinner should be decadent, look no further than Dirty French, where ingredients like saffron, brandy, brown butter, chocolate feuilletine, and vermouth will play a role in a menu that'll lean a little Creole. (Diners are invited to add étouffée with dover sole and peekytoe crab to their meal if they're feeling extra indulgent). Find reservations here.
Shalom Japan
When: December 24–25
How Much: $68/person for a three-course prix-fixe menu
For the seventh year in a row, Japanese-Jewish fusion restaurant Shalom Japan will put together a Christmas feast like only a Japanese-Jewish fusion restaurant can. The unofficial guest of honor is Japanese director Hayao Miyazaki, whose films will play through out the evening while folks dig into Japanese hot pot, okonomi-latkes, Jew eggs (Scotch eggs, but falafel instead of sausage) and something they're calling Miyazaki beef, which we can only imagine will be as delightful and charming as the man it's named after. Book reservations here.
HŪSO
When: December 24
How Much: $350/person eight-course tasting menu
Caviar might not be the most obvious Christmas Eve meal, but this Madison Avenue spot run by a former Eleven Madison Park chef, that will certainly be the case. Over a few hours, guest will eat their way through every manner of caviar only stopping for Champagne, canapés, and a gift bag, which will surely contain more caviar. Make a reservation here.
Benoit 
When: December 24–25
How Much: $95/person for a three-course prix-fixe menu
This year, Alain Ducasse's bistro will serve a very French dinner selection, featuring filet mignon, oyster platters, lobster salad, mushroom fricassée, pomme frites, parsnip velouté, and more. Make reservations here.
Seven Seeds
When: December 24–25
How Much: $95/person for a family-style menu (two guest minimum) or à la carte
This Williamsburg hotel restaurant will also serve their own take on the Feast of the Seven Fishes that won't be strictly Italian, but there will be plenty of seafood like smoked salmon toast, lobster crostini, mussels in arak, dill, and cilantro, and a whole roasted branzino, all of which can be enjoyed family-style or à la carte. Find reservations here.
Benno
When: December 24
How Much: À la carte
Like Odo, Jonathan Benno's restaurant at the Evelyn Hotel won't have a special Christmas Eve menu or anything, but it is one of Grub Street's favorite restaurants, which is reason enough to just drop by and enjoy its excellent offerings like roast duck with sautéed foie gras and lentils, coddled egg with chanterelles, and literally any of the pastas. Grab a reservation here.
Olmsted
When: December 26–29
How Much: $135/person or $190/person with beverage pairings
Greg Baxtrom and his crew will be taking Christmas Eve and Day off this year, but the team will come roaring back on the four days after the holiday with a stunning five-course Chinese-American tasting menu featuring steamed pork dumplings, smoked "Peking" duck with shrimp-fried rice, sesame and scallion pancakes, lobster hot pot, and more. What's more, part of the proceeds from the run will support the Safe & Sound Satos Animal Shelter. Grab tickets here.
Gotham
When: December 24
How Much: $135/adult and $60/child under 12
Another Christmas Eve, another chance to experience a wonderful New York City restaurant. This year, Victoria Blamey's Gotham will offer a four-course prix-fixe menu, where guests will enjoy amuse bouche followed by their choice of appetizer, entrée, and dessert. (Our own Adam Platt is partial to the Ibérico pork cheeks; porcelet or rib eye for two; and any of the desserts.) This is what we call a deal, folks, so lock down your reservation ASAP.
The Fulton
When: December 24–25
How Much: $180/person on Christmas Eve (two guest minimum) and $108/person on Christmas Day
For the holiday season, this Jean-Georges seafood spot will mix it up, starting with a Feast of the Seven Fishes menu on Christmas Eve (yellowfin tuna tartare, angel hair pasta with garlic and anchovies, whole black sea bass). The next day, the restaurant will serve a more straightforward, three-course prix-fixe, featuring highlights from the regular menu (Faroe Island salmon, longevity noodles, warm octopus and mozzarella) as well as seasonal desserts, including the one-and-only buche de noel. Book reservations here.
Bubby's
When: December 21–January 1
How Much: À la carte
The focus at Bubby's won't be some elaborate dinner with roast goose and warm chestnuts, but rather 12 days of brunch featuring all kinds of holiday specials, like Swedish pancakes with lingonberry, eggnog pie, and roasted duck cranberry hash as well as the regular brunch menu. Find reservations here.
Lafayette
When: December 24–25
How Much: À la carte
The week of Christmas, this Andrew Caramellini restaurant and bakery will be open for regular service, meaning plenty of pasta and French-leaning fare, while also selling special holiday desserts, including three takes on the classic Buche de Noel (chocolate, coconut, or pistachio) and boxed holiday pastries, like chocolate-mint eclairs, peppermint macarons, and gingersnap cookie boxes that your relatives will be very pleased to find at the end of the Christmas buffet.