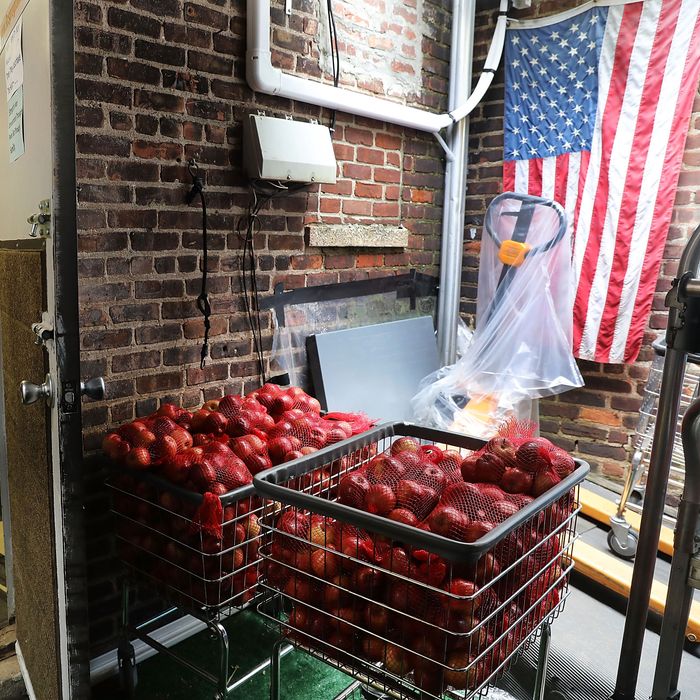 The rule change could put more pressure on food banks.
Photo: Spencer Platt/Getty Images
The Trump administration's new rule for obtaining food stamps has been met with immediate criticism from local and federal officials around the country. The new rule will go into effect on April 1 and is expected to impact about 700,000 Americans in need, by instituting more severe limitations on who can qualify for exemptions to conditions for SNAP assistance. Specifically, able-bodied adults who are ages 18 to 49, don't have dependents, and live in areas with less than 10 percent unemployment will be required to prove that they've worked 20 hours a week. This condition has existed since 1996, but states have been granted waivers because of areas with high unemployment and other factors. The change will make it harder for states to get those waivers.
Trump officials like Department of Agriculture Secretary Sonny Perdue frame the change as being about "dignity" and argue that it'll encourage work during a time of low national employment. But as others point out, a good national economy doesn't necessarily mean strong local economies around the country. Further, a low employment rate doesn't mean, either, that the jobs are all good. As Intelligencer's Eric Levitz wrote about the November "blockbuster" jobs report, which revealed that 266,000 jobs were added to the payrolls of U.S. employers, "[T]he good jobs are an oddity" and "wage growth remained bizarrely tepid."
House Speaker Nancy Pelosi spoke out in a statement, saying that "the Administration is inflicting their draconian rule on millions of Americans across the nation who face the highest barriers to employment and economic stability." Here in New York, the City reports that the City Department of Social Services Commissioner Steven Banks vowed to fight the change. In a statement, he writes that they'll "use every tool at our disposal to fight back so that New Yorkers have the resources they need to make ends meet." (Some 70,000 New Yorkers stand to be affected, the City reports.) In his own statement, Illinois governor J.B. Pritzker argued that "President Trump is now resorting to the ugliest possible tactics to distract the American people from his impeachment and gin up support from the far right — denying food to the most vulnerable people in our society." Michigan senator Debbie Stabenow also criticized the administration for being "out of touch with families who are struggling to make ends meet by working seasonal jobs or part time jobs with unreliable hours."
The Center on Budget and Policy Priorities' president Robert Greenstein argues that it will have a greater effect on minorities, writing in a statement that "denying them basic food and nutrition is not the route that a fair and compassionate administration of either party should take." Nearly 1.4 million veterans receive help from SNAP, according to the latest figures, and veterans groups say the rule change will negatively affect them. Suicide among veterans has increased in four of the last five years, and risen by 50 percent from 2007 to 2017. NYC Veterans Alliance deputy director James Fitzgerald tells the City that it is "not the time to take one of the few benefits that was widely utilized by the veteran community away from them."
Critics also argue that the rule change will inevitably put greater pressure on food banks. Oregon Department of Human Services director Fariborz Pakseresht tells Oregon Live that it could worsen things for Americans "already facing difficult circumstances" and cause "an increased burden on food banks and other community resources to fill the void." This is echoed by individuals who run food banks, including Julia LaFontaine, the executive director of Gloucester, Massachusetts's Open Door food pantry. The situation has already played out in West Virginia, which Time notes did a pilot program of the rule change that Mountaineer Food Bank executive director Chad Morrison tells the magazine is "putting tremendous stress on our emergency food system."