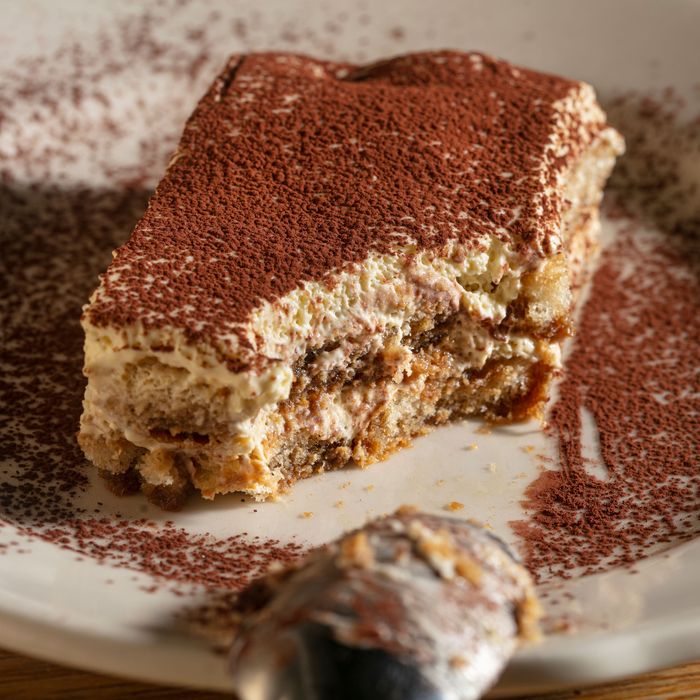 An inside look at Bar Primi's tiramisu.
Photo: Melissa Hom
Even in these confused times, there are a few truths no one can dispute. Seltzer is the only true embodiment of the current human condition. The New York Knicks will always find a way to be terrible. And, when it is made correctly, tiramisu is a perfect dessert. Tiramisu is not everything, but it is the correct number of things.
The flavors — coffee, cocoa, mascarpone cheese, maybe some booze — make it seem like a dessert that would be dense, but the best versions are light, and smooth, and almost cloudlike. A great tiramisu, as Bar Primi chef Sal Lamboglia puts it, has "a gentleness that comes along with it." It's best when the dusting of cocoa is graceful, and the mascarpone is fluffy, the whipped eggs are buttery, and the ladyfingers — dipped in espresso — are soft but not soggy. It is the Alfa Romeo to icebox cake's Ford. It has style, but it is, at its core, still humble. As New York critic and noted tiramisu connoisseur Adam Platt recently put it to me, tiramisu is "ounce for ounce, quite possibly the most lethally delicious dessert in the entire culinary cosmos."
You also have to love a dessert with drama. Tiramisu delivers. When it was added to Friuli-Venezia's official list of dishes, Vento's governor responded, "No one can swindle us out of tiramisu, the best dessert in the world." (For the record, no one can swindle Grub out of tiramisu either — don't you dare try.)
"I guess I think it's perfect," says Superiority Burger chef and former Del Posto pastry chef Brooks Headley, who admits to having "instantly" fallen in love with the dessert and compiling a set of nonnegotiable rules for making it, which include, but are not limited to: "No perfect squares! … A mess is good! … Almost no chocolate! … No egg-white fluffiness."
Tiramisu showed up on the New York culinary scene in the '80s, and, as has been reported, became a sugary obsession seemingly overnight. Even though it is now ubiquitous in the city's Italian-leaning restaurant world, it it still a pleasant surprise when a truly great version shows up. (This is perhaps due, at least in part, to the number of substandard, prefab renditions served around town; these are merely failsons, though, given all the privilege in the world, but failing to live up to their potential …)
It's a staple at I Sodi, which New York has called "timeless" and is a must-have tiramisu; Café Altro Paradiso, where the ace version is thick and topped with mascarpone mousse that pools over the sides, and at Bar Primi. At the last restaurant, it's made exclusively by Lamboglia's dad, Tony, from a recipe that's been in their family for more than three decades. They make the dessert four mornings a week, ideally letting it sit for a day. Dusted heavily with cocoa, it coalesces into one beautiful mass, a sugary singularity of flavors.
The dessert can be found at newer spots, too, like Leonti, where Platt says it's "generous, boozy"; Fiaschetteria Pistoia; and Williamsburg's Leo, where the team takes its cue from the Roman restaurant Flavio, serving it in a rocks glass with a dusting of cocoa and broken pieces of dark chocolate on top. You may find yourself spooning the sides of your cup, thinking about grabbing one of the to-go versions inside the takeout fridge. There are also more unconventional interpretations of it, such as the version served at Portale. There, tiramisu is more the inspiration than the form, as executive pastry chef Kaity Mitchell makes it with a milk-chocolate mascarpone mousse and coffee-soaked circles of dough made from ladyfinger batter, and candied cocoa-nib. "There are so many bakeries in the city that have been making it for generations, and it's beautiful and it's perfect, and I don't want to compete with that perfection. So I decided to make it my own," Mitchell says.
A friend told me he only thinks of tiramisu as "fine," before admitting he's never had a good one. I don't know if I realized how good it could be — and what I'd been missing — until a few years ago, when I had some tiramisu (I can't quite remember where) that changed everything. That was all it took: Once you open your eyes to how transcendent the dessert can be, there is no going back — and you cannot get enough. Tiramisu never feels tired like, say, chocolate molten lava cake or yet another selection of seasonal sorbets. This is because you do not get tired of great tiramisu, and great tiramisu will not get tired of you.