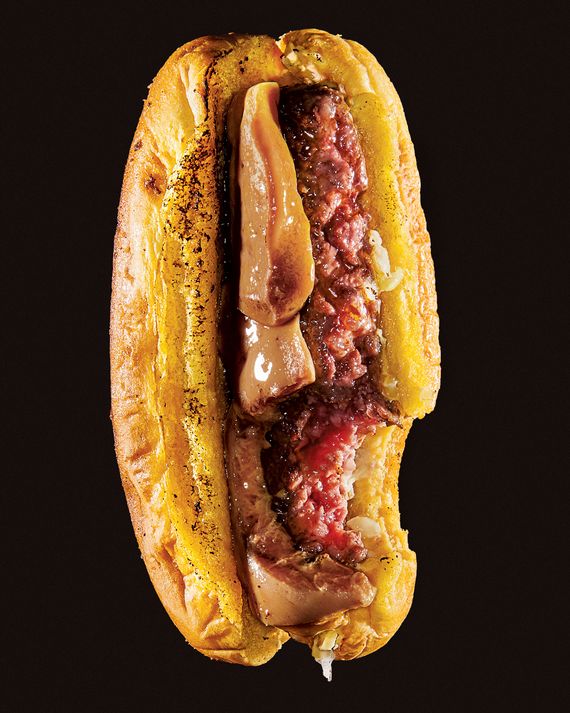 Momofuku Ko Bar's foie-gras burger comes on a hot-dog bun.
Photo: Hannah Whitaker
This article was featured in One Great Story, New York's reading recommendation newsletter. Sign up here to get it nightly.
We're taking a break from our usual focus on the best brand-spanking-new things to eat and drink right now to bring you our picks for the top things we ate during the entire year.
Pizza Slices
435 Palisade Ave., Jersey City
Well, we're just going to come right out and say it: The best new slice of New York pizza is in … New Jersey, at Rick Easton's Bread and Salt. Consider the crust, a miracle of perfection that combines sturdy crispness, airy crumb, and melting softness. Ingredients are Grade-A and toppings change almost hourly, but you can always count on pizza rossa, an infusion of pure tomato flavor seasoned with fragrant olive oil and Sicilian oregano.
459 Court St., Carroll Gardens
The Franks of Frankies Spuntino fame have come late to the slice-joint game, but with some helpful pointers from the Dough Gods, i.e., Chad (Tartine) Robertson and Chris (Pizzeria Bianco) Bianco, they've created a New York-style slice that oozes old-school charm at their sunny new F&F Pizzeria. The "regular" is a thin-crusted, bright-sauced, Grana-dusted paragon of the form.
3. Philomena's Roman-style Squares
41-16 Queens Blvd., Sunnyside
Philomena's Dave Acocella is an equal-opportunity pieman, having trained under New York and Neapolitan masters. But his heart belongs to the Roman-style square: crisp and supernaturally light, even beneath a mantle of shingled Yukon Golds or pepperoni, sauce, and cheese.
4. Leo's Square Slices
123 Havemeyer St., Williamsburg
Like Bread and Salt, Leo is a square-slice specialist with a penchant for wild yeast, intriguing toppings (try the potato and dandelion greens), and a flavorful, crunchy crust that might be even better reheated at home.
598 Eighth Ave.
Year-old Upside already fits seamlessly into the fabric of its Port Authority environs. In other words, it's a dump — but a dump with soul and some spectacular, naturally leavened slices, the Fuzzy Dunlop (sausage and pickled peppers), and the Falcowitz (lemon-cream sauce and mushrooms, pictured) in particular.
Pasta
1. HiHi Room's Spaghetti Cincinnati
138 Smith St., Boerum Hill
Five-way Cincinnati chili is Greek-style meat sauce sloshed over spaghetti and topped with beans, raw onion, shredded Cheddar, and oyster crackers. Most New York fine-dining chefs wouldn't get near it with a ten-foot pole. But HiHi Room's Walker Stern is not most chefs. His duck-ragù riff captures the creative spirit of the original and then some.
2. Portale's Lumache Bolognese
126 W. 18th St.
Portale's Alfred Portale may be a French-trained super-chef, but he's also Italian and he knows pasta. He slicks his housemade lumache with a Bolognese bianco that would have gangs of Bolognese nonne lining the streets to sing its praises.
3. Anton's Angel-Hair Francese
570 Hudson St.
Pasta snobs overlook angel hair: too thin, too soft. Nick Anderer's angel-hair francese at Anton's refutes this. He makes his own noodles, cooks them carefully, and dresses them in a lip-smacking sauce inspired by Greenwich Village icon Gene's.
3116 Broadway, Astoria
To prove their readiness for marriage, young Turkish women would fold manti so small that 40 would fit in a single soup spoon. Lokanta's Orhan Yegen is neither young nor available, but his meatball-stuffed manti are expertly shaped, dressed in garlicky yogurt, and impressively tiny, if not 40 to the soup spoon.
120 Christopher St.
The beauty of Red Paper Clip's XLB agnolotti — Shanghai soup dumpling meets Piedmontese pasta — is that you can pop them in your mouth whole like M&Ms, avoiding the dreaded xiao-long-bao splatter. Bib-free fusion cuisine at its finest.
Burgers
1. Momofuku Ko Bar's Hamburger With Foie Gras
8 Extra Pl.
On its own, the new Momofuku Ko Bar burger (pictured, top) is a well-designed snack, three juicy ounces of house-aged beef trimmings on a Martin's hot-dog bun that gets brushed with clarified butter and zingy Japanese mustard then toasted. (Yes, putting hamburgers on hot-dog buns is what you do when you've cooked hamburgers and realized — too late — that you're fresh out of burger buns; but this oddball idea not only works, it seems like some kind of breakthrough.) Add the optional oven-melted (and likely soon to be banned) foie gras, though, and it becomes a textbook Momofukian emblem of high-low food culture and repudiation of the conventional wisdom.
329 Van Brunt St., Red Hook
What more can we say about Red Hook Tavern's cheeseburger that hasn't been said? We love it. You love it. Even a vegan we know loves it.
As instant an instant classic as there ever was.
3. Nowon's Dry-Aged Double Cheeseburger
507 E. 6th St.
At Nowon, three of the biggest burger trends of the past decade (dry-aging, double stacking, and rationing) converge in one stupendous burger. The kimchee mayo could spark another trend.
4. Golden Diner's Golden Cheeseburger
123 Madison St.
What's even better than kimchee mayo on a burger? How about mushroom-garlic-gochujang aïoli? That is the special sauce that goes on the sesame-scallion milk bun that houses a six-ounce grass-fed-beef patty at Sam Yoo's Golden Diner.
5. The Fulton's Gruyère Burger Au Jus
89 South St.
We're not sure whether Jean-Georges Vongerichten is riffing on a French dip or a bowl of French onion soup with his Gruyère burger au jus avec crispy onions at the Fulton. Whatever it is, it's freaking delicious.
Dessert
77 Irving Pl.
The affogato, vanilla ice cream "drowned" with espresso, is the model of Italian simplicity. The affogato sundae at Caffè Panna is a daily-changing ode to American excess and ingenuity using drizzles, swirls, and crunch (plus coffee) to bring things like Thanksgiving pie and movie concession stands to frozen-dairy life.
2. TAK Room's Chocolate Layer Cake
20 Hudson Yards
Thomas Keller has called TAK Room's K+M dark-chocolate layer cake a tribute to Ebinger's Blackout Cake, but you can bet that legendary bakery didn't spike its frosting with crème fraîche or make pudding out of olive-oil-enriched chocolate bars.
10 Hudson Yards
Of all the variations on an Iberian-cream theme that fill the Pasteles display case at Mercado Little Spain, the cardenal reigns supreme. Light but chewy, tinged with brandy, and drowned in chocolate sauce, it's a meringue sandwich that eats like a reengineered profiterole.
The City Bakery may be gone, but founder Maury Rubin's hot chocolate lives on in a series of pop-ups that cocoa-philes can track on Instagram. It's intensely rich, perfectly sweet, and virtually a meal in itself.
70 Pine St.
Crown Shy pastry chef Renata Ameni transforms the humble Creamsicle into a sophisticated, multi-textured composition of satsuma ice cream, burnt meringue, and honeycomb candy for crunch.
*This article appears in the December 23, 2019, issue of New York Magazine. Subscribe Now!