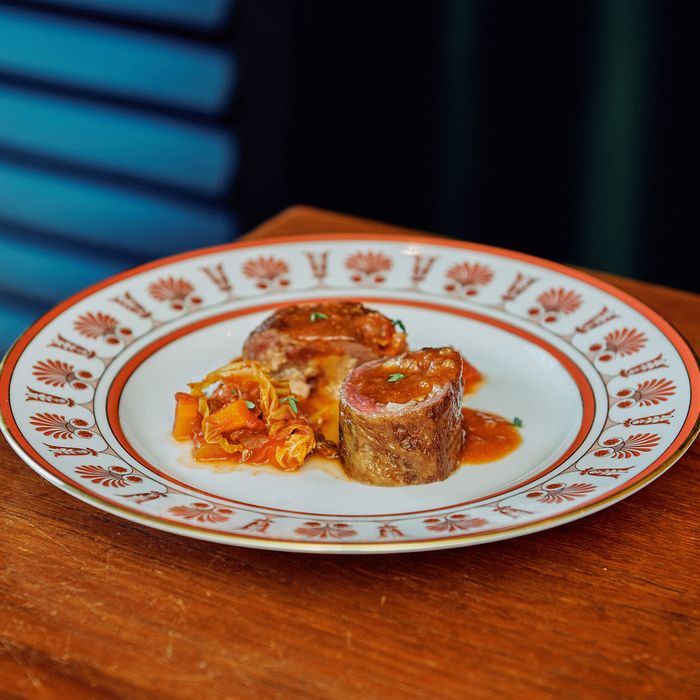 Braciole beef filet from Leonti's new Sunday Supper.
Photo: Christian Rodriguez
Every month in New York, there are a bewildering number of new dishes to eat, drinks to imbibe, and food-themed events to attend. Often, the hardest part is just figuring out what's really worth your limited time. So Grub Street kicks off each month with a curated selection of dishes, drinks, and events that should absolutely be on your agenda. Make your plans now.
1. Head to Leonti for your Sunday supper.
Adam Leonti wants to give Upper West Siders a reason to go out on Sunday nights. As of this weekend, the chef's restaurant Leonti will host Sunday Suppers, a set menu dinner that'll change weekly and set you back $65. (The optional wine pairing is another $45.) The future might be uncertain, yes, but expect dishes like those served on yesterday's menu, which included king crab soufflé with scallop mousseline, tortellini black truffle fonduta, braciole beef filet, and a tiramisu with espresso and cognac.
2. Check out the new wine bar from the owners of Colonie.
Let the house amaro flow. Pips, the new wine bar from the people behind Colonie, is scheduled to open Friday, December 6. It's safe to say that you should expect good things, given that its sister restaurant and neighbor is the best restaurant in Brooklyn Heights. At Pips, the focus is on natural wines, aperitivo-style cocktails like the Aveze & Celery soda (a Collins made with Grocers Bottling Co.'s soda), and Italian cooking. Expect dishes like little neck clams with cranberry beans, pistachio oil, and lovage; pureed fava beans with braised dandelion greens and peperoncino; and more.
3. Have a club sandwich during your leisurely lunch at Babs.
The owners of Babs are ready to fulfill their neighborhood restaurant dreams. The suave MacDougal Street spot is open for breakfast and lunch, with the eggs and espresso starting at 8:30 a.m. Bilbao custard tarts infused with citrus ($4), and divorced fried eggs with smoked chorizo ($16) stand out on the straightforward breakfast menu. For lunch, the smoked chorizo goes into potato soup with escargot ($18). That dish is served alongside salads like leeks and stracciatella ($18), sandwiches like the club with romesco aioli ($18) and a bonito melt ($17), and a few mains such as the oddly appealing tagliatelle with Manila clams, French ham, and mustard beurre blanc ($18 for a half-portion, $26 for a full portion). Whether you're in the mood for pasta with mustard sauce or not, Bab's is a space made for lingering during easy afternoons.
4. Check out Bushwick's newest fried-chicken hot spot. 
Always on the hunt for a new fried-chicken sandwich? You're in luck. Philadelphia's Redcrest Fried Chicken has opened in the Starliner, the low-key Bushwick bar. Occupying an enclosed space in the bar's backyard, Redcrest (whose owner Adam Volk is also a partner in Greenpoint's Esme) offers chicken-and-biscuit sets ($28 for a whole chicken meal), along with sandwiches like the Redcrest with red-curry mayo; the buttermilk with garlic-aioli and deli pickles; and Buffalo with blue cheese and lettuce ($8 for a solo sandwich, $11 for a meal). Sides include corn pudding ($4), and a dessert of rice pudding ($4).
5. Eat some papaya salad in Red Hook.
One of the staples of the decade's Isan Thai boom has landed in Brooklyn. Somtum Der finally expanded to Red Hook in November, bringing to the neighborhood its roster of papaya salads (the Underground Gourmet recommend the mackerel variation), spicy laarb, and fried-chicken thighs. One dish that could be just right for this December weather: the jaew hon or hot pot, served with beef, vermicelli, vegetables, and more. The opening bolsters the area's Thai dining scene, which includes Krok (another Isan specialist) in the former Columbia Waterfront District, and Ugly Baby, named one of Bon Appétit's best new restaurants in 2018, in Carroll Gardens.
6. Make time for momos in downtown Brooklyn.
The momos have made it to downtown Brooklyn. Momo King opened at 139 Lawrence Street, bringing a concise menu of Nepalese cuisine to a neighborhood previously without a bowl of thukpa (Nepalese noodle soup) in sight. There are momos ($8 for each filling), duh, which for the unfamiliar are thick-skinned and often likened to soup dumplings. You'll also be able to order chili momos finished in a chili-tomato sauce ($10), and jhol momos ($8), along with dishes like thupka ($8) and laphing ($7), a dish of cold mung-bean noodles.
7. Eat homemade soba from the chef behind one of the year's most acclaimed new restaurants.
In its first year, Odo earned a Michelin star and three-star review from New York Times critic Pete Wells, who calls the chef Hiroki Odo's kaiseki cuisine "virtuosic." But if you can't afford that restaurant's wallet-emptying price of admission, you can still get a taste of Odos's Japanese cooking. On Mondays from 5 p.m. to 11 p.m. in Hall — the more relaxed restaurant through which you reach Odo — he serves anago tempura ($16), futomaki ($12), which is a thick sushi roll; as well as house-made soba cold in hot dashi broth ($12), or with wagyu and hot dashi broth ($20). There are also three versions of oden (all $10), a dish with ingredients like boiled eggs and fishcakes simmered in a dashi broth.
8. Find Astoria's finest gyro — in Greenpoint.
There's good news for gyro geeks in Brooklyn, too. One of Astoria's best Greek spots, BZ Grill, has expanded to Greenpoint. The new location at 544 Manhattan Ave. brings one of Queens' tastiest sandwiches to the borough — that'd be the pork gyro ($9.50), no mystery meat but actual marinated pork strips — and others made with the sausage loukanika ($9.25); the crepinette-like sausage sheftalia, traditional to Cypriot; chicken souvlaki and more. In addition to the sandwiches, you'll find platters; Greek salad ($11.25); appetizers like Greek fries ($7.25); and spreads like kopanisti, ground feta with crushed peppers.
9. Hang out with New York critic Adam Platt at the Strand.
New York restaurant critic and White House turkey-pardoning correspondent Adam Platt will be at the Strand on December 5 from 7 to 8 p.m. to promote his new book. (Tickets are $15, or $28 with a signed copy of the book.) He'll be joined in the store's rare-book room by writer Amor Towles to discuss The Book of Eating, his memoir about growing up and eating abroad during his life of croissants and Peking duck.
10. Get a ham and pesto-cream sandwich at the new location of Alidoro.
Soho sandwich spot Alidoro is expanding once again, this time to 30 Rock, the shopping and business complex that's recently been given a retail shake-up. Along with old favorites, the location will also have a handful of new sandwiches. These include the particularly enticing-sounding Giovanni with Gran Biscotto ham, provolone, iceberg lettuce, fresh tomato, shaved red onion, hot spread, and (this is the key) pesto cream. And there are four new breakfast options: the Ham and Jam with goat-cheese butter; the Dana with egg, speckle, truffle cream, and hot spread; a new version of the Maria with egg, Gran Biscotto ham, aged cheddar, and hot spread; and, for those looking for something sweet, the Hudson, a toasted pretzel croissant with Nutella and hot spread.
11. Go to one lunch celebrating a famous Paris baker, then go to another devoted to Nordic Christmas.
The guys at Frenchette are hosting Paris baker Apollonia Poilâne for a lunch to celebrate her new cookbook, Poilâne. On December 6, the Tribeca restaurant will serve some of Polâine's dishes, like meatloaf with millet polenta, smoked cauliflower gratin with mussels, and a croque mademoiselle with black pepper pain de mie. Speaking of special lunches, the Nordic restaurant Agern will host Julefrokost, a Christmas lunch ($95 for four courses), on December 7 and 14. Expect a family-style spread of pork loin with pickled red cabbage, cold water shrimp, risalamande rice pudding, complimentary aquavit, and more.
12. Head to Chef's Club for its newest restaurant-in-residency, Cúrate.
Acclaimed Asheville, North Carolina, chef Katie Button is next up at Chef's Club. From December 4 through February 1, the pop-up space will be turned into a New York version of Button's award winning Cúrate. Restaurant signatures like honey-topped salt-cod fritters and Segovian suckling pig will be served alongside vermouth, sherry, cocktails, and Spanish wine.