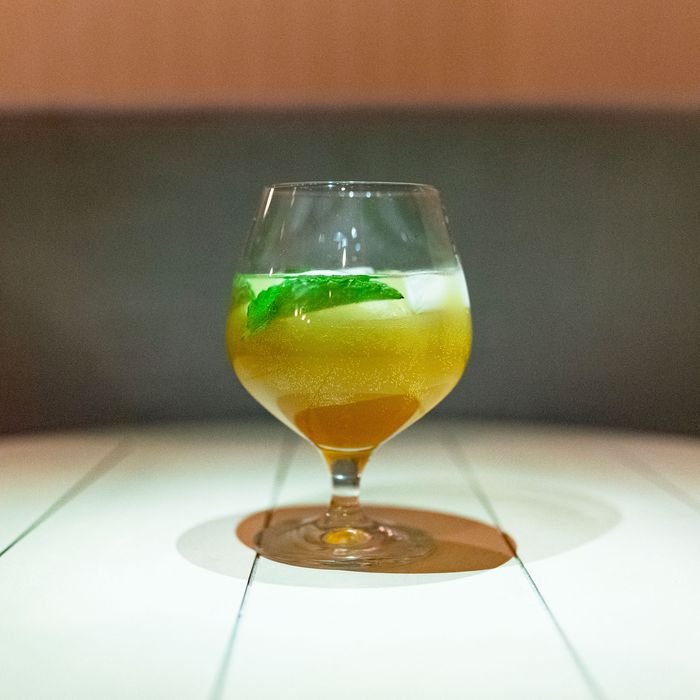 An Old Cuban.
Photo: Jason Crowley
Ah, New Year's Eve. It's supposed to be a celebration, but in reality you're looking at tomorrow with one eye covered and some fevered mix of dread and cynicism from years of needlessly high expectations. So much stock is put into whether you have something fun to do, but in the end it's best not to complicate it. Whatever!
Maybe you're hosting a party and need to get your friends saucy, or going to a good friend's who has asked for an assist, and wondering, What can I bring to get people a little saucy? Obviously, you could get some sparkling wine — and something that's not just seltzer for those who abstain — a timeworn and foolproof move. This is a good decision. Someone else will bring sparkling wine, though, and an even better decision would be to make an Old Cuban, a perfect New Year's Eve drink. It's a mojito topped off with Champagne, making it appropriately festive. There's the obvious tropical quality, a balm for the holiday in New York, when it's usually cold at best and gloomy at worst.
The Old Cuban hits all the marks. There are bubbles. It can be made one by one if you're having a smaller get-together, but also just in one giant punch bowl if you're having a real-deal party. The drink itself isn't complicated to make, so you won't feel harried while looking for that stray bottle of Italian liqueur while your nachos overcook in the oven.
Really, the hardest part is just muddling the mint with the simple syrup, which gives the finished product more of that aromatic flavor. (You can also be lazy and just throw the simple syrup and mint in there, which works just fine — Grub has tested this — even if it's a slight step down.) Otherwise, it's just a matter of squeezing some limes, dropping in dashes of Angostura bitters, and pouring in the rum and Champagne, or, let's be honest, a cheaper, dry sparkling wine.
What you get is one of those deliriously sweet, tart, and not overpoweringly boozy-tasting drinks that will immediately kick things up a notch. It's the sort of drink people always ask after and have too many of. You are likely thinking, Cool, sounds great. Grub, can I get a recipe, please? Well, you don't want to use just any recipe. You'll want to use the recipe from Pegu Club, which, in Grub's opinion, serves the best Old Cuban around. It's one we've used several times ourselves, and never fails to make a party better. You can find it here, on the cocktail website Punch. Just don't skimp on the rum, and thank us next year.