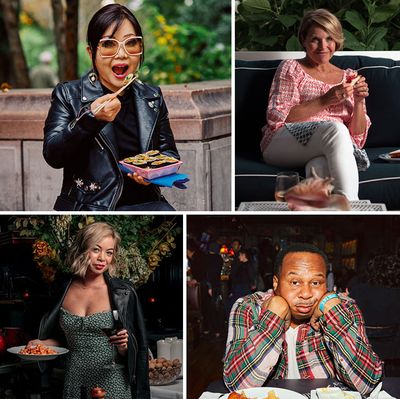 A few of this year's Grub Street Dieters.
Photo: Clockwise from left: Christian Rodriguez, Scott Heins, Nina Westervelt, Chistian Rodriguez, M. Cooper, Hanna Pavlova, Scott Heins
In its 13th year of existence, the Grub Street Diet gives New Yorkers exactly what they need in these trying times — like, for example, a glimpse into the mayo-eating habits of Katie Couric. Once again, Grub presents a selection of the best wisdom, humor, and life affirmations from this year's Diets, as carefully curated as that cheese plate you're nibbling on.
Writer Jia Tolentino admits there are consequences to not planning everything out.
"I don't care about routines and I like uncertainty, but that means that I frequently end up pounding empanadas in a rental car while praying I make the red-eye, and after a while I need to force a reset."
Katie Couric has strict rules about whom she's willing to hang with.
"I used Hellmann's mayo, which is the best mayo, and I love mayo. I don't get along with people who prefer Miracle Whip."
High Maintenance co-creator Ben Sinclair on eating your feelings.
"I remember when I didn't get into the Blue Man Group, I was really sad and I got, one after another, a knish, a bag of Combos, and a piece of pizza."
Special creator Ryan O'Connell on what he looks for in wine.
"I like my wine to smell like barnyard and taste like a psycho house party."
Rapper Phonte has a message for people who boil ribs.
"They don't know what they fuck they doing, and that is a crime in their state."
Cartoonist Liana Finck breaks down the complexities of relationships.
"I️ know that if I️ give him a Tupperware, it will make his life easier — mine, too — but I'll feel crushed by household responsibility and won't be attracted to him for a week."
Author Marlon James sums up his New York diet.
"I think I eat pasta here more than anywhere else, and I get into fights with New Yorkers about their pizza."
Bon Appétit's Claire Saffitz on not-so-meticulous morning routines.
"Finding myself too lazy to measure the coffee grinds most days, I usually overshoot the mark and make jet fuel."
Maria Sharapova knows it's a race against time when it comes to not eating all the Russian sweets she bought for her mom.
"I bought three packages, and only one made it home — it's still not open — so I really hope she comes back soon; otherwise she may never see it."
Writer Taffy Brodesser-Akner admits how she feels about her kids deciding it isn't summer until they've had cheese fries.
"It's a totally fucked-up way to decide it's summer, because it's not, like, a mojito or ice-cream cone or something."
Munchies' culinary director Farideh Sadeghin on the joys of having a regular slice shop.
"I like to go in there and talk shit with Massimo, the owner, and Nick, one of the pizzaiolos."
Author Carmen Maria Machado on her taste in food.
"Slightly painful, delicious: All food I eat is like that."
Actor Toby Leonard Moore explains what it means to be from Oz.
"Yep, I'm Australian, and yep, I always have a jar of Vegemite in the house."
Author Nathan Englander breaks down the dad diet:
"I am definitely more than happy to find myself eating the properly aged fish sticks and the apples with bites missing."
Comedian Dulcé Sloan doesn't mess around at her favorite Korean supermarket.
"Some people will go in and say, 'Oh, this is a fun place,' and I'm like, 'No! I came in here to get my pickled radish. I came in here to get my kimchee.'"
James, on why he doesn't drink coffee.
"People are like, 'Yeah, caffeine gives me a buzz,' and I'm like, 'Dude, I thought I had mental-health problems until I stopped drinking coffee.'"
Reply All's PJ Vogt on the hazards of Star Wars-themed cocktails.
"I drank a few Jawas and immediately felt like a horse had kicked me directly in the brain."
Brodesser-Akner on the importance of tension to good storytelling.
"I told him I was concerned that there weren't enough vegan foods there, and he said I should go because it will help give some tension to my Grub Street Diet."
Actress Michelle Buteau prefers to drink her rosé over ice.
"I'm like, I'm living my best life like a fucking French person, and everyone is shaming me."
Designer Sandy Liang sums up the appeal of Stew Leonard's. 
"It's like going to the supermarket plus Six Flags."
MSNBC host Chris Hayes hears food talk to him when he's trying to resist it.
"Then ten minutes went by, I was still a little hungry, I walked by the samosas, and they were just talking to me."
Vogt explains his Diet Coke habit.
"I'm like the equivalent of a two-pack-a-day guy, but for aspartame."
O'Connell doesn't want a traditional burial.
"I'm a booth bitch. Bury me in a booth."
Tolentino doesn't want to tell you too much about her parties.
"Everything else that followed was unspeakable: I'll estimate my consumption at 45 to 96 Budweisers and call it a day."
Couric, at least, has a good time with Alec Baldwin.
"Alec is always fun."
Comedian Roy Wood Jr. on Cinnamon Toast Crunch's standing in his life.
"I don't know that it wins the Cereal Super Bowl, but it's for sure in the Conference Championship."
From Ecco publisher Dan Halpern's list of restaurant pet peeves.
"On the first bite, the waiter: 'How are you enjoying it so far?' Me: "Go away, I can't answer with my mouth full.'"
Author T Kira Madden likes to keep her breakfast conversation gloomy.
"We discussed the power of negative thinking and discomfort as we ate swordfish sashimi in a plum yuzu, radish and leek miso soup, salted tilefish, and yes, more sake (this one Izumo Fuji, briny and perfect)."
Cookbook author Yasmin Khan has a confession.
"I am, to my shame, one of those people who love pumpkin shit."
Waris Ahluwaria ranks the day's meals.
"Breakfast is one of my favorite meals of the day — the other two favorites are lunch and dinner."
YouTube star Maangchi likes her people like she likes her greenmarket produce.
"These days, I love anything heirloom: eggs, tomatoes, turkeys, even heirloom people."
Cookbook author Lazarus Lynch knows how to ID a good tomato.
"The uglier, the better, for me."
Finck shines a light on the appeal of working in cafés.
"'A room of one's own' is an important concept for me, of course — but so is avoiding that room."
Musician Greta Kline identifies with her food.
"Unfortunately, the cookie was burnt (as was I)."
Chef Angie Mar shares her personal wellness plan:
"I've never met a bodega coffee and a super-slim cigarette that I didn't adore in the morning."
Pastry chef Claudia Fleming shares her self-care routine.
"The one virtuous thing I do a day is my fresh green juice, which just makes me feel like I'm not a complete and utter slug."
You Must Remember This creator Karina Longworth on the things you leave behind.
"The breakfast burrito at Stamp is beloved by me, but I'm not really living a 'breakfast burrito at 4 p.m.' lifestyle these days."
Pastry chef Nicole Rucker shares a perfect meal.
"And me, a woman sitting alone at a bar eating slices of white onions, at 11 at night, wearing almost pajamas."
The Sporkful host Dan Pashman's version of like father, like son.
"Like my father before me, I have earned the nickname the Human Garbage Disposal."
Yeasayer's Ira Wolf Tuton shares some good-neighborly behavior.
"He broke me off some, 'cause he knows how much I love that good bread."
Sadeghin knows how to rage on Friday nights.
"I was passed out, sitting on the couch, I'd keep waking up, they'd be like pizza is coming soon, I'd be talking and pass out again."
Liang describes a perfect pairing.
"But I ended up making ramen from this kit we got at Mitsuwa and watching You'll Always Be My Maybe. Keanu is so hot!"
Finck on the thin line between stress eating and joyful eating.
"Maybe she was eating Cheetos from a family-size bag on the train from a sense of well-being and joie de vivre."
O'Connell remains awe-struck by the magic of cooking.
"I feel like I'm fascinated by food because I can't cook it. I don't even understand how to boil water."
Brodesser-Akner shares her family's take on her diet.
"When I told my family about this food diary, they were like, 'Oh, they want to get into instant food? Do they want to hear about your macaroni-and-cheese lifestyle?' And I said, "I guess they do. It's time for them to know."
Sinclair on the narrative benefits of his unusual pre-dinner aperitif.
"I took psychedelic mushrooms before dinner, and it more or less worked out — felt like it was an effective but restrained escalation in my portrait of a man coming undone."
Mar has very primal bonding experiences.
"We ate with our hands, like savages, passing the rib bone back and forth, silently."
Buteau's stripper name would be food inspired.
"My mushroom bowl had forbidden black rice (which could also be my nickname if I'm a vegan stripper), marinated mushrooms, guacamole, pico de gallo, and cashew-nut cheese."
Pashman explains the appeal of eggnog.
"It's basically like you're making a cake … but instead of flour you put in liquor and then you drink the cake."
Rucker considers the tension of being an Angeleno in New York City.
"I wanted to offer the woman next to me a sardine 'cause she was solo too, but I wondered if that was too Californian of me?"
Moore on the limitations of his human mind:
"My brain cannot process sweet and savory at the same time."
Tolentino knows when she's most productive.
"A lot of people don't like that working from home makes you slobby, but I love it. I think I write best when I don't talk to anyone and also look like shit."
Sadeghin has a confession for her coworkers.
"To any of my colleagues reading this, yes, I am the dick who breaks off pieces of the bagels and doughnuts on Friday, leaving remnants of dough, and I am not ashamed to admit it."
Wood has one simple suggestion for chefs.
"I wish more foods did what chicken wings do: roll with the celery and carrots so you feel better about yourself."
Brodesser-Akner considers the limitations of vegan food.
"Why aren't there are smoothies that taste like French fries?"
And Tolentino on gearing up for a big dinner.
"Well, I almost always eat an early lunch, around 11, because it gives me another lunch opportunity at two, but on this day I skipped my 2 p.m. lunch in preparation for fucking that rigatoni in the ass."