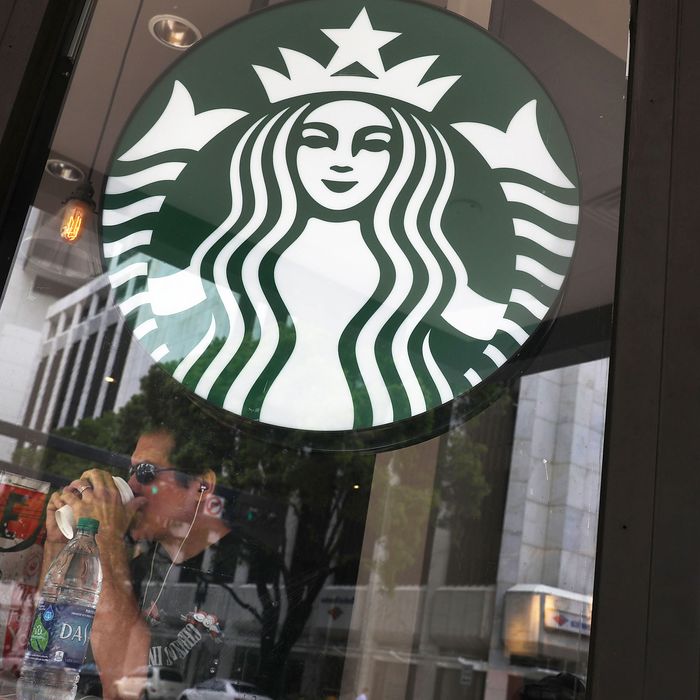 Photo: Joe Raedle/Getty Images
By now, most of us have heard the story about the Oklahoma cop who went to a Starbucks, ordered coffee, and found that all five drinks had "Pig" printed on their requisite stickers. It happened over Thanksgiving and has generated a conversation around free speech, respect for authority figures, and whether Starbucks will ever make it through a year controversy-free. Below, Grub has broken down the whole story from beginning to incredibly surprising end.
When did this incident take place?
On Thanksgiving Day. According to the KTUL-TV, an exceedingly kind police officer went on a coffee run as a way of thanking the department's team of emergency dispatchers who, you know, were working on Thanksgiving. When he received the five coffees, he saw that the barista had printed "Pig" on all five labels.
Eeesh. What did the officer do?
Well, he called up to headquarters and told his boss, Police Chief Johnny O'Mara. O'Mara spoke with the manager who apologized and offered to reprint the labels, but the chief wasn't satisfied with that response and said as much. The barista also contacted the officer who made the complaint and apologized, saying it was a stupid joke.
Then how did this become public knowledge?
O'Mara took to Facebook to share the story as well as a picture of one of the cups in question with the caption, "What irks me is the absolute and total disrespect for a police officer who, instead of being home with his family and enjoying a meal and a football game, is patrolling his little town." That post was later removed.
Did the barista get fired?
Yup. Faster than you can say peppermint white chocolate mocha Frapp. For the record, Chief O'Mara said he would have preferred if the company hadn't done that.
Hasn't some version of this story already played out this year?
Back in July, a Starbucks barista got into a heap of trouble after he asked six police officers to leave a shop in Arizona because they were making customers "feel uncomfortable."
Wait, you said there was more to this story, though. Dude was fired, Starbucks said sorry, what else is left?
First, Starbucks and the Kiefer Police Department have decided to organize a Coffee with a Cop event to heal this community of roughly 2,000 people. Oh, and then the police chief's daughter took to Twitter to tell people that she thinks her father is a pig.
What?!
Uh, yeah! The daughter of the police chief took it upon herself to publicly rebuke her father. She started by thanking "the brave men and women from starbucks for their service."
Then @MissOMara accused her father of a few "isms," including racism and sexism.
She concluded her Twitter screed with the claim that the officer who originally reported the incident didn't even care that much about it, but that her father "couldn't resist the attention," thus the Facebook post.
Wow. Anything else? Well, the chief would like his daughter to take all these tweets down.