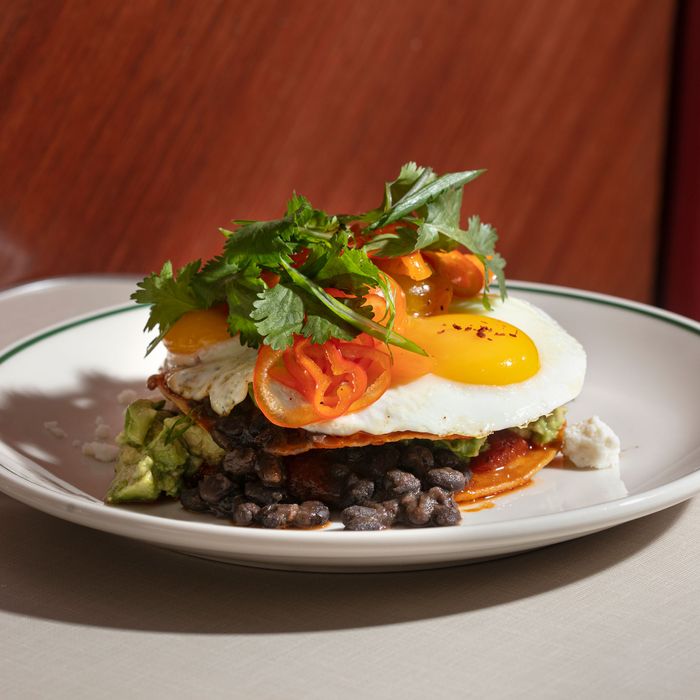 Huevos rancheros with crispy tortilla, spiced black beans, sunny side-up eggs, queso fresco, salsa ranchera, and crushed avocado.
Photo: Melissa Hom
Is there any institution about which Americans have more anguish than the humble diner? Diners are proclaimed dead and dying. They're mourned. They're eulogized. They're celebrated and cherished, and they're fetishized as a disappearing democratic institution. The city has experienced all of that, so savvy business owners continue to try and update the model: Think of places like the twice-resurrected Empire Diner in Chelsea, the vegan Champ's in Brooklyn, the recently opened Golden Diner in Two Bridges, or the Phoenicia and West Taghkanic diners a few hours north of the city.
Many of these places are neo-diners, pancake houses with a finer-dining ethos, that ditch the classic oversize diner menus in favor of a more carefully curated approach. The brand-new Soho Diner, which opens tomorrow in the Soho Grand, is more classic — and the sort of restaurant you don't see opening these days. The 146-seat spot actually puts the "all day" in all-day café — as in, it's open 24 hours a day — with a properly lengthy menu that runs an impressive 75 items long. And that's just the food. There are another 75 drinks to choose from, depending on if you're the mood for coffee, wine (including from, yes, natural producers) or a cocktails boozy (like a highball) and not, and milkshakes or floats. "For us, diners are about getting what you want, how you want it," says Ray Pirkle, part of the group behind the restaurant. "And to try to do that with a more thoughtful product I think is just sort of where diners should be now."
The menu might not have everything you want in a diner — pour one out for the missing "broiled fish," although you will find a "Montauk Tuna Melt" — but it pretty much covers all the bases. You'll find your house-made granola and steel-cut oatmeal, with malt syrup and golden raisins. There's a classic plate of huevos rancheros, three different scrambles ("a kind of contemporary version of a diner omelette," says the chef Ken Addington) and a ham steak and eggs with chimichurri, cracklin, and arugula. And, don't worry, you'll have your waffles (malted), hash browns, pancakes, and onion rings, too.
From 11 a.m. to 11 p.m., they'll serve a more expansive all-day menu that includes some of those breakfast staples. But you'll also find disco fries with raclette and chicken-sausage gravy, leaner options like a "California salad" with sliced tuna and green chickpeas, and a handful of sandwiches and burgers. Both Addington and Pirkle are particularly into a sort of riff on mozzarella sticks, a standard-issue New York diner dish. "We did a really fun cheese curd that is almost like a chicken-fried cheese curd with the very crusty batter and spicy honey," Addington says.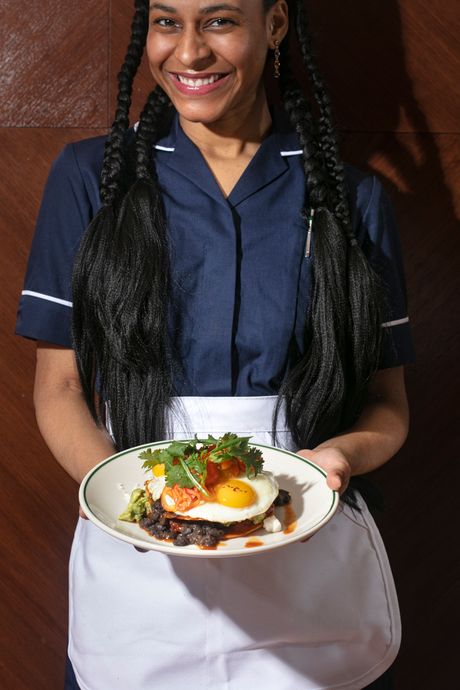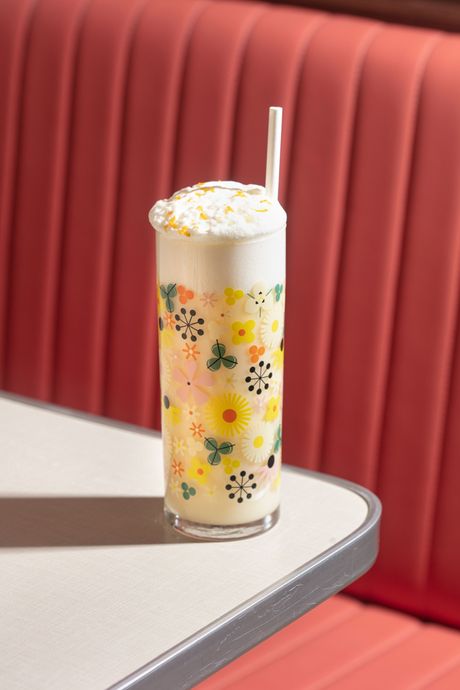 The chef pays homage to different diner genres, from Latin American (the medianoche sandwich) to the southern (a fried-chicken sandwich, herbed grits) to the Eastern European (the vegan kasha knish, blintzes with burrata) to the simply New York State. Sadly, there are no Buffalo chicken wings — what gives, guys? — but there is beef on weck, western New York's roast-beef sandwich with au jus — and that Montauk Tuna Melt on an English muffin.
To maintain quality and keep it out of the freezer, they're "outsourcing" desserts to the likes of Ovenly, which is making them morning pastries and an exclusive Brooklyn blackout cake, and Peetee's Pies, from which they're getting pies like a guava-lime sky-high meringue. It wouldn't be a diner without milkshakes and sundaes, and you'll get to pick from a classic banana split with molten peanut butter and a very contemporary, vegan matcha milkshake with rice whipped cream.
The team here name-checks some of New York's classic diners as inspiration, though not necessarily low-key greasy spoons like Joe Jr's. "We wanted to create something that was modern but also nodded to the really classic places, especially Florent," says Tony Fant, the president of GrandLife Hotels. It's a natural reference, but he also counts himself a fan of the now gone Jerry's, and both of these places are referenced by Pirkle as influences. "Personally I sort of grew up in Waffle Houses in the South, and then when I moved here, Florent was a huge influence for me," Pirkle says.
Addington mentions a few places from further east. "I grew up in New York and places like Veselka, Odessa, Kellogg's Diner are all places I spent a lot of time late night as a kid," Addington says. This restaurant also brings him back to his days working in downtown nightlife spots, when he'd frequent a greasy spoon just one block from this hotel. "Getting out at 5 a.m. in the morning, going to Moondance Diner for breakfast and to flirt with the waitresses," he says. "It was a blast."
Looking past the menu, the space was designed by GrandLife creative director and vice-president Briana Stanley and incorporates classic diner elements like Formica counters, terrazzo floors, and salmon-colored booths and green bar seats, but they weren't trying to create a period-piece set. "We didn't want it to be theme park-ish," Fant says. Or as Pirkle puts it, "Hopefully the outcome is at once nostalgic and very now, that's certainly the goal." One thing's for sure: The "NO SMOKING VAPING" sign on a mirror is one way you know this diner was designed for customers in 2020 and beyond.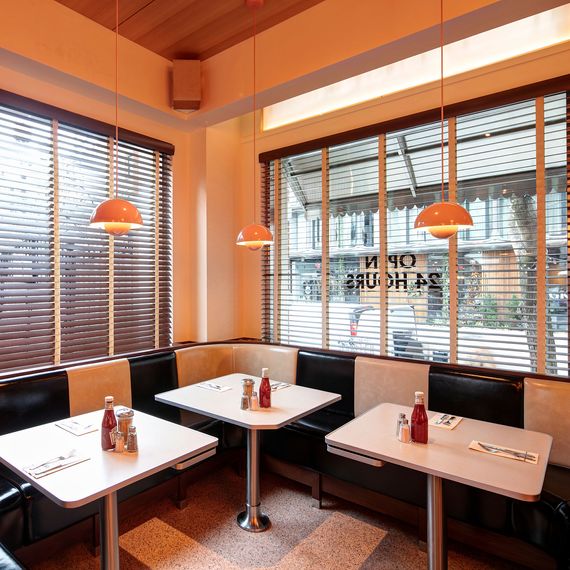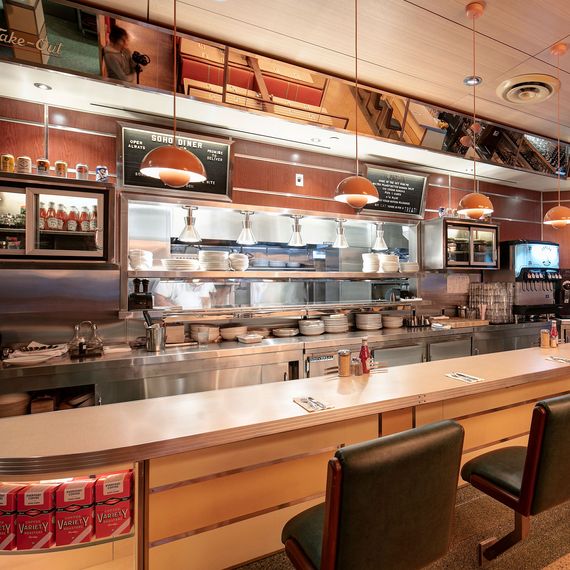 Soho Diner, 310 West Broadway, nr. Grand St.; 212-965-3011