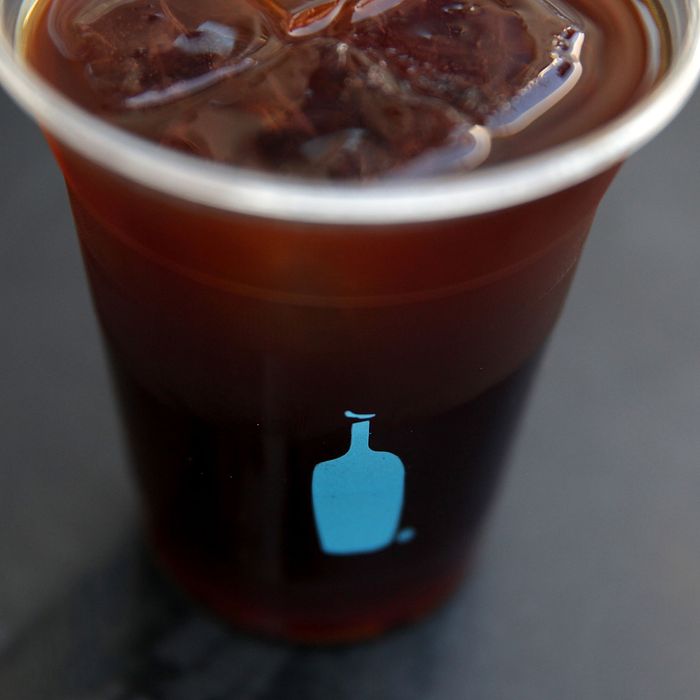 A pilot program will begin at two Blue Bottles in the area next year.
Photo: Justin Sullivan/Getty Images
Across much of California, you'd be hard-pressed to find a plastic straw, and now businesses concerned with climate change and the environmental impact of disposable objects have turned their attention to coffee cups.
The Associated Press reports that there's a movement to get rid of the mostly paper cups because they've never been entirely plastic free. Most standard coffee cups feature a thin plastic lining inside to prevent leakage, which makes them less biodegradable than they seem.
This isn't exactly news to some small local shops, which have instituted everything from cup-rental programs to full-on bans within their businesses, but it's finally gaining traction with big names. Most notably, Blue Bottle Coffee, which has 70 locations in the U.S., will get rid of disposable cups at two San Francisco locations in 2020 with plans to expand if the pilot proves successful. It'll be joined by Michelin-star chef Dominique Crenn whose upcoming café Boutique Crenn will be zero waste. In Berkeley, a 25-cent disposable cup fee will go into effect next year.
As the San Francisco Chronicle reports, like with plastic straws, there are concerns among disability advocates who say that paper cups are easier to handle than the alternative, especially where mobility issues are concerned. But as one owner told the paper, it makes no sense to completely do away with disposable cups because certain customers, including elderly people, children, and disabled people, will still need them from time to time.