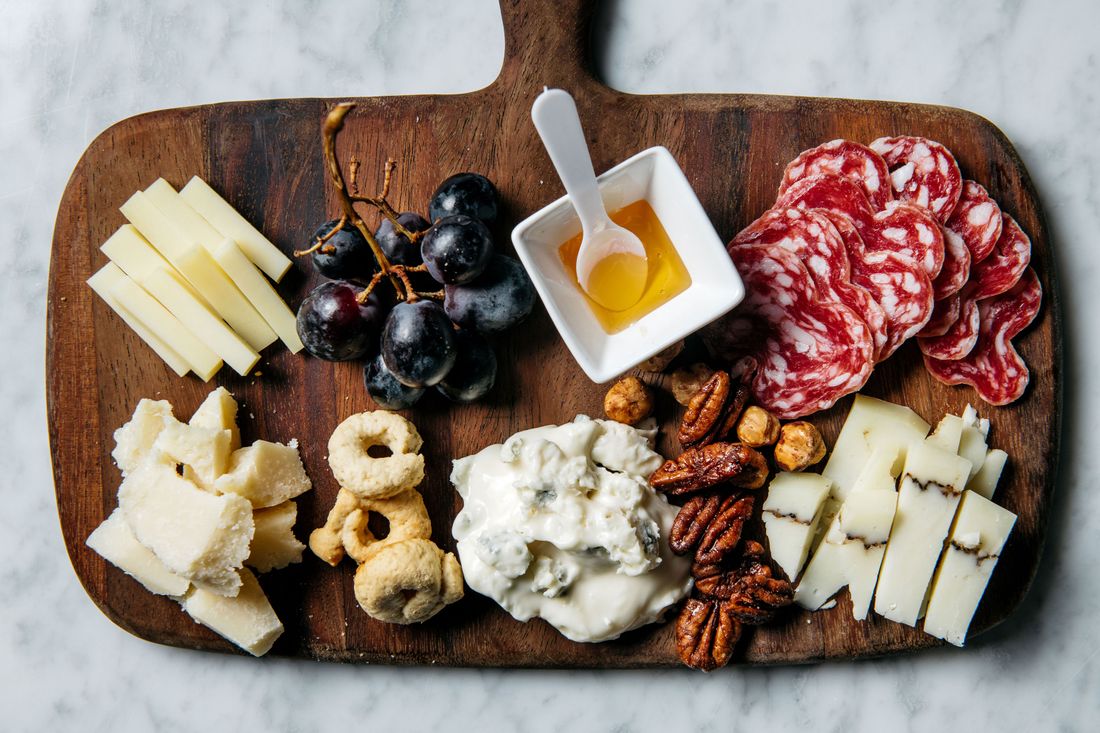 A meat-and-cheese board at C. Di Palo, a new wine bar from the owners of Little Italy's preeminent cheese shop.
Photo: Scott Heins
Even in a food-obsessed town like New York, where we're hardwired to sniff and squeeze and inspect, grocery shopping has gone from take a number to point and click, from quaint and historic to big box and bland. We've lost Balducci's and Dean & DeLuca, plus venerated cheese shops and bakeries. The family businesses that remain have become cultural artifacts, places to feed your soul as much as your stomach. In recent months, three of the city's most storied establishments have spun off spiffy new outposts, engineered by the younger generations as vehicles to navigate their legacies through the mires of modern-day commerce, e- and otherwise. We took a tour.
141 Flushing Ave., nr. Vanderbilt Ave.; 212-475-4880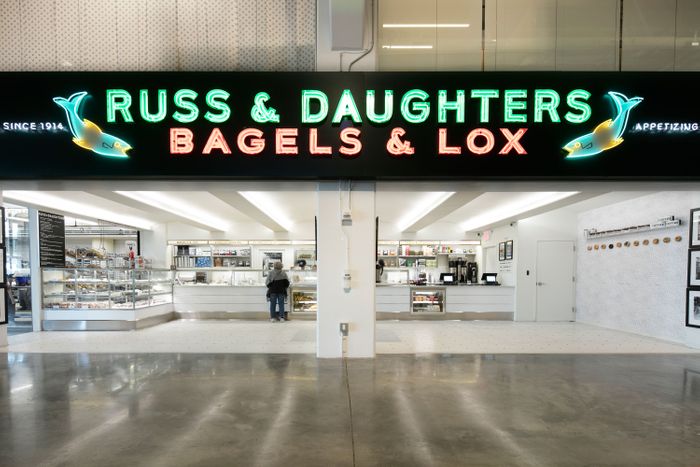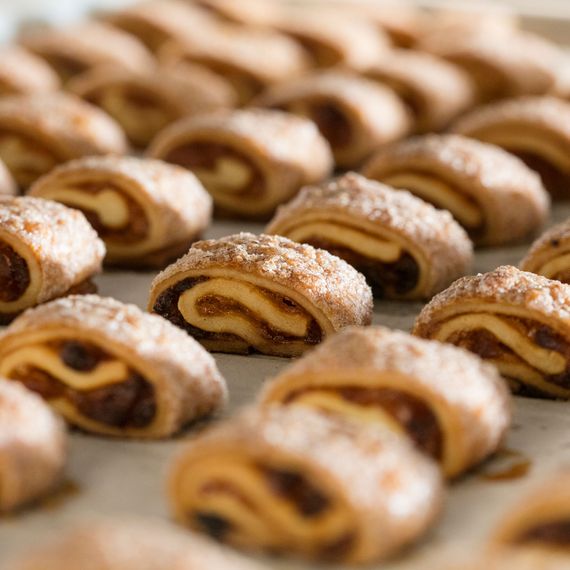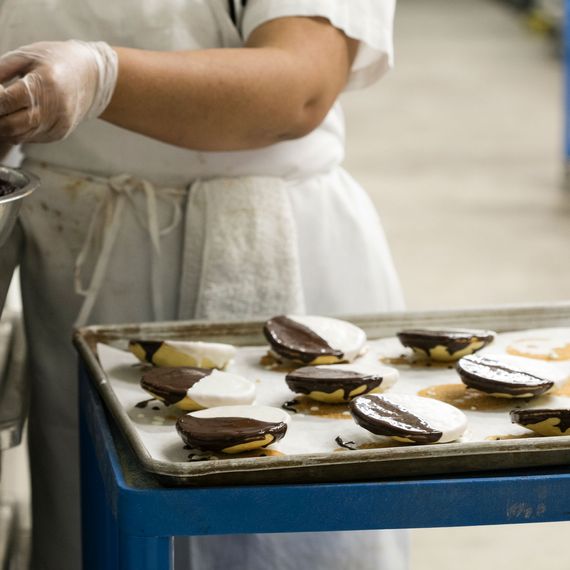 Around this time last year, iconic appetizing shop Russ & Daughters opened a shiny new counter and commissary kitchen at the Brooklyn Navy Yard's Building 77 food hall. For anyone who has ever squeezed into the narrow confines of the East Houston Street store on a weekend or holiday or at any other time that calls for smoked fish and a dozen bagels, the Navy Yard fortress will come as a pleasant surprise. Its gleaming, glass-walled production kitchen signals the culmination of the 105-year-old brand's transition from preeminent purveyor to bona fide food manufacturer. The retailer's future, its fourth-generation owners believe, lies in making and shipping its own goods in addition to supplying its downtown shop and restaurant and uptown museum café.
Half the fun of trekking to this shockingly unmobbed concrete-and-steel satellite is in watching the sausage being made (or, in this case, the bagels and babka). The marble-clad takeout counter is as elegantly designed as the other locations are, with vintage family photos and a wall of branded merch. The staff are unfailingly friendly, if not exactly learned menu scholars (a request for a listed but unavailable egg cream drew blank stares), but they take great care in assembling the signature sandwiches. (We'll always have a soft spot for the Super Heebster, an inventive layering of horseradish-dill cream cheese, whitefish-and-baked-salmon salad, and wasabi flying-fish roe, which has made its way from Manhattan to Brooklyn.) Did the machine-shaped bagels seem less than sublime, without a notable chew to the crust; the rugalach and hamantaschen a bit unyielding; and the black-and-white cookie on the dry side? Perhaps, but in the life span of the company, the baking operation is still in its infancy. (If you want something sweet, we recommend the moist honey cake or the airy, raisin-studded sweet bun.) And the matzo-ball and mushroom-barley soups are beyond reproach, as are the chubby latkes, which were still warm when we ordered them and were served with the customary sour cream or applesauce for an additional $1.50 each.
34 35th St., Sunset Park; 718-788-7500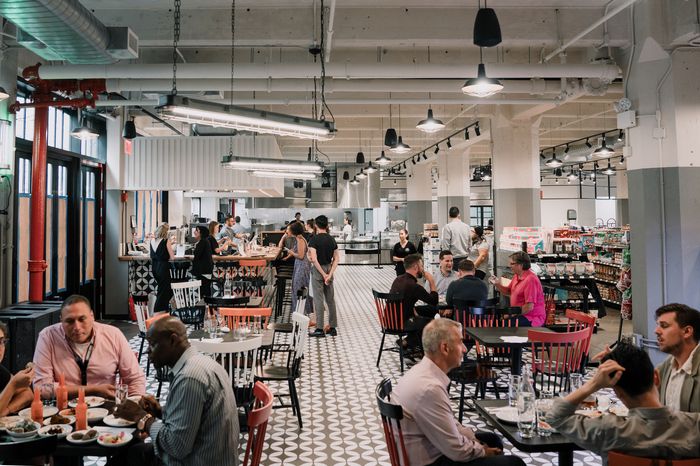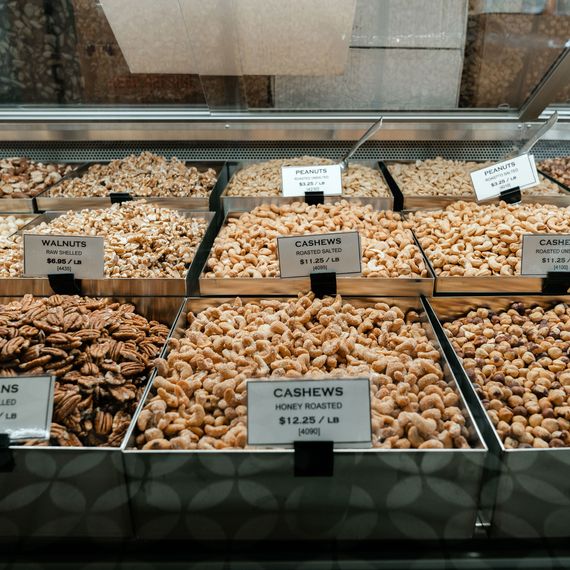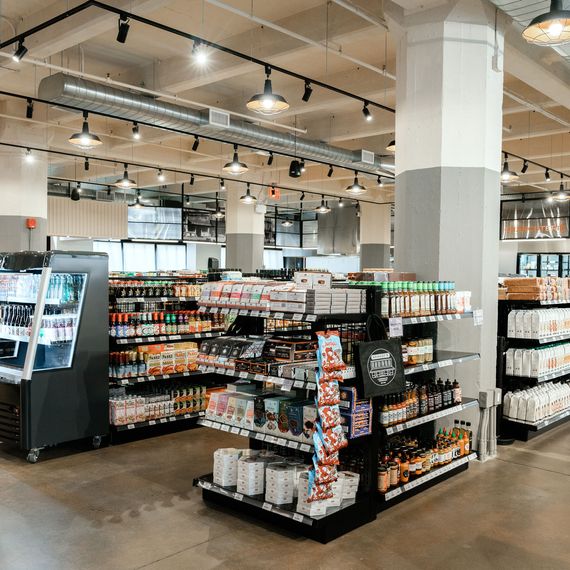 Sahadi's was born in lower Manhattan's Little Syria in 1898; once that area was razed to make way for the Brooklyn-Battery Tunnel, it put down retail roots on Brooklyn's Atlantic Avenue. For 71 years, the Middle Eastern bazaar resisted major expansion. Then Industry City made the Sahadis an offer they couldn't refuse, and now there is another terrific Brooklyn emporium for bulk-bin dried fruits, nuts, seeds, spices, and five types of feta. New to this location are seating, a full bar, and an expanded range of prepared foods, including sandwiches made on superthin Lebanese flatbread baked on a domed griddle called a saj.
To make saj bread, according to YouTube, you toss and twirl and generally juggle a giant round of dough, flapping and rolling your arms like a '70s-era disco dancer. When the dough is practically translucent, you drape it over a round pillow, invert it over the saj, and cook it until it's crisp but tender. If there's an art to this process, it has yet to be mastered at the new Sahadi's, where the thin bread is no match for the hefty fillings rolled up inside it — grilled Halloumi, harissa salmon, or curried chickpeas, for example — leading to rapid disintegration. Also the bread isn't always hot off the saj, and even when it is, by the time you've walked it to the checkout line to pay before finding a seat, it invariably ends up cold. You're better off ordering your salmon or chickpeas over freekeh.
But salvation comes in the form of a less heralded flatbread — the thicker, puffier za'atar pita baked on a regular flat griddle. Hot, zesty, and slathered with spices, it makes a nice accompaniment to a side of hummus or crisp falafel. Wash it down with a glass of Lebanese rosé at the bar, and on your way out, grab some super-savory Turkish pistachios, freshly roasted at the Sahadi's plant a couple of blocks away.
151–153 Mott St., nr. Grand St.; 646-476-2014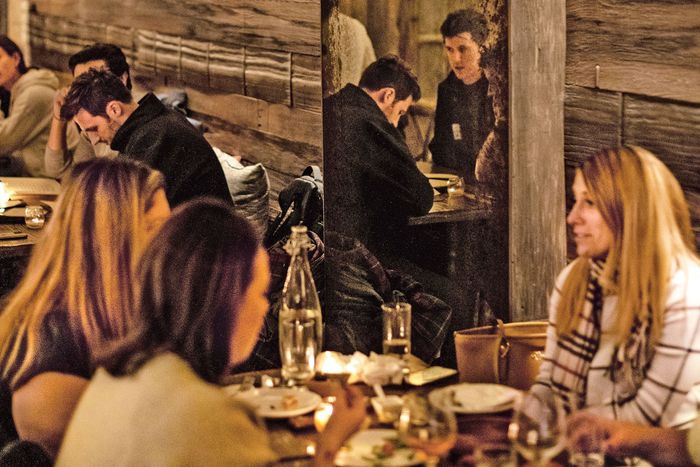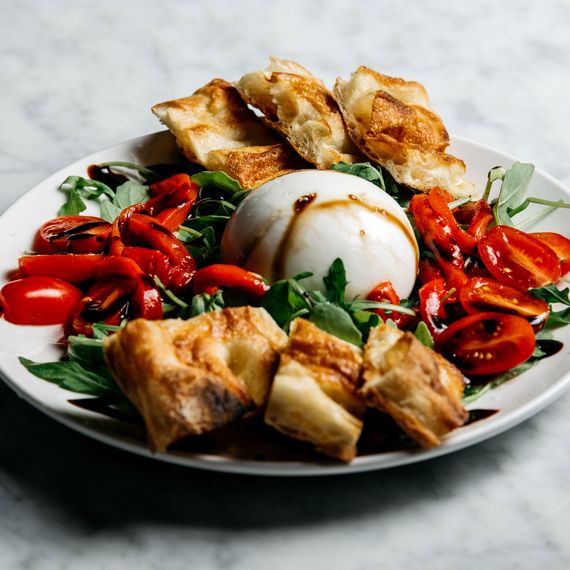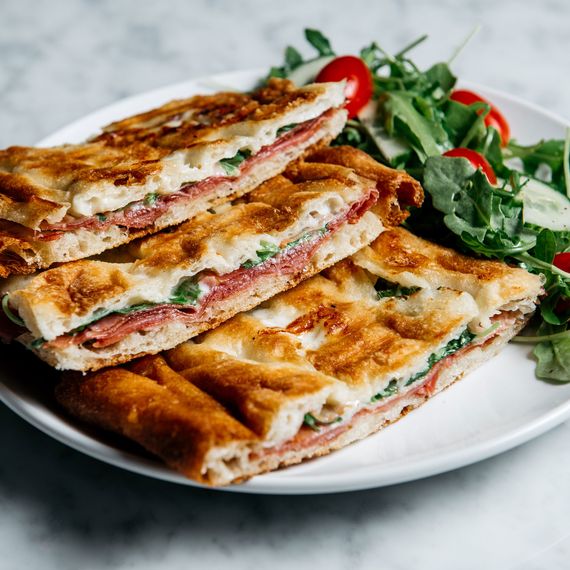 Di Palo's has spent the past century on the Little Italy block where it was born, orbiting the intersection of Mott and Grand Streets. This September, next door to the store, the family opened C. Di Palo, a wine bar named for Concetta, grandmother of sibling owners Lou, Sal, and Marie, and entrusted the fifth generation (Lou's and Marie's children) to run it.
Like Di Palo's itself, the bar evokes another era through fixtures like Carrara-marble counters, a tin ceiling, and redwood panels salvaged from a nearby water tower. The menu too is a throwback, focusing on imported salumi and cheeses served on wooden boards or tucked between bread and warmed on a panini press — the sort of Italian-wine-bar fare that was all the go circa 2002. But just like the shop from which it sprang, the bar is intended to celebrate (and plug) the traditional foods of the family's ancestral homeland, and it manages to do so with the simplest of equipment and a minimum of fuss.
The joy of shopping at Di Palo's is in bantering with the resident family members as they take your order and ply you with samples and recommendations, oblivious to the increasingly antsy mob behind you. At the wine bar, you're eating the same products, only sitting down with a nice glass of Lambrusco selected by Lou's son Sam, who runs the enoteca around the corner. To honor the shop's roots as a latteria, start with the fresh mozzarella or a creamier burratina, then move on to one of the ample panino like the Piccante, which combines hot soppressata with sharp Pecorino and marinated eggplant. Different cheeses and breads than those advertised sometimes make their way onto your plate, and the wine bar, like its parent grocery, operates on (leisurely) Di Palo time. But what's the hurry? Here you won't find any numbers to take, but there's a full cellar to work your way through while you wait.
*This article appears in the December 23, 2019, issue of New York Magazine. Subscribe Now!