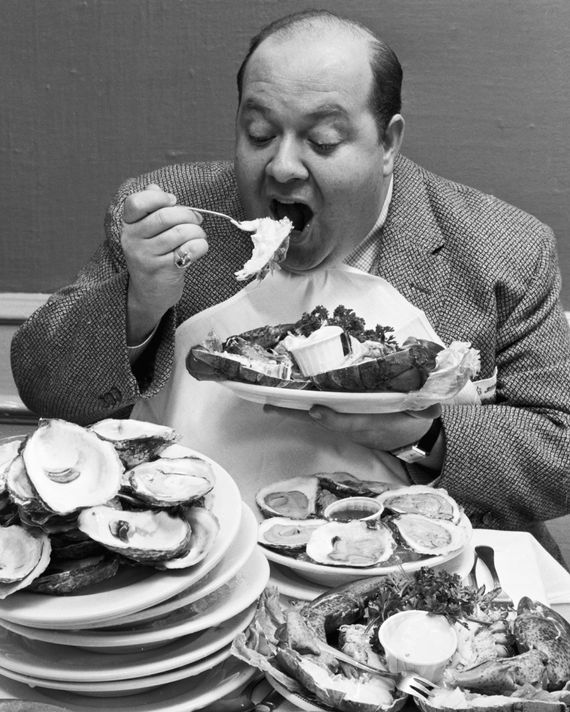 As a new decade approaches, it is only natural to look back on the one that just passed: the politics, the milestones — the food! Grub Street asked 38 New York City chefs to recount — in detail, please — the single best meal they ate between January 1, 2010, and today. They did not disappoint: From Michelin-starred meals in France to feasts of the home-cooked variety, what they all have in common is the unshakable impression they left on these chefs and the dishes they cook today. Below, 38 chefs share the finest meals they had this decade.
A family reunion over fermented crab in Korea
Sohui Kim
Chef-owner, Insa and the Good Fork
"The best meal I had this past decade has to be a meal of Korean fermented marinated crabs at a restaurant specializing in ganjang gejang at Gyegok Garden in South Korea. To research my book, Korean Home Cooking, I traveled to South Korea in 2017 with my family and ate around the peninsula with the help of my uncle's family, who live in Seoul. The warmth of the gathering, as I had not seen my uncle for 18 years, coupled with the sentimentality I feel for my native country and the deliciousness of this amazingly unknown dish, which my husband loved beyond belief, was incredible to say the least. It was a family-reunion meal filled with laughter, tears of joy, and lots and lots of delicious crabs!"
Singaporean delicacies in a marketplace
Chintan Pandya
Executive chef, Adda Indian Canteen and Rahi
"The most unforgettable meal I had was at Newton Food Centre in Singapore in 2011. It's an open food market with all of the local delicacies. I loved their concept of having everything in one place. It felt like there was a dining community because of all of the eateries you can order from. The food is cooked and served in the most unpretentious way, and it's full of flavor and taste. Some of my favorite dishes were the chili crab and barbecue stingray."
Lunch with the entire Boulud clan
James Kent
Chef-owner, Crown Shy
"When I was training for the Bocuse d'Or in Lyon in 2011, our team had a long lunch at Daniel Boulud's parents' house, the site of the original Café Boulud in Saint-Pierre-de-Chandieu on Daniel's ancestral family farm. Gavin Kaysen, Tom Allan, Mark Erickson (the provost of the CIA), and I were welcomed into Daniel's parents' home like we were their own children. And we were treated to the platonic ideal of a European lunch. Daniel's siblings, who work in the area, came home for the meal. Before we sat down to eat, Daniel's father brought us to the larder, where a dozen pig's legs were hanging alongside dozens of fruit preserves; fermenting asparagus, peas, and snap peas; and pickled tête de veau. Everything we ate was from the farm and handmade. From eau de vie to bread to charcuterie to the chocolates that Daniel's mom had wrapped in foil herself. (My memory is that even the farm tools and oven had been crafted by Daniel's father.) The main event was a squash that was bright orange like a pumpkin and stuffed with brioche, bacon, lardon, and dairy; Daniel now serves a version of the dish for Thanksgiving. But it was particularly special because we were in the middle of training for a cooking competition about precision and plating, and it was easy for food to be divorced from the act of communing. The Boulud family reminded us of the feeling of hospitality. It was one of the most amazing dining experiences of my life."
A nine-hour feast in upstate New York
Missy Robbins
Chef-owner, Lilia and Misi
"I have so many, but the ones I always come back to are, hands down, Blue Hill at Stone Barns. I try to go once a year, and they have all been special but last year was my best. It was my first time eating there with my partner, Talia, and we had an epic, nine-hour adventure, from a farm tour at the beginning to cocktails outside at the end after a five-hour meal. Dan Barber thinks about food and executes on a different level from anyone else. The enthusiasm and hospitality from his team are infectious, and I leave every time feeling inspired to be better at what I do."
Street food on the Senegalese coast
Diana Tandia
Chef-owner, Berber Street Food
"My best meal in the last decade was the grilled seafood from the restaurant La Pointe des Almadies near the U.S. embassy in Dakar, Senegal. A very simple local place with a mix of local street food and great seafood, where you know you are eating fresh, flavorful, and authentic food made with love by talented local chefs with warm and friendly service. The ambiance was great, and while I was savoring my grilled seafood, I enjoyed admiring the locals and street artists mingling with the tourists, glancing at the Atlantic waves, and this is when I decided that I wanted to bring this real-life experience of African local street food to New York and the idea of my restaurant was born!"
A birthday meal in the south of France
Jess Shadbolt
Head chef, King
"My family has been visiting the same small bay in the South of France since before I was born. Quietly nestled far enough from Nice to escape the hordes, the beach and the people have remained the same for over 36 years. But the lunch that celebrated my 34th birthday at a hotel owned by our friends stands out as the most memorable: Pernod, baskets of bread, Domaine Tempier rosé, tomato salad with mint and chalky chevre, mussels drenched in white wine and garlic, and three large platters of grilled dorade with crisp rosemary potatoes, with lemon sorbet topped with cold vodka. We claim it helps with digestion."
A farewell dinner for a West Village icon
Suzanne Cupps
Executive chef, 232 Bleecker
"My most memorable meal was in May 2017, during the last week Annisa was open. Anita Lo hosted a night at the restaurant for alumni to come back and cook together. While I didn't sit for the dinner that night, I had the incredible experience of returning to the kitchen where I had started my cooking career in 2006 to cook once again. I made my take on Anita's miso-marinated sablefish, a dish that was one of my all-time favorites. The best part of the night was that I got to cook for both my mentors: Anita Lo and Mike Anthony. It was like a family reunion and a homecoming rolled up into one."
Breakfast in the Tokyo suburbs
Jaime Young
Executive chef-partner, Sunday Hospitality
"This summer, my business partners and I ventured on our first-ever trip to Japan, where we visited Tokyo, Kyoto, and Osaka. There were many places we visited on our trip that really blew our minds, but there was one place in particular that completely floored us. In the suburbs of Tokyo, Yakumo Saryo offers tea service, traditional Japanese breakfast, and dinner. Our group had joined them for breakfast, which was served as a set accompanied by two different tea services and wagashi (Japanese bean-based pastries). The set comes with your choice of rice or porridge, pickles of many styles, grilled fish with a thin slice of yuzu, a mix of toppings for your rice or porridge, miso soup, and tamagoyaki (egg sushi). The service was gentle and precise — better than at most Michelin-starred restaurants, honestly. Literally every moment of our experience had been meticulously thought out and perfected."
Soul-warming soup at a Japanese resort
Maiko Kyogoku
Owner, Bessou
"My favorite meal of the last decade is one I had in the Akita prefecture about nine years ago at an onsen resort called Nyuutou Onsen. This hot spring is not easy to get to, as Akita is snowcapped most of the year and much of the prefecture is remote countryside. Every night, you are invited to sit by the hearth and try the most delicious local soups and stews from cast-iron cauldrons that are hung over binchotan charcoal. The hot pot I had was of satoimo (Japanese taro root) with daikon radish and its leaves in white miso broth. The stew was served with a local fish called hata hata — petite but rich in flavor — that was slowly grilled and blistered over the hot coals of the hearth. It was so simple, yet the entire experience was enchanting, as though I'd been transported to another time."
A Korean feast at a family-owned restaurant
Jenny Kwak
Chef-owner, Haenyeo
"My most memorable meal was in 2018 at a quaint and modest restaurant called Soban in Jeju Island, South Korea. I immediately fell in love with the decor, and the place had a sweet, provincial, gardenlike feel with eight tables. It is a small restaurant, and the food was phenomenal! We were blown away by the freshness and found the flavors atypical of the Korean restaurants we know. There was no menu given; they only serve the specials of the day. We had a beautiful spread of dishes, which consisted of sautéed fish, wok-fried Jeju pork, a savory stew, various vegetable side dishes all grown in their garden, a fluffy egg casserole, buttery squash pancakes (so delicious, I'd never tasted this before), microgreen-laced salads (unimaginable in most Korean restaurants), and an aromatic, curry-laced rice that was soft and plump, cooked to perfection. I still remember the taste of this rice and the nutty tea that accompanied it. And to our surprise, the restaurant is owned by a couple; the wife cooks this delicious food with her mother, and the husband serves front of house. Just the three of them."
The ultimate Michelin experience
Marie-Aude Rose
Executive chef, La Mercerie
"In 2010, my husband and I took a train from Paris to Roanne to meet some friends for lunch. We were going to Pierre Troisgros's three-Michelin-star restaurant, Frères Troisgros. This restaurant has been here for three generations, and we had high expectations. I remember the beautiful quality of the products and the perfectly simple way they were prepared. I had an appetizer of green asparagus and an entrée of sweetbreads with a coffee sauce, and I still remember how they tasted. The service was elegant and seamless so that you could really give the food all your attention. Quality and simplicity are what I remember most from that meal."
An anniversary dinner at an old friend's new restaurant
Alex Stupak
Chef-owner, Empellón
"October 27, 2017. On this date, Lauren Resler and I had been eating together in magical places for 10 years, and celebrating our anniversary at Vespertine added so much more depth. Jordan Kahn is our favorite. There is history here. When I was at Alinea, Jordan was my wingman. Working with him was so formative for me. As far as the meal, I don't need to talk about any particular moments within it. It's more about something else that is important to me: true creativity. I can't think of a more original, perfectly curated, and artistically subtextualized experience than Vespertine in the last decade."
A meal for one, served in the kitchen corner
Allie Plumer
Executive chef, Red Hook Tavern
"My most memorable meal in the past decade was in 2011. I was at the Four Seasons for a book release party related to the farmers market. I was working full time for farmer Bill Maxwell at the time but had just started branching into kitchen work. After the party, one of the chefs brought me into the kitchen and set up a little place setting for me in the corner of the prep kitchen, next to a big band saw where they would butcher meat. They casually served me a 14-course tasting meal right there standing in the corner of the kitchen. It was my first time witnessing the energy and discipline that it took to run a big, fancy kitchen, and it was like watching a theatrical production. The meal and the wine were incredible, but the thing that stuck with me was the dedication and the craftsmanship that every single person in that kitchen displayed. I was hooked. The next year I phased out of the farm and started cooking full time."
Crab and more crab in Hokkaido
Anita Lo
Chef, author of Solo: A Modern Cookbook for a Party of One
"I've been lucky to have had so many great meals over the last decade all across the planet that it's hard to choose one. But I'll choose the crab kaiseki meal I had in Hokkaido this past February, because I've had Japan on my mind as I am presently planning a trip with the Tour de Forks there in 2021. I had great food everywhere I went in Japan. Not one dud of a meal. But this dinner stood out. I think we had over 30 different preparations of crab made from three types: snow crab, king crab, and hairy crab. Each presentation was different enough that you were still thrilled to be eating this one ingredient even at the end of the meal. And all parts of the animal were used. We had crab-liver pate, crab-roe rice, king-crab tail meat, and, of course, all different kinds of meat. We had salads, dumplings, tofu, hot pot, croquettes, grilled crab, steamed crab, simmered crab, fried crab — all washed down with an amazing daiginjo sake. Best of all, I had great dining companions: my partner, Mary, and my sister Margaret, both of whom love to eat."
A steak feast in Spain
Erik Ramirez
Chef-owner, Llama San, Llama Inn, and Llamita
"One incredibly memorable meal was in 2014, when I went to a steakhouse in Tolosa, San Sebastian, Spain, called Casa Julian. This restaurant is nearly a century old. Not only is it a legend but it is a major role model for someone like me. It was winter. I walked into a very darkly lit basement room that was perfectly warm from the woodburning grill. It had this old-world feel and look. There was no traditional kitchen that I can remember, just a grill and a table. I can't stress the simplicity and the beauty of this place enough. It was one of the best steaks I've ever had and one of the most memorable experiences because you really realize that sometimes all you need is a little bit of salt."
The final night of service at a genre-defying restaurant
Christina Tosi
Founder, Milk Bar
"November 30, 2014, the last dinner service at wd~50. A decade before, 2004, after saving up for months, I remember traversing barren blocks to get to the Lower East Side thinking about how I was going to convince Wylie Dusfrene to hire me. In 2005, I became a pastry cook at wd~50, where I learned to think about food, create flavors, refine classic technique, and fuse it with my personality. I learned a deeper meaning of team, of leadership, of living against the grain with wit, humility, humanity, quirk. The pressure of a single meal, especially a farewell meal, a last meal, can be loaded, if not nearly impossible to meet expectations. That night was a culmination of everything I live for. It was past, present, and future. It was food, creativity, heart, trailblazing.
"I remember the company, a six-top of wd alumni. I remember the sound of the marking drawer opening and closing at the end of the table, a design staple. I remember the informal server uniforms and the wine pairings, everything breaking convention from how others approached fine dining. I remember the collective pride of being a part of something so special, of giving every piece of our being to share in Wylie's vision. I remember feeling how much my life had changed since I was the one in the kitchen quenelling brown-butter ice cream or twisting chocolate strips for the final course. More than anything, I remember acknowledging how much time had passed yet how much remained the same then, and even today. How emotion, vision, being a part of something, believing in something does wonderful things to us. How great food fuels us beyond physical sustenance, how it has the power to hold, to mean so much more."
An upscale take on down-home food
J.J. Johnson
Chef-owner, Field Trip
"The Grey in Savannah is this remarkable place that incorporates the past with the present. As a black man, eating in this space gave me the chills in the best way. The hospitality of John Morisano and the flavor profile and southern ingredients in the food that Mashama Bailey loves make every bite at the Grey the most amazing meal I have had in ten years. The middlins rice grits were so fluffy and light they had me floating with their rich shrimp flavor, but the fried flounder is the best dish I have ever had in my life. Skinless, crispy, and flavorful. I believe everyone should go there and eat."
Freshly foraged mushrooms in Ireland
Amanda Cohen
Chef-owner, Dirt Candy and Lekka
"In 2010, I went to visit a friend in Ireland. Glory and I had been through hell together in various kitchens, and she'd finally gotten sick of it and moved to Cork, where she was working at Cafe Paradiso. She lived out in the countryside and insisted we take lots of walks, which sounded better in theory than reality. This was my first time away from the Dirt Candy kitchen since we'd opened two years before, and my nerves were so keyed up I couldn't relax. One day we were walking and Glory lost her mind over this big, round, puffball mushroom the size of a volleyball. She pulled it out of the dirt, and back at her house she fried slices of it in olive oil. We opened some wine and sat in her kitchen. If a real meal is supposed to satisfy you on every level, if it's supposed to taste raw and fresh and clean and new, if it's supposed to restore your soul and heal your wounds, then this was the best meal I'd ever had."
A low-key meal in the Italian countryside
Sara Jenkins
Chef-owner, Porsena
"My most magical meal this past decade was in a field in the Sarno Valley in fall 2017, behind Mount Vesuvius in the heart of San Marzano tomato land. I was invited to visit Gustarosso, the cooperative producers of genuine San Marzano tomatoes, and I was slightly regretting mixing up my holiday time in Italy with business sitting in an office in an industrial building attached to the canning plant. When the director invited me down to meet the farmers, I jumped at the opportunity to escape the office. Of course, this being Italy and this being lunchtime, after visiting the farmers, we were immediately invited to lunch at a big table in their farm shed. Sitting around the sturdy wooden table, we dug into impeccably fresh local buffalo mozzarella, rough-cut prosciutto, and light red wine cut with sparkling water. I started to really enjoy myself as the farm wife cooked up pasta al pomodoro made with Gragnano dried durum-wheat spaghetti and their own canned San Marzano tomatoes. The food was exceedingly simple, but this is always what I love best, food simply made with heart by the producers of the ingredients."
A home-cooked meal on a mountain in Greece
Mina Stone
Chef-partner, Mina's
"My husband Alex and I were traveling through mainland Greece when we stumbled upon this strange café on a mountain called Karpenisi. It was brightly lit with unusual decorations, and we weren't even sure it served food. We sat down, and the two women that worked there just started to bring out dish after dish: little potatoes, saucy meatballs, bright salads, and braised lamb in parchment. At the end, they brought out this orange pie, portokalopita, and it was the most delicious thing I had ever tried. The woman wrote the recipe down for me on a napkin. It was so generous and easy — I've been making the recipe ever since."
A heavenly Italian feast in New Jersey
Brooks Headley
Chef-owner, Superiority Burger
"Bread and Salt, 435 Palisade, Jersey City Heights, just a couple weeks ago. We (me, Dave Rizo of SB, Jess from Sqirl, and a couple of her cooks) arrived at 9:45 p.m. Rick Easton fed us the most perfect pizza rosso, classic Roman puntarelle salad, a red-cabbage-and-mint salad, insane bread with probably very expensive and exactly tempered butter and bottarga, another pizza with exploding barhi dates and gorgonzola, the most delicate egg-and-roasted-pepper sandwich on just-baked hoagie rolls, and a bunch of red-wine-poached pears and cookies for dessert. It was romantic, austere in the right way, just perfect. It was outrageously delicious. It was the best Italian food I have ever tasted. We all just moaned and stared at each other wide-eyed the whole time. Not a lot of talking, just guttural grunts. And when it was all over, we all just stood on the street, nowhere near a train to shuttle us back to Manhattan at 11:30 p.m. on a Wednesday. What the fuck are we going to do now?"
A day off at Blue Hill
Victoria Blamey 
Executive chef, Gotham
"The best meal I recall was winter of 2013 at Blue Hill at Stone Barns. It was my second time eating there since 2011, and this time I went with one of my best friends from London, a chef I've been friends with for 15 years. At the time, I was working at Atera as chef de cuisine, and we had one day off. My friend wanted to go somewhere unique, and I'd wanted to go back to Stone Barns for a few years so we got on a train to Tarrytown. We went for the full tasting menu. Our courses were mainly vegetables, all highly seasonal, most of them grown at the farm. I recall a beautiful dish of whole grilled Persian cucumber with an infused cream of fish bones. We loved how you could have the full expression of the chef in one dish, how service was not only elegant and on point but kind to us. This meal still lingers in my heart."
A Filipino family meal for the holidays
Charlene Santiago
Executive chef, Canal Street Oysters
"One of the best meals I've ever had was prepared for a work holiday party. Kitchens at the John Dory Oyster Bar, where I was the chef de cuisine, and its sister restaurant, the Breslin, held a friendly competition on who could make a great meal for our work families. One year, I decided that the John Dory Oyster Bar staff would re-create my mom's Filipino dishes. I even asked her for help, so she came to the John Dory's kitchen, took over, and orchestrated. For that holiday meal, we served deep-fried pig's feet, pancit bihon (rice noodles), kare-kare (braised oxtail in peanut sauce with eggplant and long beans), fresh lumpia (crepe-wrapped vegetables), fried spring rolls, ukoy (a shrimp-and-bean-sprouts fritter), and inihaw na isda (grilled fish wrapped in banana leaf), along with a variety of sauces, including sweet chili, seared chicken liver, chili, vinegar and soy, and peanut and garlic, all accompanied by steamed rice topped with toasted garlic. That day, we all worked with ingredients we'd never used before in that kitchen and with recipes none of us were familiar with, even me. It wasn't just the John Dory kitchen, our work kitchen; it was like we were at home cooking for our ourselves and our friends. That night, when we sat at the communal table, we knew we had created a meal that would stay with us for years to come, and I was proud that my heritage and family were a part of the gathering of my restaurant family."
A home-cooked Iranian meal far from Isfahan
Nasim Alikhani
Chef-owner, Sofreh
"I have had amazing meals in my travels around the world as well as my travels to Iran in the past ten years I was getting ready to open my restaurant. But the meal that stands out to me the most is the walnut-and-pomegranate stew called fesenjoon. This is a very rich, flavorful, and complex dish that's cooked at special events throughout Iran. It is usually cooked with chicken, meatballs, or duck. Last year, when my mother and father visited us from Iran, she insisted on making dinner for our and my brother's family. It felt a little strange, since they were staying at my brother's apartment on top of my restaurant. She cooked a fesenjoon with chicken that was truly unforgettable. I kept eating and trying to understand why this was so special. I even kept some in the freezer and kept going back to it after she went back to Iran.
"It could have been that she tended to this dish almost the entire day and gave it all the love she had for her kids and grandchildren, or maybe in that dish there was a knowledge of nearly 70 years of cooking that really showed in this complex dish. One can also argue that it tasted special to me because it reminded me of my childhood and the dinners at home, coupled with the realization that, because of my mother's old age, there would not be many opportunities to taste her cooking again, and that made it so special. I make a very good fesenjoon and serve it at Sofreh, but I honestly hope that one day I will be able to make a fesenjoon as memorable as the one my mother cooked."
The best yakitori in the city
Greg Baxtrom
Chef-owner, Olmsted and Maison Yaki
"One of the best meals I've had in the past few years was at Torishin. Yakitori is one of my favorite cuisines, and I've gone to just about every spot in the city. My meal at Torishin was incredibly memorable and influenced the development of my menu at Maison Yaki. Specifically, I'm a sucker for their chawanmushi and pork-belly skewers, and that's why those dishes are on the menu at Maison Yaki."
A romantic introduction to Sichuan home cooking
Kyo Pang
Chef-owner, Kopitiam
"The best meal I had in this decade was the Sichuan food I was introduced to by my fiancée, Callie. For a very long time, I was reluctant to try any food that contained a lot of chiles, because I assumed the taste might be too overwhelming. Callie is Sichuanese, and when we first dated, she thought I didn't eat spicy that much but she wanted to share her hometown food with me. She made me her hometown dish called lang ya tu dou (homemade spicy sauce with firm potatoes). I thought I wouldn't like it, but surprisingly I loved it instantly. She explained to me that the spiciness in Sichuan is very different to spiciness from Southeast Asia. Apparently, spiciness from Sichuan will only stay spicy in your mouth but not spicy in your throat. We've gone to different Sichuan restaurants in the city to look for authentic Sichuan food, but now most of the time she just cooks for us and tells me all about the dishes."
Braised rabbit on a quiet night in
Nick Perkins
Chef-partner, Hart's, Cervo's, and the Fly
"My wife and business partner, Leah, and I were friends for years before we started dating. When we first decided to give it a go, eight years ago, we made a big pot of chicken soup together to mark the date we decided to be together and talked about what we wanted our relationship to look like. Ever since then, we've celebrated that anniversary with a home-cooked meal and a night in together. The meal that sticks out for me as my most memorable of the last decade was our anniversary dinner on December 5, 2016. This was about a month after we opened our first restaurant, Hart's. At the time, I was cooking on the line every night, and though we usually cook together, Leah made a point to make me dinner that night. We have never cooked rabbit together before or since, but on this night, Leah perfectly braised a rabbit in a heavy cast-iron pot with rosemary, olives, and white wine. She took the livers and made pâté, then folded it into the braise for the richest, most delicious jus that we spooned over boiled potatoes. It was intimate, loving, and fun — and we were both so grateful to carve out a little time for just the two of us."
True Korean country cooking
Jo Park
Executive chef, Momofuku Kāwi
"Before moving to Korea two years ago, I hadn't been back since I immigrated to the United States 15 years ago. I had lived with my grandparents until the age of 4 and grew up listening to stories about them but hadn't seen them since I became an adult. My grandparents live on a farm two hours north of Seoul. It's a simple place, and the food reflects that. My grandma had prepared a spread for my arrival. In Korean we call it sigol bapsang, or "country food": freshly picked green peas, pickles, preserved salted cucumbers, and a vegetable salad with sesame oil and salt. Sitting with my grandparents, eating the food they had grown and cooked, made me feel so connected to my past and the stories my parents told me growing up. It brought back so many memories for me — memories I didn't even know I had. I spent years working in high-end kitchens like Per Se, Daniel, and Ko, learning an incredible amount about food and technique. But it wasn't the food I grew up eating or the food I turned to for comfort. That lunch with my grandparents put it into perspective for me: When cooked with love and care, simple food can have so much meaning. Beyond forging new memories with them, that's what I took away from that lunch — and what I hope others take away when eating my food today."
A perfect, simple meal outside Naples
Noam Grossman
Chef-owner, Upside Pizza and Norm's Pizza
"Hands down, Il Buco in Sorrento, Italy, was the greatest meal I've had. Every course told a story of the local flavors in such a way I had never experienced before. It was a complete case study on the power of simplicity. Great ingredients and love — that's it. It was eye opening on so many different levels, but most important I learned of new flavors and sensations. It felt in that moment as if my taste buds had been dormant until then."
A reunion over Thai
Ohm Suansilphong
Chef and co-owner, Fish Cheeks
"My most memorable meal from the past decade was at PaaDee, a restaurant in Portland, Oregon, that specializes in Thai Isan cuisine. It was a special occasion; I was reuniting with old friends I had not seen in a long time, and we were all really excited to share a meal together again. The food was incredible, and the menu offers something for everyone. We feasted on dish after dish of Isan classics, like lab ped with Muscovy duck, neau yang marinated and grilled flank steak, and gang om soup. It reminded me of some of my favorite restaurants in Thailand. They really don't hold anything back when it comes to flavor or spice, and they're not afraid of selling Thai food with real Thai flavors."
A vibe-y birthday at Uncle Boons
Nico Russell
Chef-owner, Oxalis
"In 2013, a good friend I was cooking with took me to Uncle Boons for my birthday after work. The food was both refined and delicious, but beyond that, the whole experience impacted me at a very personal level. With everything between the food and service, the overall ambience captured the energy of New York in one of those special ways that any New Yorker can understand. It was a warm night in New York City in Soho with a lively energy that felt extremely tangible. It was also memorable because it was both a surprise and also because my friend knew this was the food and environment I would love. The energy I felt that night is something I have continued to infuse in the experience we create here at Oxalis."
A Mexican wedding feast
Fany Gerson
Chef-owner, La Newyorkina and Dough
"The single best meal I had this decade was definitely at my wedding. My husband and I got married in Mexico three years ago and the food was one of the most important aspects. We created a feast highlighting foods from different regions of Mexico, where the majority of the dishes were prepared by cocineras tradicionales, including a very special mole called bride's mole and tr-color tortillas made on-site. It was the best, not just because of the amazing food but because we got to share it with so many people we love and the fact that they got to try food that was prepared in such a thoughtful way from all around Mexico."
A hearty mortadella sandwich in Sicily
Sam Lawrence
Executive chef, Estela
"My mind always comes back to a sandwich I ate on Ortigia, a small island off the coast of Sicily near where my mother was born. Caseificio Borderi is basically a deli in the local market. They use a huge baguette (very white, very crusty, and not very high quality) hollowed to fit mountains of filling. It provides the perfect platform for smoked mozzarella to sit on. Unlike standard, firm smoked cheese, they stretch fresh mozzarella curd daily and lightly smoke it. Mortadella, anchovy, torn basil, and squash blossoms make this sandwich a complete and perfect meal. It's satisfying in the most simple way, ideal for sitting on the rocks and beaches of Siracusa. It helped me understand that great food experiences do not need to be confined to restaurants."
A shockingly good vegan meal in Tel Aviv
Einat Admony
Chef-owner, Balaboosta, Taim Falafel, and Kishkash
"One of my favorite meals in this last 10 years was in Tel Aviv at OPA, a vegan restaurant I was opposed to from the start and almost refused to go to. The chef-owner, Shirel Berger, is a young woman who worked in New York City beforehand, and I still think about that meal all the time. It wasn't just conceptually interesting; it was also super-tasty and absolutely divine to the eyes.
"Every dish was delicious and great, but one (I couldn't get enough and ordered a second) was a guava fillet that looks like a light fillet of fish — flaky, moist, soft, and delicious The food had every element I will be looking for: texture, taste, creativity, balance, and elegance, and all that with only plant-based ingredients."
A life-changing meal at wd~50
Simone Tong
Chef-owner, Little Tong Noodle Shop and Silver Apricot
"The most memorable meal in the last decade was my first dinner at wd~50 in November of 2010. Earlier in the week, I had dined at several classic French fine-dining restaurants around the city, but this tasting at wd~50 sent electric waves down my spine like no other meal had before. From the everything-bagel ice cream with salmon furikake to the cold fried-chicken terrine with coconut ricotta, my three hours in the wd~50 dining room were full of surprises, humor, and creativity. I was stunned by how the aerated foie gras with pumpernickel chip and pickled beets pushed the envelope of how classic French ingredients could be treated and experienced, and I still can't believe the genius of the scrambled-egg ravioli with torched avocado purée and marinated hamachi. It was that very meal that invigorated me, made me pursue a career at wd~50 and seek out chef Wylie Dufresne to be my mentor. It made me excited to be a chef."
A meal fit for a king in Greenwich Village
Trigg Brown
Chef-partner, Win Son and Win Son Bakery
"I think the most memorable meal of this last decade for me, from a culinary perspective, was eating at Il Buco Alimentari when Justine Smilie was the chef there. This excludes the sentimental value of eating with my wife in some very special places in the Sacred Valley in Peru. Back then, I lived on couches for the six months I was permanently in the city, so when I finally got situated in an apartment and had a little cash to spend, I went out to dinner. Mind blown. The fatty short ribs with sweet and acidic agridulce vinaigrette and funky colatura squeezed and drizzled into the pauvre, and the arcs of foie gras with crispy bread, and the vegetables and pasta. It was all wild, good, and new but mostly overflowing with vibrant energy and generosity. It felt nice to settle in, and that this was one of my first dinners as a permanent resident in New York will always stick with me. I sat at the chef's counter and had enough cash in my pocket to pay for dinner but probably only had like 40 bucks in my bank account, and he made me feel like a million bucks. I ended up being a sous chef for Justin at Upland, which was one of the hardest jobs I've ever worked and where I learned so much."
A family potluck in Bangkok
Ann Redding
Chef-owner, Uncle Boons
"Dinner at Uncle Boons's house in 2011, suburbs right outside of Bangkok, Thailand. Matt and I were visiting and staying with my Aunt Eet and Uncle Nuey. Aunt Oi and Uncle Boon lived 2 doors down. Uncle Boon organized a family potluck that was unforgettable. Not only was there immediate family, but we were joined by a lot of family I didn't get to see very often. Uncle Boons's sisters had cooked for the royal family and made tapioca dumplings to show Matt and I. The whole family sat on the floor in the outside kitchen and rolled dumplings while criticizing each other's technique. Dinner was followed by a karaoke party a few doors down at Aunt On's. The array of dishes on the table was incredible, with each family member sharing tips and recipes. This would be the last time we saw Uncle Boon and my grandmother Ma Yai all together, as they both passed away in 2017. That evening cooking, telling stories, and laughing was really special and something I will always remember."
This post has been updated to remove a quote from chef William "Mo" Garfield that borrowed phrasing from this blog post without attribution.