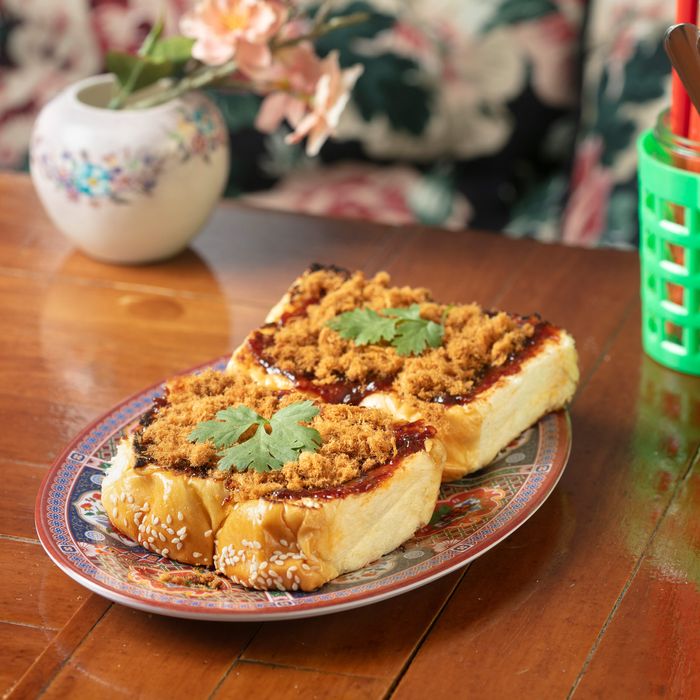 Brioche with pork floss and sweet chili paste.
Photo: Melissa Hom
While it's true that Williamsburg is home to many Thai restaurants, it's never been a neighborhood known as a destination for anyone seeking quality khao soi or laarb. Local papaya-salad fiends got a boost in 2017 with the opening of a branch of Sripraphai, the Queens restaurant widely considered to have brought proper Thai cooking to New York. Today, they'll get another when the family behind the popular Plant Love House restaurants expands to the neighborhood with (props for the name) Noods n' Chill. A combination noodle shop and Thai-style café, it specializes in the Chinese-Thai rice porridge called khao tom, snacks and toasts, and Southern Thai pulled tea and coffee.
The location is the third for chef-owner Manadsanan Sutipayakul and her three kids, Benjaporn Chua, Preawpun Sutipayakul, and Jirawat Sutipayakul, who also run the Underground Gourmet approved Look by Plant Love House in Prospect Heights and Mondayoff by Plant Love House in Ditmas Park. (The family's first restaurant was Plant Love House in Elmhurst's Thai Town, which earned plenty of praise but which they closed after expanding to Brooklyn.) A 12-seat space occupying the former Bistro Petite space, Noods n' Chill is self-serve restaurant that will be open on weekdays, except Monday, from noon to 10 p.m. "This one will be decorated more vintage and Chinese, similar to the house my mom grew up in," Chua says.
They're bringing some of their signature dishes to Williamsburg, like the boat noodle soup, thickened and enriched with blood and garlicky ga-tiam; half-duck in panang curry; Thai street-style popcorn chicken; and crispy watercress salad. But the weekend brunch, served on Saturdays from 11 a.m. to 4 p.m., is the restaurant's calling card. It's also a return to the family's roots. Sutipayakul is the daughter of Chinese immigrants to Thailand, and grew up eating khao tom and made it for her kids. "The food my mom has passed on to me is more Chinese-influenced than a lot of Thai people eat," Chua says.
What makes the khao tom more exciting are the variety of more pungently and assertively flavored sides you order it with. (It's available as a set dish, either $15 for a porridge and two sides or $28 for two porridges and four sides.) The choices are sort of the family's all-star selection of the traditional sides. "There are more side dishes, but we only put out the ones we love," Chua says, noting they'll also offer special sides on a regular basis. So you can enhance your rice porridge with, say, chicken with ginger and wood ear mushroom, Chinese sausage in spicy lime sauce, a preserved cabbage omelette, or stewed sweet pork.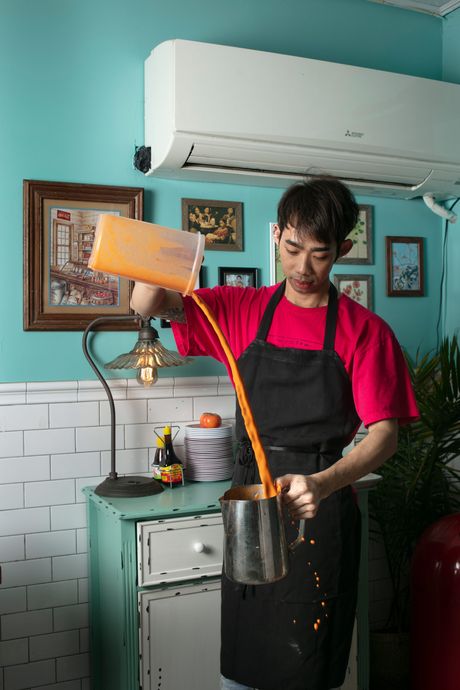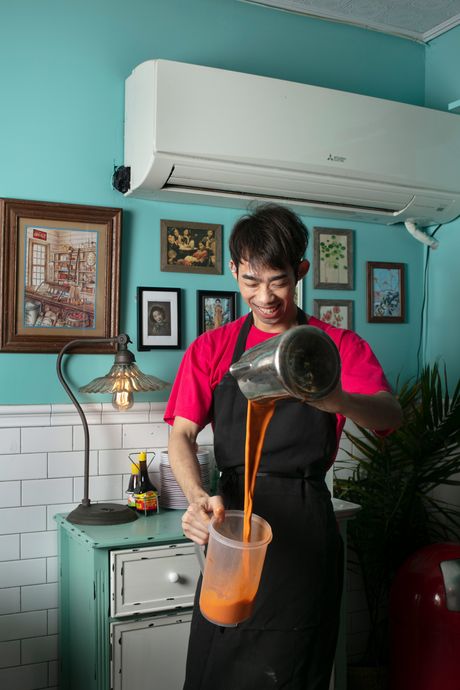 Should you be more in the mood for bread, the snack section will be the place to go. Some of the food there is influenced by Chinese cooking in Malaysia and Singapore, which is why you'll see Thai versions of both butter toast (with optional Ovaltine) and kaya, the coconut egg custard that they'll offer in both pandan and Thai tea flavors, with steamed brioche. That brioche can also be ordered savory, toasted and topped with pork floss and a sweet chili paste. There are also more Indian-influenced treats in two kinds of roti — a sweet version with condensed milk and a savory one with yellow chicken curry that Chua describes as similar to a Massaman curry.
They'll serve your usual Thai coffee and tea, as well as hot soy milk and specialties like hot lavender-milk tea; herbal drinks including a ginseng goji pot; and cold pulled Thai milk and coffee. There may be so much brunch in Williamsburg that you're practically tripping over pancakes on weekends, but Noods n' Chill is actually bringing something different — and from the family behind some of the city's more beloved Thai restaurants no less.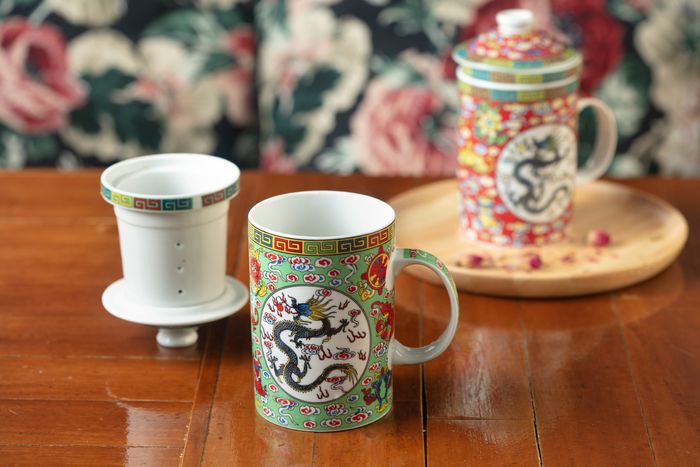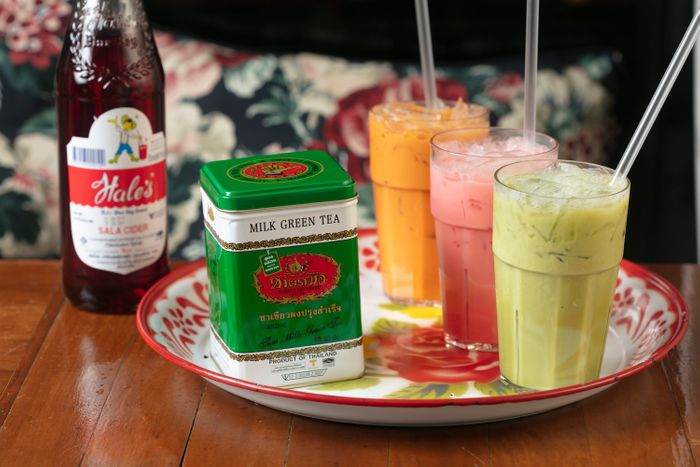 Noods n' Chill, 170 S. 3rd St., nr. Driggs Ave.; 718-388-7695