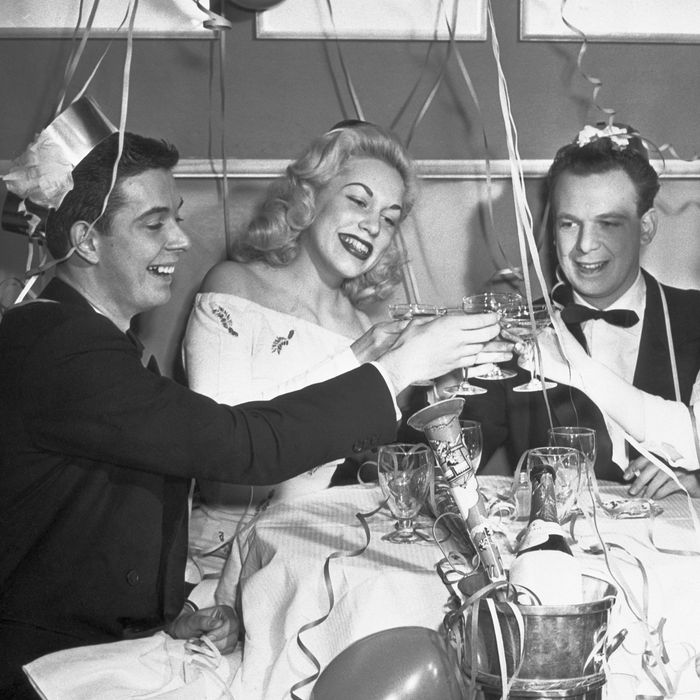 Even if you understand how time works, you may still be shocked to learn that New Year's Eve is just five days away. How?! Anyway, the possibilities for how to spend the evening are truly endless, which we understand can be overwhelming, but don't worry: Grub combed through all said possibilities and came up with 37 stellar options for how to ring in 2020. Below, a procrastinator's guide to how to celebrate NYE whether you just want to enjoy a really great meal and then conk out before the clock strikes 12 or go all out and possibly lose your phone in the process.
If you want to eat very, very well …
Chikarashi Isso
How Much: $145/person for a nine-course tasting menu, plus $75 with beverage pairings
This Fidi restaurant is less than a month old and New Year's Eve is the perfect time to give its eclectic Japanese cuisine a spin. Chef Michael Jong Lim will serve bites from across the spectrum, including yakitori, matcha soba, tempura, wagyu, and chawanmushi. It's like five Japanese restaurants for the price of one! Grab reservations here.
Frenchette
How Much: $200/person for a three-course meal
Through some miracle, there are still NYE reservations available for this beloved downtown restaurant, at least at the time of this posting. They will surely not last, especially when dishes like omelet soufflé with sea urchin, lobster in curry beurre fondue, and Hopping john are on menu. Throw in one of the best collections of natural wine in the city and this is a can't-miss reservation. Grab one here.
Llama Inn
How Much: $140/person a five-course meal or $110/person for a vegetarian option
At the restaurant that launched an entire Llama empire, the kitchen will serve a five-course menu featuring dishes like smelt sashimi, oyster chowder with an optional caviar supplement, persimmon sorbet plus a DJ set, a performance from Brooklyn's own Bub Styles and a "traditional adult piñata," which we're guessing will not be filled with candy. Book a reservation here.
Curaté at Chefs Club NY
How Much: $175/person for a six-course meal
Asheville chef Katie Button's current residency at Chefs Club just so happens to coincide with the height of the holiday season, which is good news for anyone who wants to eat and party like a real Spaniard. Button, who trained under José Andrés and Ferran Adrià of El Bullí fame, will serve a six-course meal that's heavy on the canned Spanish clams, Iberico ham, and Segovian suckling pig, so come hungry and plan on ringing in the new year with a glass of cava in hand. Find tickets here.
Le Crocodile
How Much: $125/person for a four-course meal
The restaurant that replaced Reynard is settling in quite nicely at the Wythe Hotel, where for New Year's Eve chefs Aidan O'Neal and Jake Leiber will serve a four-course feast. Stick around until midnight and you can partake in a Champagne toast. Book reservations here.
Café Altro Paradiso
How Much: $115/person for a five-course meal
The elevated Italian New Year's Eve you've been waiting for is waiting for you at this Tribeca-adjacent restaurant, where a five-course meal is on tap for the New Year. Among the selections for the night: beef tartare with brown butter and hazelnuts, roast lamb with radishes and anchovy, risotto with wild mushrooms and a golden egg yolk, and many, many bottles of Prosecco if you so choose. Grab reservations here.
Simon & the Whale
How Much: $145/person
All night long, Simon & the Whale will have its usual menu, but starting at 9 p.m. the restaurant will go full luxury with a NYE prix fixe featuring oysters, caviar, lobster, wagyu beef strip loin, and chocolate cake with banana bavarois. Afterward, you can head up to Broken Shaker for rooftop views. Make reservations here.
Mifune
How Much: $95/person or $155/person with wine and sake pairings
Two years ago, Mifune burst onto the scene with a $250 omakase meal, but you can enjoy NYE at this excellent Japanese restaurant for much less. This year, chefs Yuu Shimano and Tomohiro Urata will prepare a seven-course meal that leans heavily on French influences in the form of sole gratinée with clam beurre blanc, filet mignon topped with foie gras, and mousse fromage blanc. But don't worry, there'll be plenty of sashimi, soba, and sake going around to make the meal feel thoroughly Japanese as well. Make a reservation here.
Golden Diner
How Much: $78/person
Sam Yoo and the rest of the gang at Golden Diner will host a standing room only party on NYE, where the food will be served buffet style. What's on the menu? Korean fried chicken, katsu club sandwiches, vegan grilled cheese, and the Golden Diner burger, one of the year's best new bites of 2019. Grab reservations here. They're sure to go fast.
Nur 
How Much: À la carte
This year, the Flatiron Israeli destination is promising patrons a low-key, no-fuss New Year's Eve, serving its regular menu, a few specials (beef scallopini with green lentils and Brussels sprouts), and the requisite Champagne toast if you make it to midnight. In other words, eat well, and be well. Lock down your reservation here.
If you want to splurge …
Mercado Little Spain
How Much: $175/person or $2,500/table
There's no word on whether José Andrés will be there himself, but his Spanish market–cum–food hall will be throwing quite the rager on NYE, with bottomless food and drink and party favors for those who opt for general admission while VIPs will have their own server and bottle service, and will be close enough to the DJ to dance without ever having to hit the dance floor. Afterward, VIP attendees get a gift card for brunch at Spanish Diner — talk about full service. Grab tickets here.
Le Coucou
How Much: $795/person
For those who never pass on the guacamole upcharge at Chipotle, Daniel Rose's French-inflected hot spot will once again host one of the night's most expensive celebrations. For $800, revelers will get a lot. A Studio 54–themed party with passed canapés to start, vintage Champagne, a six-course dinner, and an as-yet-unnamed entertainer who will surely be of the Studio 54 era, right? There's only one seating all night long, so grab tickets here, prepare to roll up at 7 p.m., and stay until the wee hours of the morning.
Wayan
How Much: $198/person
At their Franco-Indonesian spot, Cedric and Ochi Vongerichten plan on leaning even more fully into their Indonesian side, decking the restaurant out in Indonesian décor, including party favors for guests. There'll also be a DJ on deck to spin tunes while folks dig into a prix fixe menu with caviar pairings, lobster Jimbaran, Balinese-style babi guling suckling pig, and Indonesian chocolate ganache between Champagne toasts. Find reservations here.
Valerie
How Much: $200/person, $550 to $1,650 for reserved tables, $650 to $1,300 for VIP tables
When the clock strikes midnight in two weeks, we'll officially be living in the 20s — and, naturally, you're going to see more than a few references to The Great Gatsby. Cocktail lounge Valerie will celebrate the occasion with a raucous 1920s-themed party featuring cocktails from the era (all from a very open bar), a six-piece jazz band, and even a magician! Grab tickets here.
The Grill
How Much: $195/person for first seating; $295/person for second seating
At the Grill folks will be invited to chow down a four-course meal of oysters with caviar and crème fraîche, scampi tortellini, filet mignon, and that not-to-be-missed dessert cart. Book reservations here.
TWA Hotel at JFK
How Much: $185/person or $2,000 for a reserved table
For its first-ever NYE, the TWA Hotel at JFK airport will turn its already-nostalgic gaze on the 1960s, specifically 1962, the same year the architectural masterpiece was first constructed. Upon arrival, guests will find a five-hour open bar, dinner stations throughout the room, live music, ice skating, and with enough forethought, a room at the hotel to crash in when it's all said and done. Find tickets here.
Gotham
How Much: $140/person
Fresh off a killer year, chef Victoria Blamey et al. will send off 2019 with two three-course dinners featuring pillowy agnolotti, roast duck with beet kimchee, sea bream and escabeche, and live jazz to set a tone as cool as this old-school restaurant has now become. Grab a reservation here.
Il Buco Alimentari
How Much: $275/person
The folks at Il Buco Alimentari will be throwing it down over plenty of apertivi with a massive NYE fête featuring an open bar, passed hors d'oeuvre (read: Parmesan arancini, short-ribs skewers, and fried baby artichokes), a raw bar, and more crudités, charcuterie, fish, and beef than seems possible. When the party ends at 1 a.m., guests will go home with a little breakfast treat to enjoy over a cup of espresso. Get reservations here.
Kāwi
How Much: $225/person
This year, Momofuku is bringing all its best bites to bear at its Hudson Yards outpost, where guests will be bombarded with pork buns, cold fried chicken, rice cakes, and all other manner of umami-rich foods. Additionally, there will be karaoke, a DJ, and ice luges in case drinking straight out of glasses becomes arduous. Or if you'd rather just eat a great meal and call it a night, chef Jo Park will whip up a four-course family-style meal with rice cakes, bansang, hwe, and other Korean-influenced delights for just $85/person. Either way, you're eating like a king. Find reservations here.
If you want a New Year's Eve with a view …
701West
How Much: $1,200/person
Yes, this listing technically qualifies as a splurge, but it's a splurge with a view. That view being Times Square, which is super fun at New Year's — from a distance. The late seating is sold out, but there's still plenty of space in the early seating, which includes a primo view of the ball drop without being on the ground, a six-course meal served by the man who made Times Square tolerable again (chef John Fraser), an open bar, live music, and access to the hotel's dance club afterward. "Black Tie or Glamorous Attire Encouraged." Grab your ticket here.
Lamalo  
How Much: $150/person for first seating or $195/person for second seating, $80/person for open bar access
Lamalo, the Middle Eastern meze spot from the owner of Breads Bakery, will be transformed into a more loungy spot come New Year's Eve when beef tartare, salmon crudo, crusted rack of lamb, and that awe-inspiring laffa bread will be on the menu alongside caviar, truffles, and Champagne. Guests will also have access to the rooftop of the Arlo Hotel, where the restaurant is located, which will have a wonderful view of the Empire State Building light show. Make reservations here.
Manhatta
How Much: No cover
Dinner reservations at this Danny Meyer restaurant with a view are long gone, but starting at 9 p.m., revelers are invited to a dance party high above Lower Manhattan in one of the space's many rooms — no reservations or tickets required. Just show up.
Westlight at the William Vale
How Much: $250/person
There's a reason the William Vale's rooftop bar is called Westlight. For New Year's Eve, the spot will not only provide unrivaled views of the Manhattan skyline, but an open bar (duh), live and not-so-live music, and light bites all around, so you may want to get dinner before you arrive. (Our suggestion: Leuca, the restaurant's Italian-leaning in-house restaurant.) Grab tickets and table reservations here.
The Water Tower at the Williamsburg Hotel
How Much: $250/person
Starting a 9 p.m., the Water Tower will also have views of Manhattan plus an open bar, passed hors d'oeuvre, live jazz, and a DJ, which means plenty of dancing. For an extra $600, you can even book a room to pass out in (or continue to party in) when it all comes to an end at 1 a.m. Call 718-362-8100 to get your tickets.
Ophelia
How Much: $225/person
Across the way from Williamsburg and Long Island City, rooftop lounge Ophelia will host its own party in a setting that's being described as snow-globe-like. General-admission tickets include an open bar, passed hors d'oeuvre, a dance floor, and a view of Midtown East that'll sparkle as much as the Champagne. Find tickets here.
Top of the Standard 
How Much: $245/person
Over on the far West Side, the Standard Hotel's high-flying lounge will be turned into a disco with Sister Sledge (of "We Are Family" fame) performing while the booze flows. The party starts at 10 p.m. and black-tie attire is required. So grab your finest and get tickets here.
Last Light at Sister City
How Much: $65/person or $180/person
The rooftop bar at one of the city's newest hotels will be transformed into a tropical paradise, with tiki cocktails pouring all night long while chicken satay, shrimp skewers, and Hawaiian pizzas make their way around the room. Guests can choose between the $65 Little Umbrella package, which includes one drink ticket, a Champagne toast, and the aforementioned bites, or the $180 Paradise Open Bar package, which is self-explanatory. Either way, you get a great view of the Lower East Side. Find tickets here.
Broken Shaker
How Much: $50/person or $120/person
Between its many venues, there will be plenty of NYE activities to choose from at the Freehand Hotel, but only cocktail lounge Broken Shaker has the rooftop views you're looking for. Starting at 9 p.m., guests are invited to enjoy an open bar while ordering from the hot spot's regular menu, which really runs the cultural gamut. Later on, there'll be a live performance by brother-sister duo Wild Belle. Grab tickets here.
If you want to just want to party…
Fifth Hammer Brewing
How Much: No cover
This Long Island City brewery will host a totally free party on New Year's Eve featuring a toast-and-jam buffet, dancing, and instead of a Champagne toast, a midnight keg drop. If you're looking for a party that will be equal parts fun and low-key (with really good beer to boot), this is the one.
Listen Bar
How Much: $299/person
If you're sober, you know that NYE isn't exactly the best time of year not to be drinking. But pop-up Listen Bar is prepared to make you forget all about that with a truly insane evening of partying in Bushwick — alcohol-free. The whole evening will be personalized for the 50 guests who grab tickets and officially starts on Christmas Eve. Talk about once in a lifetime. Find tickets here.
Threes Brewing
How Much: No cover
Both the Gowanus and Greenpoint locations of this brewery will host 1920s-themed blowouts featuring Prohibition-era cocktails, giveaways, dancing, and at the Gowanus location, "Year in Review" trivia for smarties who like to party. Meanwhile, the Greenpoint location will have its own secret speakeasy — a party within the party — only accessible to folks who RSVP. Otherwise, neither party is ticketed, so just walk right in and enjoy yourself.
Bowery Hotel
How Much: $249/person or $469/couple
The real question here is what won't they have at the Bowery Hotel. There will be an open bar, a Champagne lounge, a Patron bar, a whiskey room entirely devoted to Manhattans and Old Fashioneds, an Irish coffee bar, an outdoor cigar lounge with cigar rolling on-site, infused chocolates, roller skaters, go-go girls, a DJ, a midnight delivery from Joe's Pizza, and more than we can possibly continue to list here. Oh, and the theme is Studio 54. Find individual and VIP table tickets here.
Elsewhere
How Much: $55/person for 2 a.m. entry
This outsize Bushwick music venue has yet to host a bad party and NYE is no exception. To ring in the New Year, it's tapped musician Neon Indian as one of several people who will DJ throughout the night and throughout the venue, each bringing a different musical theme to their corner of Elsewhere. The party starts at 9 p.m. and, no joke, goes until 6 a.m. So, come prepared for the long haul. Purchase tickets here.
Archer & Goat
How Much: $20/person
Up in Harlem, this solid American bar and restaurant will cover both the eating — with dinner service from 5 p.m. until midnight — and the dancing as DJ G-Bo the Pro takes over at 9 p.m. and spins until 1 a.m. Throughout the night, there'll be party favors, snacks, and, of course, a Champagne toast. Tickets will be available at the door, but reservations are recommended. Email archerandgoat@gmail.com or call 917-261-6602 to grab yours.
Gitano Jungle Room
How Much: $150 to $2,000
This usually outdoors venue has moved inside for the winter, but that hasn't stopped the Tulum-born restaurant and bar from carrying on the party. For New Year's Eve, guests have the option of both a four-course dinner and dancing or just dancing, which includes an open bar, Champagne, and "gypsy disco" DJs who'll be spinning until the wee hours of the morning. Lock down tickets here.
Amor Y Amargo, Mother of Pearl, and Honeybees
How Much: $120/person
One ticket, a crawl through three stellar bars. And these aren't just any bars: They come from the brilliant mind of Grub favorite Sother Teague, so you know the cocktails will be some of the best you've ever sipped. There will also be music and hors d'oeuvres to make your one-night journey that much more enjoyable. Find tickets here.
Nowadays
How Much: $20/person to $75/person
This Ridgewood venue will host a party that starts at 6 p.m. on New Year's Eve and goes until 5 p.m. on New Year's Day. Over those 23 hours, there will be a rotating cast of DJs, food from Diner by the Izakaya (included in the price of $75 tickets), and of course, that massive, thankfully heated backyard of theirs. Guests can choose their tickets by the time they'd like to drop in: $75 for the 6 p.m. arrivals, $50 for 10 p.m. to 5 a.m., $45 for 5 a.m. to 2 p.m., and $20 for 2 p.m. to close. Blankets and pillows are welcome. Seriously. Purchase tickets here.