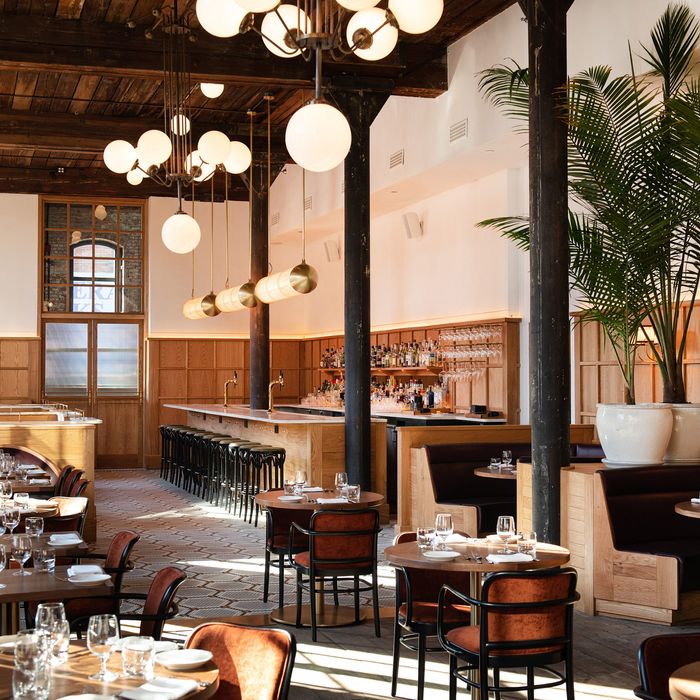 Go full brasserie at Le Crocodile in Williamsburg.
Photo: Liz Clayman
Whether you had the luxury of celebrating the holidays nearby and have now returned or never left the city in the first place, this weekend is the perfect time to try out all the new restaurants you can't seem to get into the rest of the year or simply haven't had the time to check out yet. We did a bit of research and found 12 places worth visiting while the going is good and the city is emptier than usual.
Peoples
New York may be fully in the throes of food-market fatigue, but we've made an exception for the Market Line, and more specifically, Peoples, a wine shop and bar from the folks behind Contra, Wildair, and Una Pizza Napoletana. Not only does the place have hundreds of bottles of natural wine to choose from, but you can easily spend hours drinking through them over tinned seafood and high-end Swedish meatballs, a phrase we never thought we'd write here.
Nowon
Over the summer, we found ourselves raving over chef Jae Lee and his impressive Korean food pop-up, Him, which included a burger that set more than a few meat-loving hearts aflame. In the blink of an eye, that pop-up has become a full-blown restaurant in the East Village, where you can enjoy playful dishes like honey butter tater tots alongside more serious fare like wok-fired clams with chicken, black beans, and brown butter.
232 Bleecker
When Team Grub heard that Suzy Cupps — formerly of Gramercy Tavern and the late, great Anissa — had paired up with the team behind fast-casual spot Dig to create a full-service restaurant, our interest was immediately piqued. For 11 days now, Cupps has been bringing her "quiet, Zen style of cooking" (chef Anita Lo's words) to the heart of Greenwich Village and if you enjoy vegetable-centric cooking that's delicate, but filling, you'll want to check it out.
F&F Pizzeria
Should you find yourself down Carroll Gardens way, consider dropping by this pizzeria from Frank Castronovo and Frank Falcinelli of Frankies Sputino fame. The concept is simple: dairy-free tomato pizza or regular pizza, both served on bread developed by Tartine bread master Chad Robertson alongside pizza master Chris Bianco, and going for $26 and $30, respectively — which may seem pricey, but pizza greatness isn't always cheap.
Win Son Bakery
If you follow this café/restaurant on Instagram Stories then you know that they're pretty much slammed on weekends, especially around 10 or 11 a.m. But perhaps not so much when the denizens of East Williamsburg have gone on holiday. Either way, it's definitely worth stopping by for the superior Taiwanese-influenced breakfast.
Rhodora Wine Bar
The restaurant and wine bar formerly known as Mettā has been quietly chugging away since September with one goal in mind: to be zero waste. That means you can actually feel good about downing glass after glass of natural wine at the low-key Fort Greene spot — even when you're nursing a slight hangover the next day.
Le Crocodile
This restaurant from the team behind Greenpoint fave Chez Ma Tante hasn't been completely slammed quite yet, which means now is the perfect time to stop by for the comforting, brasserie-style food, including duck and rabbit rillette, Barbuto-like roasted chicken with herb jus and frites, and no less than 12 dessert options, a gift in this era of one-item dessert menus.
Mina's
Here's your Saturday or Sunday agenda: Wake up, get dressed, grab a friend or two, and head to this all-day cafe from Greek cuisine wunderkind Mina Stone. Sip some O.J. and order the peinirli, or Greek cheese-and-egg bread. You will not regret it. Then traipse, like, five feet over to MoMA PS1, and check out the Gulf War exhibit currently on display.
Nami Nori
It's hard not to feel like a kid in a candy shop at this nearly three-month-old sushi spot. Everything on the menu just looks so appetizing. Luckily, what you see is what you get. We recommend grabbing one friend (any more than that is overkill in this tiny spot) and going to town on as many temaki as you possibly can, or just ordering ten insanely delicious spicy crab dynamites. Thank us later.
Gotham
The reviews are in and the overall consensus is that what Victoria Blamey is doing at Gotham is nothing if not interesting and most definitely worth the visit. What's more, we can happily confirm that this is the weekend to lean into that hype and see what all the (warranted) fuss is about for yourself.
Portale
If we recommend trying out Gotham, we must also recommend visiting Portale, the new and massive Italian restaurant from the very same chef who founded the former. And if the past is any indication of the future, this second act from chef Alfred Portale will surely be celebrated for years to come.
Babs
Babs, from the team behind Mimi, has been around since June, but the restaurant only started serving breakfast early last month. The general vibe is continental: Think soft-boiled eggs with toast soldiers for dipping, croissants and tartines, yogurt with fruit and granola, and coffee every which way. All of it in a room trimmed with so much wicker and velvet, you'll think you died and went to midcentury décor heaven.