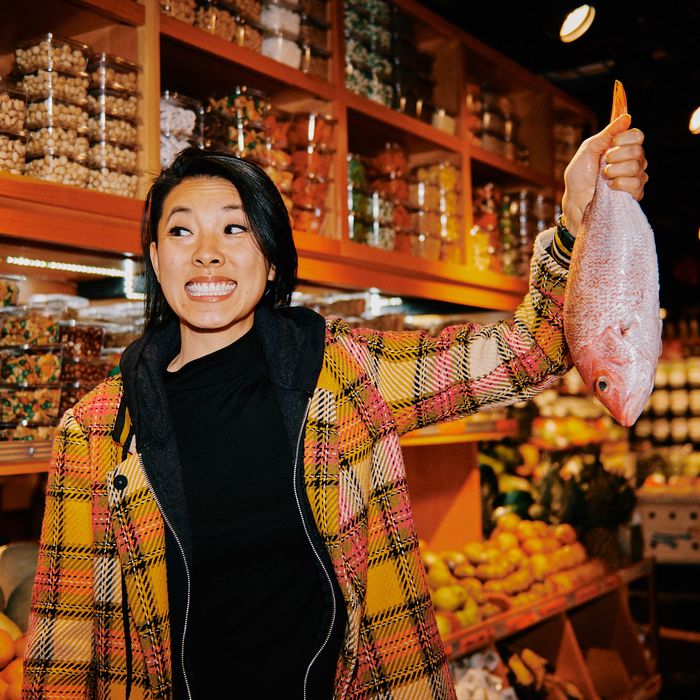 Moonlynn Tsai and her fish at the Essex Market.
Photo: Christian Rodriguez
This has been a really good year for Kopitiam, Kyo Pang and Moonlynn Tsai's Malasyian-Chinese restaurant that's a favorite of Chinatown crowds and critics alike. It nabbed a critic's pick from the New York Times' Pete Wells, who calls the food "almost unfailingly terrific"; a spot on Bon Appétit's list of this year's best new restaurants; and a James Beard semifinalist nod for chef Pang. Tsai moved to New York specifically to partner with Pang, and she has carved out a space for herself in the short time she's lived here: almost daily visits to the Essex Market, getting her natto fix with NYrture New York Natto, and finding a regular easy-dinner spot in Wu's Wonton King. Read all about it in this week's Grub Street Diet.
Friday, December 13
Had both of my legs in stirrups in the OB-GYN office for my yearly Pap when my phone started buzzing and I got the call: The Department of Health was at Kopitiam examining every nook and cranny for over two and a half hours, which is more often than not with the goal of finding anything to dock points for. Happy Friday the 13th!
Stressed and hangry, even though it was only 11 a.m., I decided to catch the LIRR to have a Long Island workday with my girlfriend, Yin.
I don't believe in work-life balance, but I believe in a healthy work-life integration. Being in an industry that is on all the time, with no downtime, it's important to do little things to keep my mental health in check. You could most definitely say traveling has always been my "happy place." In more recent years, my girlfriend and I backpacked around Southeast Asia for three months and made the cross-country road-trip move from California to New York to get ready for Kopitiam. The #startuplife usually doesn't allow for weeks-long vacay, so getting creative in discovering my day-to-day happy place is imperative to keep the fire burning long-term — even if it means working in a different part of town or heading out of the city for a few hours or taking a quick break at my new favorite neighborhood bakery, Party Bus Bakeshop.
Yin picked me up. When we got to her family home, we split lunch duties with her younger sister, Melora, and her boyfriend, Coco. We cooked:
1. Pomegranate mixed-greens salad
2. Roasted broccoli with garlic
3. Watercress-garlic chicken soup
4. Roasted chicken with lemon, onions, and garlic
My other equally happy place is the kitchen. I love to cook and used to organize dinner-party pop-ups in my L.A. home. Because of how small our apartment is here, it's difficult to host, but cooking with friends and family reminds me of those days.
Melora, knowing we were all hitting a lull around 5 p.m., pulled us shots of espresso on her Bialetti before I headed back to the city to make it in time for the dinner rush.
When I got home, I could smell braised soup. Growing up in an unstable household with a mentally and physically abusive father, I found what brought me comfort was my mom's cooking, like her braised-oxtail soup. So when I opened the door and saw my mom, who was visiting from out of town, with a pot of the Meat Hook's oxtail braising in star anise, ginger, and soy (YESSSS), all the stresses of the day melted away.
Saturday, December 14
Woke up before my 7:00 a.m. alarm clock and lay in bed scrolling through Kopitiam's Instagram. We made a conscious decision not to hire a social-media manager or have a PR team, so I allocate two-to-three hours each day to catch up on Yelp, Instagram, Facebook, and Twitter. Reading Yelp reviews is like reading the news. You should to stay current, but sometimes it's better to just skip it. This morning, I woke up reading a review from a guest complaining about our prices. I'm always mind-boggled by this; the majority of our dishes are $5 to $10 with only five items exceeding that, topping out at $13.50.
I got up, pressed "boil" on my Cuisinart kettle, a gift from Melora that we've had for about four years. Since I was having brunch with Mom later at Golden Diner, breakfast consisted of vitamins and a cup of warm water with apple-cider vinegar from the Pineapple Collaborative, a food company focused on women-created pantry staples.
On weekends, I like to keep errands local so I can be at the shop for the rushes.
Mom met me at Kopitiam, and we walked over to Golden Diner together, thinking we would beat the line if we got there before opening. Wrong! It was already at least 15 deep, but we made it in! Saw Sam Yoo on the line and slapped a high five. I love this diner — the vibrant, bright décor, the homage to what the Lower East Side once was. The playlist in itself is magic: I caught bits of "Ali Baba," by Louie Ramirez, and J.D. Natasha's "Plastico"!
By the time the food arrived, I had already drunk three cups of coffee, black (with unlimited refills in true diner fashion). Yogurt and homemade granola came out first, followed by an entourage of matzo-ball soup (we both popped our matzo cherry!), Chinatown egg-and-cheese sando, and the fluffiest honey-butter pancakes with berries. Golden Diner NAILED IT.
Five pounds heavier, I went back to Kopitiam to get some work done before the lunch rush. After, I swung by 886 and picked up a bottle of Sze Daddy chili sauce from my friend, the chef and co-owner, Eric. I can't wait to use it for a chili-oil braised chicken I'm making later this week — I've never made it before.
My 1:30 meeting in Soho dragged till 3:30, and I was starving and craving a shish kebab and rice. I remembered passing by a Mamoun's on my way. I've only been to the one in the East Village and loooove its shish-kebab plate. We braved the throngs of drunken Santas in line, but unfortunately what we ended up getting was a plate of wet, chopped lettuce with diced tomatoes topped with dry, tough lamb. Noted: Will stick to Mamoun's in the East Village.
Mom had to use the restroom before she headed off to Brooklyn but didn't want to walk up three flights of stairs at my apartment (bad knees), so we went to Essex Market, which has nice (clean) bathrooms downstairs. Saw Nigel at the Hello Moon Man stand, and he gave us both a tasting of his newest dessert: cassava coconut jelly with shaved coconut and rose petals. Around the corner, Four Sigmatic was offering free cups of its products, and we each opted for a Shroom coffee. Shroom coffee + cassava jelly = a match I never knew I needed in my life.
Simi and Paul of Adirondack Creamery ice creams came over to Kopitiam with five pints for our team holiday party. Yin first discovered them and surprised me with a pint of their Whiteface Mint Chip. The rest was history.
Got home and ate the other half of my breakfast egg-and-cheese sando from Golden Diner, cut a pomelo, and snacked on boiled Italian chestnuts from Trader Joe's.
Caught up on work and remembered Jenny from Fly by Jing mentioning when I saw her at the Pineapple Collective product launch that she did an ice-cream pop-up with OddFellows where they put their chili crisp on top of ice cream. Hmm. I had the five pints in my freezer, so I scooped a bit of each flavor and topped it off with crisps. It was a tie between the Syrian Walnut and Vanilla! Epic solo Saturday night.
Sunday, December 15
1:00 a.m., couldn't sleep, browsing the Insta. Saw that a popular Peruvian restaurant had just opened up for brunch. Booked a reservation with Mom.
Was up all night running through the logistics of multiple events, the big one being the team holiday dinner on Wednesday that I'm cooking for. The majority of the Kopitiam team didn't get to grow up celebrating Christmas, and I wanted to share the joy and memories from those experiences with them.
Christmas was one of my favorite holidays growing up, even though I wasn't raised Christian (though maybe I absorbed the Christmas spirit during my time at Catholic school!). As I got older and into my early 20s and realized my family didn't have the kind of healthy, warm dynamic I craved, I'd celebrate the holidays with 20 or so of my friends instead at a Lake Arrowhead cabin. There was a 16-pound rib-eye and all the fixings one year and endless amounts of alcohol; we had a keg set up out in the snow for those brave enough to go outside. But my body can't keep up with that anymore. Now it's all about how to have the most sleep and quality time with loved ones.
Started the day early, drank water with apple-cider vinegar, and made a bowl of granola, pomegranate, chia, a spoonful of nut butter, and Meyenberg goat milk. Had some extra time, so I sat and meditated for a bit with a cup of green tea Yin got from Sunrise Mart.
We're tea fiends. Three years ago, after I left Pine & Crane, I was getting really into the study of oolong teas and took a weeklong, intensive tea class in Taiwan. We went to different tea-making regions (my favorite being Sun Moon Lake) and learned the process of tea-making. I have so much admiration for tea-makers; it's at least a 20-hour process per batch. The first batch I tried to make from scratch I was up 16 hours and couldn't stay awake for the remaining ones, so the tea farmers ended up finishing the process for me.
Was really excited for brunch with Mom. I usually prefer cooking at home to going out and very rarely, if ever, eat at higher-end restaurants anymore. The magic that used to engulf me when I was younger doesn't leave me with that fulfillment after being in the industry so long. When I do go out, it's usually to go and support friends or local mom-and-pop shops, when I have friends or family visiting, or to welcome new neighborhood shops. That start-up life can get lonely! I always look forward to making new friends. The last fine dining I really enjoyed was at Haenyeo — the way Jenny Kwak infuses her story into each dish with flawless execution, the team's outstanding service, the whole experience there was magical. All that to say how excited I was for brunch with Mom.
Arrived at the brunch spot …
… An hour later, I thought I'd have a lot to write about. But brunch ended up being $80 for two apps and a rice bowl (no drinks), and let's just say there were a lot of probllamas, pun intended.
Did some touristy things afterward: walked up to Grand Central Station, checked out the NYPL (nipple!), and attempted to wander around the Bryant Park holiday pop-up shops, but there were way too many people. Decided to slowly walk back to the LES.
Got tired and found ourselves in K-Town craving something soupy, settled on Cho Dang Gol. We skipped the homemade tofu they're known for and opted for the the bulgogi stew and mini bossam. Our dishes were so comforting, and the Korean grandmas working there made it feel like home and a welcome break from the cold.
Didn't get enough veggies in. To counter that, I made a salad from baby arugula and rainbow-chard leaves I bought at Project EATS. Foraging and farms are my jam! When I lived in L.A., I would frequently take foraging classes in the mountains with author and master forager Pascal Baudar.
Monday, December 16
Woke up feeling a bit under the weather. Ate a comforting breakfast of avocado and purple rice with NYrture NY natto I'd picked up when I visited my friend Danny at Osakana in Williamsburg. I love that slimy goodness paired with a cup of green tea.
Set up shop, finished payroll at my favorite table by 9:30 a.m., overheard two guests chatting at the table next to me about how much they loved the kaya jam. I wrapped up paperwork and went over to chat with them and found out they were visiting from Vancouver. I get an absolute high when I meet genuinely kind and nice people at our shop and gifted them a bottle of our homemade kaya jam to bring back home to add to their good memories from this trip.
Feeling productive!
Got to Essex Market, where I go almost every day for seafood ingredients. One of my private cheffing clients is a pescatarian, so this is my reliable go-to spot for fresh fish. Picked a vibrant red snapper, rinsed and ungutted, from New Star. It started snowing. Being born and raised in San Diego, I'm still amazed by how beautiful snow is and will never get over how snowflakes look like fluffy little clouds.
Came home and seasoned the red snapper, drizzled olive oil over chopped rainbow chard and broccoli, then placed everything on my baking tray and set the oven to 375 for 20 minutes. One of my favorite easy-peasy, 20-minute lunches. Made a ponzu sauce rendition to dip. (Mine was just yuzu and tamari — a couple of years ago, I developed an allergy to gluten, and I try my best to avoid it when I can.)
I don't usually nap; I get really gnarly headaches most of the time, but today I couldn't focus on any work and forced one in. Woke up feeling a bit better. Got ready for the Last Supper Club pop-up that Chula Galvez was cheffing over at Abigail's Kitchen in Greenwich Village. If you've never had any of Chula's food, you've got to get on that ASAP. It's as delicious as it is beautiful.