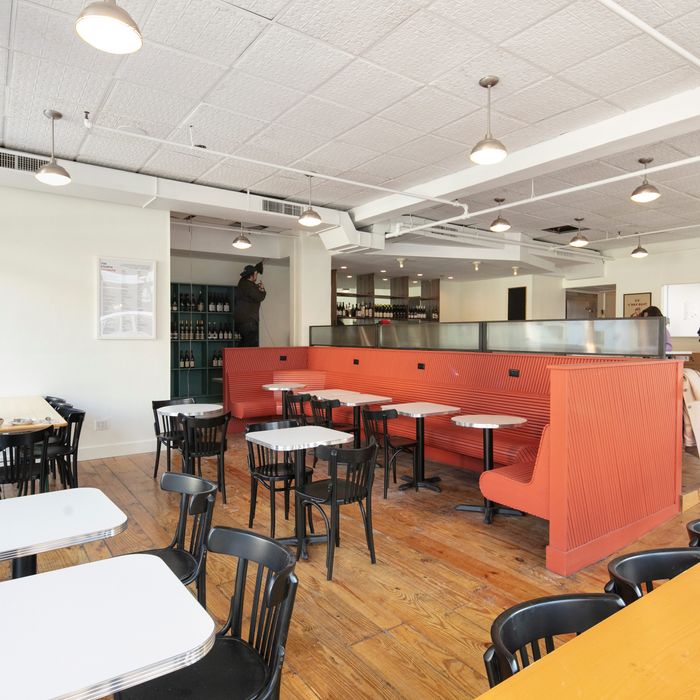 Pizza time.
Photo: Melissa Hom
Let the pizza party begin. Tonight, Mike Fadem, Gavin Compton, and Joey Scalabrino will turn on the lights at the restaurant half of Leo, their sort of sequel to Bushwick favorite Ops. Ops is one of Grub's favorite places in the city to hang out, drink (natural) wine, and eat (pizza), and all signs point to Leo being, similarly, the sort of spot you want to go to all the time. There's already been plenty to like: For the past month or so, Fadem and Scalabrino have been turning out square slices, pressing sandwiches, and baking sourdough baguettes and Danish-style buns at their takeout café. Now that their liquor license has finally arrived, they're ready to go all in.
Both spaces were built out by partner Gavin Compton, of Variety Coffee and Ops, but Leo doesn't look like its predecessor. It's brighter and lighter, where Ops is darker and more romantic, with white walls and tables, a wood floor, and big, tall windows that span the whole storefront and splash the place with light during the day. It's also significantly bigger, with a kitchen that actually offers Fadem & Co. breathing room and, more importantly, space to cook more dishes.
It's an uncrowded space that seats about 70 people, anchored by a rather nice-looking, mellow red banquette. There are a number of regular tables, along with high-tops behind the banquette and separated by a pane of fogged glass.
Should you pop by tonight, you'll order food from a thick mahogany counter in one corner, which doesn't look like a fast-casual kiosk but more out of some old bar in Italy. It'll double as the bar (cocktails are still being worked on, Fadem says), and along with beer and natural wine from nearby taps you'll be able to grab bottles from a large fridge. (Sierra Echegaray, formerly of the Four Horsemen, is handling wine.)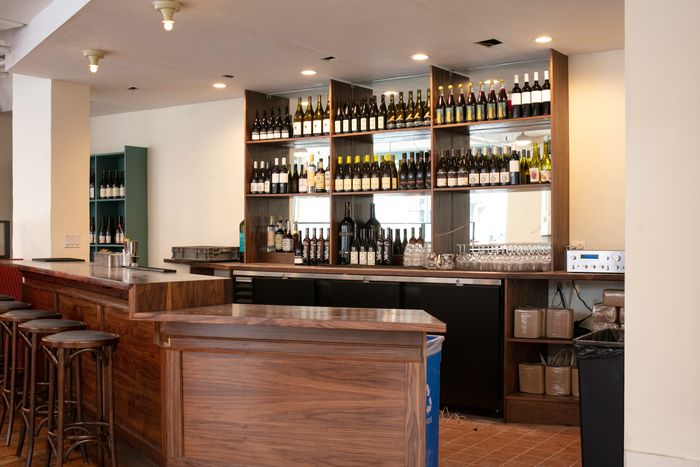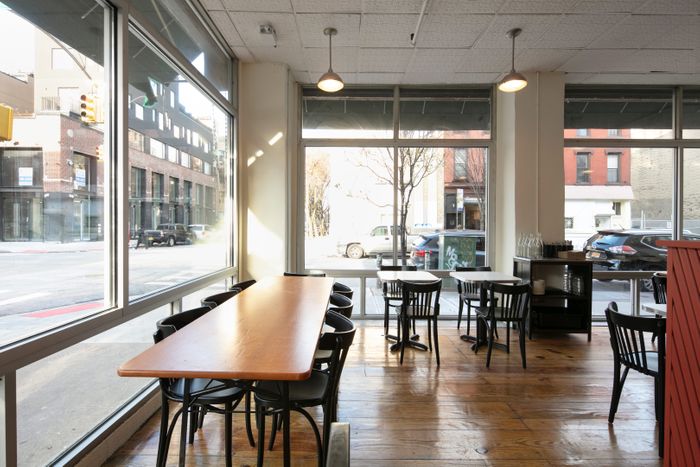 If you've been popping by Leo's café for the occasional slice or mortadella panini, you know what to expect. They're obsessing over squares at the café, but on the other side will focus more on round pies, variously topped with clams, crumbled potatoes, mushrooms, and more. There'll be plenty of appetizers, with that part of the menu reading like an expanded version of what Fadem and co-owner Marie Tribouilloy do at Ops, as well as entrées like a gluten-free lasagna with kale ragù and meatballs.
It won't exactly be a rollicking party — though the tiramisu for dessert is a start — but it also won't feel like a regular restaurant. Fadem wants the space to be more free-flowing, less like a restaurant and more like a bar where people move around. In other words, a casual and relaxed pizza party, with plenty of wine.