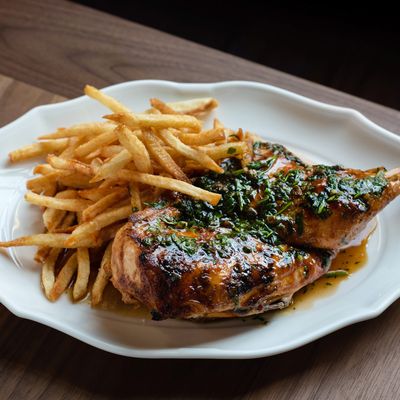 Together at last: Barbuto-style chicken meets Balthazar-style fries.
Photo: Liz Clayman
Ambitious young chefs open second restaurants to expand their brand, or grow their team, or exploit economies of scale. Chez Ma Tante's Jake Leiber and Aidan O'Neal had a simpler motivation for opening Le Crocodile in the former Reynard space at the Wythe Hotel: They wanted to make French fries. And not just any French fries, but ones inspired by the iconic frites of Balthazar, the gold (and golden) standard of spud-dom.
The only thing standing in the chefs' way was the chubby, English-style chips they serve at Chez Ma Tante, which are one of those relentlessly popular items they can't take off the menu for fear the act would provoke a customer revolt. "They're never going to change," says O'Neal. "We were just waiting to open a new restaurant so we could do regular French fries." Of course, with its 100-seat boutique-hotel setting and the backing of Golden Age Hospitality's Jon Neidich, Le Crocodile offers O'Neal and Leiber much more than just the chance to diversify their fry game. The team envisioned the place as a French-inspired neighborhood hub, an expansive restaurant with a menu to match that felt familiar and nostalgic but also paid homage to some of the chefs' favorite dishes and restaurants at home and abroad. These include escargots, braised rather than roasted in the style of Montreal's L'Express, and served out of the shell with bits of torn bread to do away with the toil of extracting gastropods with tiny two-pronged forks and tongs. ("I'm a lazy eater," says O'Neal. "If I have to work, I'm going to skip that dish.") There's an omelet, as you'd find on any good brasserie menu, along with oeufs mayonnaise, leeks vinaigrette, onion soup, and steak au poivre. There are what Leiber calls "totally classic profiteroles, swimming in chocolate sauce," which is how he and O'Neal encountered them at Chez Georges in Paris.
But there is also an oddity called orzo cacio e pepe, which is Leiber's re-creation of a dish his mother made for him when he was growing up. "She didn't want to take the time to cook risotto, but was always good at making pasta," he says. And then there's the grilled chicken that comes with those Balthazar-style fries, an unvarnished homage to Leiber's mentor (and godfather) Jonathan Waxman, for whom he worked at Barbuto for seven years. To do that iconic bird justice, at Leiber's request the hotel owners replaced Reynard's wood-burning hearth oven with a formidable custom-made Barbuto-style grill-oven hybrid. And to master those Balthazar-style fries, O'Neal went as straight to the source as possible, consulting his former M. Wells colleague and current Frenchette chef de cuisine Jeff Teller, who learned the technique from bosses (and Balthazar opening chefs) Riad Nasr and Lee Hanson.
Fries aren't the only thing Leiber and O'Neal hope Le Crocodile will have in common with Balthazar and Frenchette. The chefs admire both restaurants as much for their ambience as for their food. "I do think Williamsburg is missing the type of place where you walk in every night and it's buzzing and the bar is packed, people are making eye contact across the room and there's a palpable energy," says Leiber. To that end, he and O'Neal collaborated with Neidich and the design firm on renovating the dining room, breaking down wall partitions to open up the space and create sight lines. They've installed leather booths up front, wood millwork, and a new marble bar, behind which a team led by Jim Kearns will shake and stir classic cocktails. "The goal is like at Barbuto," says Leiber. "It's three or four deep at the bar and you're squooshed against the tables, but the energy is magnetic and huge. That's what we want at Le Crocodile."
Le Crocodile opens for dinner on Wednesday, December 4, and will eventually extend its hours to all-day service. Here's a look at the remodeled space and some of the food.
80 Wythe Ave., at N. 11th St., Williamsburg; 718-460-8004