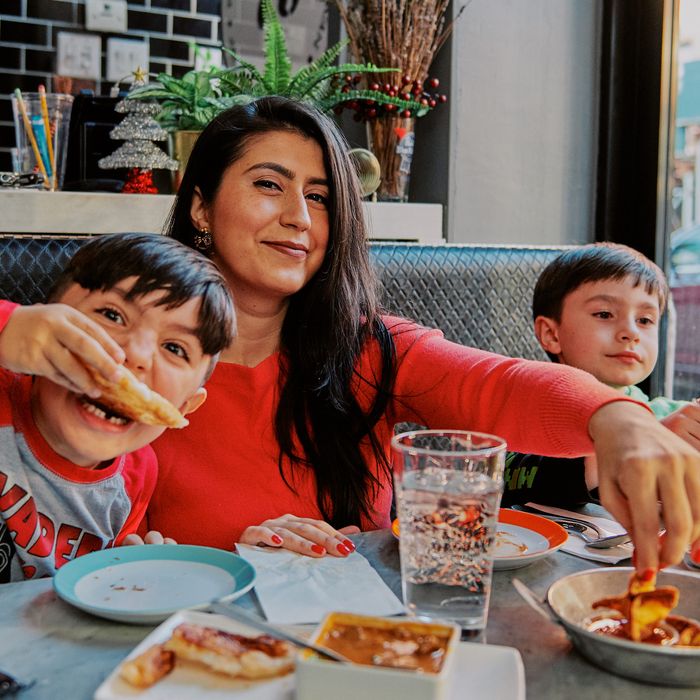 "My favorite dish when I'm in the mood is gaeng massaman, but really you can't go wrong with anything," says New York State senator Jessica Ramos of
Kitchen 79
.
Photo: Christian Rodriguez
State Senator Jessica Ramos is a Queens lifer. Born in Elmhurst, raised in Astoria, and now a Jackson Heights resident, she represents parts of all three neighborhoods. Even before taking office, she was a vocal advocate for the city's street vendors, and has introduced a bill to lift the city's cap on vendor permits. That advocacy stems from the same source as her work with labor unions and activism, but she's also harbored a lifelong, opinionated passion for food. "It was innate, we just ate good food from wherever," she says of growing up in Queens. Ramos likes to cook as much as she can and is big into eggs (particularly Colombian huevos pericos), but you'll also find her out in the neighborhood getting tacos from Birria-Landia, eating at one of her favorite local Colombian spots, or just snacking on a churro. Read all about it in this week's Grub Street Diet.
Wednesday, December 18
For breakfast, I chopped up an onion and tomatoes for my scrambled eggs. This is a traditional Colombian style of eggs called huevos pericos. I make different kinds of eggs, but I will usually at least chop up an onion. I had the eggs with an arepa and cheese.
I'm big on eggs. I'm big on arepas. I bought these arepas from the store. I don't have time to make them — I would love to. My mom makes the best arepas in the world. (My son will tell you "that's right," too.) Hers have the perfect consistency of crispy on the outside but just the right mushiness inside. She makes her own arepas fresh every day. She works at home, so she can do that kind of stuff.
I ordered lentil soup from the Colombian restaurant next door to my district office. It's called Pimpollo. I had been there before. But I really don't frequent the place, it's just that it's convenient. It's not my favorite Colombian restaurant — that would be La Boina Roja — but it's pretty solid.
Colombian lentil soup has potatoes, it has carrots, and it has a meat, usually pork. I'm big on soups. Indeed, Colombians, we're soupy people. Ajiaco, mondongo, sancocho, cuchuco…
I skipped dinner. It was the night of our holiday party in the office, and I ended up not having time. There's no normal in my life these days. When I'm here in Queens I try to cook as much as I can, especially because I'm trying to save money. But, I mean, we actually eat out or order in pretty often. When I used to work at City Hall, I actually would do meal plans. (When I'm in Albany, it completely changes. Last session I didn't cook at all when there, I ate out everyday. But my plan for this upcoming session is to be a little more diligent about cooking and bringing food from home with me.)
I do cook a lot, though. I enjoy cooking. I would love to own a restaurant someday. I've always cooked. What can I say that won't get me into trouble? I mean, my mom cooked. But my mom also worked pretty long hours her entire life, so growing up, my older sister and I usually had dinner made by the time she got home for us. And I cooked my first dinner all by myself when I was 12. It ceased to be a chore pretty quickly. In fact, I can't even remember when I thought it was a chore.
Thursday, December 19
I made chicken soup with potatoes and carrots. This is a personal recipe of mine. When one of my boys is sick, I usually make, I guess, Jewish-style chicken soup. But, in this case, all I did was cut up the carrots and potatoes and onions and boiled them together with the chicken.
Lunch was at Emoji Burger. I was just in the mood for a burger. I don't go there regularly, but can I tell you something? It's very unfortunate that my favorite fast-food place, if you will, does not deliver. I have this conversation with them all of the time, but you know, apparently it's not worth it just for me. That place is called Prontito. It's on Forley Street in Elmhurst, and it serves these glorious, huge hot dogs and burgers with all sorts of crazy toppings. It's a Colombian fast-food place, so there's all sorts of sauces, crushed potato chips, and quail eggs, and all other kinds of crazy stuff. And I love it.
I grabbed two birria tacos from Birria-Landia, a food truck on Roosevelt Avenue that I started going to when it opened. Their tacos are dope. It is dangerously close to my home.
When I'm getting tacos in the neighborhood, I like the ones from Quesadilla Sabrosa Taqueria, which is on the northeast of Roosevelt Avenue and 76th Street. I also like the ones from the street vendor at Roosevelt Avenue and Gleane Street, right on the corner of Terraza. I have very strong opinions about food in general: When I left City Hall, the mayor gave me a proclamation, and in the proclamation it says I have very strong opinions about food.
Friday, December 20
Grabbed a buttered bagel (plain, lightly toasted) from a cart on Seventh Avenue somewhere in the West 20s before a meeting. It was a Manhattan day, I was running late, and when in doubt bagel with butter, man.
I do prefer butter over cream cheese. I just love butter. Sometimes I do get bagels with scallion cream cheese and bacon. Scallion cream cheese and bacon is dope.
Needed lunch after the meeting, so I got two hot dogs and a piña colada juice from Chelsea Papaya. Burgers versus hot dogs? This is a very easy question for me to answer. I am a hot-dog person. I don't know, I just like hot dogs. They're convenient, they're easy to carry, they're cheap, and, you know, they're much more frequently found on the street.
I love eating in the street. That is something that is inherently a part of who I am, so much so that actually when I was working at City Hall one of the things that I was in charge of was helping to put together City Hall in Your Borough. This is when the city kind of moves all the day-to-day operations of City Hall to one place in a borough for a week.
We did Queens and, of course, because I am who I am, my co-workers started asking where we should go to eat. So I ended up organizing a crawl for 30 people from City Hall. We started at Jackson Diner, we ate samosas and mango lassis; we then went to Amdo Kitchen to buy momos; from there we went to La Quesadilla Sabrosa to eat tacos; from there we went to the Arepa Lady; from there we went to La Nueva Bakery to eat Uruguayan empanadas; and then a few of us went to Prontito to get fruit salad and ended the night at Terraza. Look, I told people to wear comfy pants.
Had a fundraiser on this night, so someone ordered tacos with a ton of guacamole. They got the tacos from La Nortena in Greenpoint. I prefer Queens tacos. Anything Queens is always better.
Saturday, December 21
I made chocolate-chip pancakes for breakfast. The kids weren't there. I made them for myself. I do like pancakes a lot, but I'm not big on diners. If I have to go to a diner, I'll go to Jahn's My boys love Jahn's. That's usually why I'll go, because they want to.
Warmed up some of that chicken soup I made for breakfast the other day. I boiled some pasta and put in the soup. It was a big pasta, but it was because it was the only one I had. Usually in my soup I like putting in acini di pepe, the little dots. That's my usual. But on this particular occasion I think I ended up putting in rigatoni because that's all I had.
My dinner were these stewed beef ribs I had slow-cooked all day. This isn't the typical sort of dish I make.
Okay, so, first of all, the reason that I love La Boina Roja so much — this is coming full circle — is that the owner also owns the butcher shop next door and is an actual meat distributor. So of course he ends up keeping the best cuts. That's who I buy my meat from, and I buy meat as I make it.
I bought the ribs, and I braised them in wine, a Cabernet. After that I took them out, diced up some onion and garlic, and cooked that in the juice of what was left. Then I put the ribs back in, and added some water, chunks of potatoes, carrots, and corn on the cob.
Sunday, December 22
Two hard-boiled eggs. I ate them plain. Hard-boiled eggs aren't something I make a lot. I eat scrambled eggs the most out of any type of eggs. (But, if I go to a diner I order them poached. I just don't like doing the work.)
Lunch was more of the stewed ribs. They're always better the next day. When I'm cooking these meals, I do think about how the food will taste the next day or a couple of days later. I made the ribs on Saturday, but usually Sundays is when I cook one big thing in my Dutch oven or something. It'll last a few days. Look, I cook because it's very relaxing for me. And, yeah, Sunday is usually a family day and my mom lives — with my little sister — in the building next door to me. So I bring food to her sometimes. But this week I cooked on Saturday.
At night, a bunch of street vendors had this awesome action — you can see it on my Twitter; there's a video of me dancing — so we had an action of "more churros." Well, they want less cops; we all know it should be fewer. It was organized by the Riders Alliance and Jews for Racial and Economic Justice and took place in the station, actually in front of these long-vacant retail spaces that we got the MTA to approve for a pilot program to essentially incubate some of these street vendors.
At the end of the little party, if you will, the street vendors had made some food to share with all of us. It was really good, and we ate it in Diversity Plaza. They made stewed chicken and then yellow rice with vegetables and some churros. It was perfect.
Afterward, I went to meet one of my best friends for ramen and jazz in the Village. We went to Ramen-Ya on West 4th Street. I got the tonkotsu pork ramen! We go listen to jazz very often. Ramen has only been a part of it the last couple of times; it's not part of the tradition. (We have a tradition with a third friend we have now, for a few years, to never miss the Winter Jazzfest.) Then we went to Smalls and Mezzrow to listen to the music.