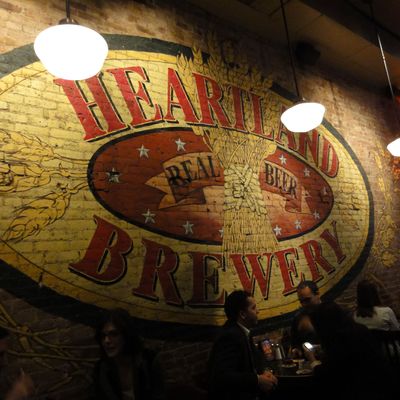 Is this the beginning of the end for the New York-based chain?
Photo: inazakira/Flickr
Rumors are swirling that Heartland Brewery, the local chain of reliable brewpubs where many New York City tourists have huddled for refuge over lagers and burgers, is on its last legs.
The company currently operates three locations under the Heartland Brewery umbrella: Heartland Brewery and Rotisserie in the Empire State Building, plus Heartland Brewery and Chophouse, and HB Burger, both in Times Square.
Now, the company appears set to close the Empire State Building location next month. While Heartland founder and CEO Jon Bloostein did not respond to multiple requests for comment, a Worker Adjustment and Retraining Notification (WARN) filed with New York's Department of Labor — official documentation that's listed when companies close or undergo layoffs — earlier this year lists a closing date of January 15, and the Empire State Building location is no longer listed on the company's official website, although the company is still promoting a $74 per person New Year's Eve special. (Within the New York City real-estate world, rumor has it the company is also looking to close its two remaining Times Square locations early next year.)
The brewpub began serving its lineup of craft beers in 1995, at a location in Union Square that stayed in business for two decades. At one point, the chain reportedly employed more than 600 people, but it has also been hit by setbacks. A rent increase forced Bloostein to close the flagship Union Square location in late 2014, and when Heartland's location inside the Port Authority Bus Terminal closed at the beginning of this year, 53 employees were laid off at the time. When the 450-seat restaurant inside the Empire State Building closes in January, 96 employees will be out of a job, according to the WARN filing. (It's worth noting that Bloostein was also a partner in the freewheeling, chaotic mess that was Guy Fieri's Times Square restaurant, which shut down two years ago after five-and-a-half years in business.)
Aside from Heartland, Bloostein also operates two other brewpubs across the city: Flatiron Hall in midtown and the cavernous Houston Hall in SoHo.
Recently, Bloostein, alongside hundreds of other restaurateurs in the city, has been lobbying local government for economic breaks for the hospitality industry, including the ability to add surcharges to diners' checks to offset the rising costs of wages, food, rent, and just about everything else it takes to run a restaurant in New York City.