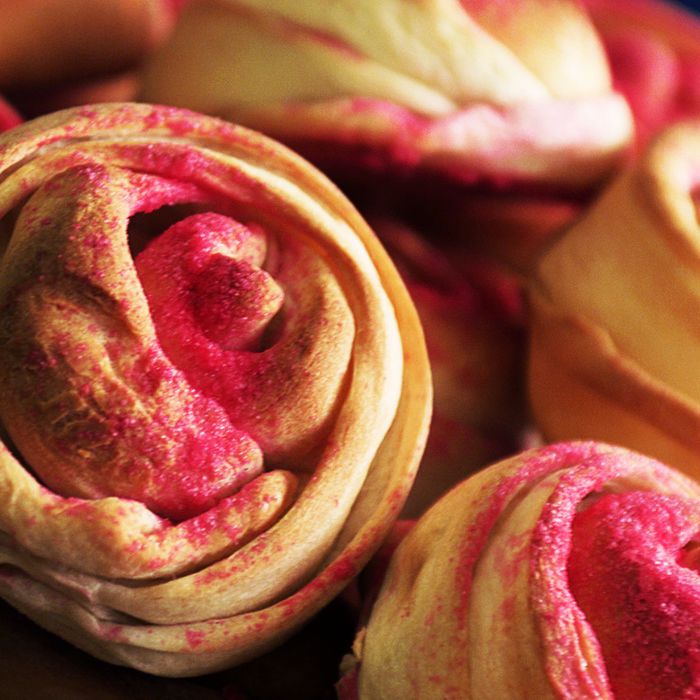 Pan dulce from El Gallo Bakery.
Photo: Annie Wells/Los Angeles Times via Getty Images
In East Los Angeles, three generations of families have been able to share the same pan dulce from the same panadería; El Gallo Bakery has been part of the neighborhood for 70 years. In Boyle Heights, one neighborhood west, La Mascota has filled the bellies of local residents since 1952. As important to the Mexican and Central American culinary traditions as the recipes themselves is the way these sweet breads are typically eaten: at breakfast, with coffee or hot chocolate, shared with your family, preferably with a side of gossip.
Panaderías can be found in almost every Latinx community throughout Los Angeles, a city where Latinx people make up the largest ethnic group, but the prevailing narrative, at least right now, is that Los Angeles is an anti-gluten, carb-fearing city that has only recently, in the words of the New York Times, "become an unlikely bakery and bread haven." Los Angeles is a city where "a low-carb lifestyle has been a staple for decades." We are a town gripped by keto-mania. And yet, stories that cover the emergence of new culinary trends in gentrifying cities without acknowledging the traditions that are already in place do more than just erase these stories from the public narrative. They tell people who are already being displaced that their experience never mattered in the first place.
Cities that undergo sweeping demographic and economic change become two distinct places: the city as it exists in the collective memory of its longtime residents and the new one that's being forged. The image of Los Angeles that has ruled the public imagination for the better part of the past decade — a city that has no discernible features beyond Hollywood, Venice, and health-conscious food havens — is not one I know. The Los Angeles I know is still inextricably connected to its past, and that past is filled with bread.
I grew up in North Hollywood, a neighborhood in the Greater Los Angeles area that, like Boyle Heights, Silver Lake, and Echo Park, has attracted droves of developers looking to build profitable commercial and housing projects in the past few years. The "revitalization" of the NoHo Arts District sector of the neighborhood (combined with its relative affordability) has made it a top choice for the aspiring actors, filmmakers, and musicians whom this city has long lured in with the promise of new beginnings, not to mention high-rise apartments and trendy cafés. The story is deeply familiar to every city dweller paying attention in this country, but this particular enclave is also still majority Latinx, and most of the places I grew up knowing and loving are very much intact.
One of my favorite neighborhood gems is an unassuming panadería called La Flor de Michoacan, which also serves as a carnicería, taquería, and grocery store. It's sandwiched between a liquor store and a family-owned shoe-repair shop and has the tiniest, most inconvenient parking lot. That's fine, I think, because most of its customers still live in the immediate neighborhood. The owners make fresh bread every morning and sell a surprisingly large variety for the store's modest size. It's a running joke in my family not to ever ask my dad to stop by for anything, because he's inevitably going to come home with at least two full bags of pan dulce. And we, of course, would have to oblige.
I have no memories of school potlucks, holidays, church services, or morning family visits that don't include pan dulce in some way or another. If the bread didn't come from La Flor, it probably came from La Colmena, a much larger panadería and local favorite down the street from my old middle school. Or from Panadería El Milagro, which, for me, is inextricably tied to memories of mornings spent at my aunt's house when I was 13, after catechism classes at Mary Immaculate Church. After two impossibly long hours of morning class, my parents would take my brother and me to El Milagro. My mom would carefully select breakfast pastries from the display shelves, always letting me choose two for myself. We'd then show up at my aunt's house with a brown paper bag stuffed full of food, ready to share bread and cafecito and chisme.
For that entire year, Sundays never really felt like they belonged to me, but I still looked forward to the promise of carby goodness.
Conchas, circular sweet breads decorated with a cookie crust shaped for their namesake, seashell, are by far the most popular pan dulce. That tends to perplex some people because, when they're baked incorrectly or left out too long (which they often are), conchas can be excruciatingly dry and bland. But if you know, you know. At their best, conchas melt into a soft, buttery, slightly doughy texture in your mouth. (Imagine eating a cookie that somehow reverts back into cookie dough as you eat it.) My go-to pan dulce at La Flor, however, is one that's bound to be sold out if you arrive any later than 8 a.m. It's a long, toasted birote (or bolillo) stuffed with cream cheese and jalapeños that's then topped with sesame seeds. It's not technically sweet bread, but Mexican and Central American folks will all tell you: It counts. (If I'm in the mood for something sweeter, I usually go for a Salvadoran quesadilla — a moist, rich bread with the density of a thick pound cake.)
My Los Angeles clearly is not some kind of black hole for gluten. Intentional or not, gentrification rewrites the history of cities and the culinary traditions of the people who already live there. (And it's no surprise, or coincidence, whose traditions tend to get buried.) But people who really know a city, and the history that made it what it is, know its food means so much more than any single article could ever capture.