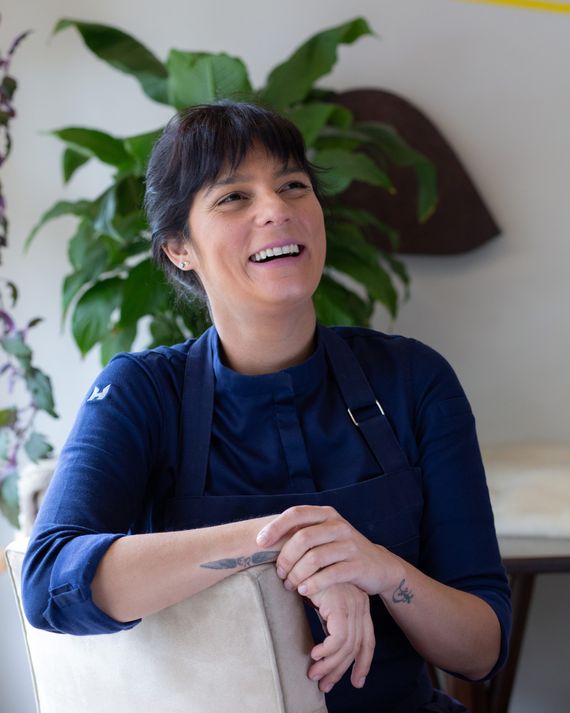 Buffara, at her restaurant Manu, in Brazil.
Photo: Gabriela Portilho
The city of Curitiba, which is a one-hour flight southwest of São Paulo, is the 2 million–strong capital of Paraná state and has a reputation as one of Brazil's greenest, most efficient cities. It is also the home of Manu, the ten-table restaurant run by Manoella Buffara that has, over the last few years, become one of the country's most-talked-about food destinations.
Even by the standards of world-class fine-dining chefs, Buffara is notably committed to local ingredients, manipulated to unlock pure expressions of themselves. Her menus are written as simple lists of ingredients — cauliflower with Brazil-nut milk, mandarin lime, and parsley; pork ribs, pine nuts, and tamarind — that coyly downplay the complexity and beauty of the final bites.
"Manu is a restaurant where I use everything local," the chef, who prefers to go by the name Manu herself, explains. "It connects producers, but it's not the produce that makes Manu. It's my head. It's what I do with the produce."
For people outside of Brazil, even the names of the country's native foods can sound simultaneously enticing and mysterious: tacacá, tucupi, bacuri, licuri, cumaru. And to many of those same people, the chef most closely associated with modern Brazilian cooking is Alex Atala, whose use of native ingredients has often seen him compared to what René Redzepi does in Denmark. "Alex is for Brazil what Paul Bocuse was for France," says Guga Rocha, a Brazilian chef and ambassador for the country's cuisine. "He created a new language, a very media-friendly language, and he promoted us to the world."
Atala, however, focuses on the ingredients of the Amazon, a single region within the vast country. As Rocha explains, "People think that Brazilian food is churrasco. Others think it's something to do with fish, but, really, they have no idea — Brazil is so plural and so rich that there's space for all these perspectives."
"We have products and ingredients that we didn't even know about," explains Bel Coelho, a renowned chef and activist. "We used to import everything — not just the produce itself but ideas. Then we started to create our own identity."
Buffara cites Atala as an inspiration, but her style is all her own, known for its delicacy and her unique ability to use focused technique and fermentation to transform ingredients from the coast, forests, and farms that surround her restaurant. It was maybe a bit surprising, then, when Buffara announced that her second restaurant, to be named Ella, would be located almost 5,000 miles north, in Manhattan's Meatpacking District.
"It's easy," Buffara says, without any noticeable irony, of the commute she faces. Perhaps it is her way of downplaying the significance of the moment, not only for her personally and professionally, but for Brazilian cuisine in America, which for the most part is represented in the U.S. by all-you-can-eat steakhouses and the hearty rice-and-beans cooking of family dinners.
With her thick bangs, Buffara is surprisingly slight in stature for someone who makes such an immediate impression in person. "People ask me where I buy my energy," she says, laughing. Her laugh is gutsy, the laugh of someone who has a strong sense of conviction and no fear to hold her back. "My family has always been like that," she continues. "The women are fighters. My grandmother is 85 now, and she still cooks for everyone in between workouts."
When I meet with her in São Paulo, we speak mainly in Portuguese, but her English is fluent, too, albeit with the twangs and ticks of someone who has worked in Denmark (at Noma), Seattle (Salish Lodge & Spa), Chicago ( Alinea), and a fishing boat in Alaska. I wonder, given her experience, not only how she plans to translate Brazilian food for American diners, but also her ideas about the country. Brazil's international profile, after all, has changed greatly over the last half-decade. It went from being the place of caipirinhas, Carnival, and Gisele Bündchen to a country that makes different kinds of headlines, about rising unemployment, police and gang violence, and the never-ending saga of Brazil's government-corruption scandals. This year, the spotlight has been on rising deforestation, fires smoldering across the Amazon, oil spills seeping into its northeastern coastal food chains, and about record levels of pesticides being approved by Brazil's government; 382 to date this year, roughly a quarter of which contain active ingredients banned by the E.U. (although, it's worth noting, not in the USA).
"It's kind of our fault, because when we take Brazil abroad, we sell brown-girls' asses," Rocha, the chef and culinary ambassador says. "Because it's easy — it's what they expect us to be. But we're much more than that. We're much more than the Amazon."
Ella, which will open on 15th Street next year, will give Buffara a new platform, and she sounds excited by the opportunity. "We need to believe in our power to bring about change," she says. "Food isn't just food — it's about the people who produce it. It's about water. It's about waste." These are common talking points among chefs, of course, but Buffara is as much about action as advocacy, and has made a tangible difference in Curitiba: installing stingless beehives to her restaurant façade to promote a citywide pollination scheme; building a wider supply chain for sustainable produce; encouraging her employees and local residents to reduce waste; and joining a community-allotment project to buy organic produce grown by low-income families, introducing them, in turn, to new varieties of edible plants.
Why, I wonder, have so few chefs attempted to take modern Brazilian cuisine abroad? Is it because its plurality and newness make the concept difficult to package and sell in other countries? Is it even possible to export an ingredient-led cuisine when those ingredients are impossible to find outside of Brazil?
Buffara, for her part, seems as unfazed by these questions as she is by the commute. "I'm going to show that it's possible to do Brazilian cooking with local produce," she says. "It's going to be a remix, just like when bossa nova went to the USA."
Buffara has already pulled together a long list of producers in New York, some that she's found online, and others that chef friends in the USA recommended. On trips to New York this year, she's begun to visit each one. She's met suppliers of organic vegetables and lamb, a wild-duck farmer, someone who sells truffles, and a guy who does dry-aging. Meanwhile, Buffara is busy researching other ways her sourcing can help support sustainable ecosystems in the USA: "However I can involve myself with community projects and public policies, I will for sure."
Compared to the more formal Manu, Ella will be laid-back and much larger, nearly five times the number of seats. Buffara has created a handful of dishes already — barbecued mussels on a plantain tartare with habanero chile; smoked eggplant with coconut and corn bread; a plantain crumble with grated tonka bean and mushroom ice cream — but the lion's share of the menu will be done in situ, in the two months running up to the restaurant opening, when she and her family (while the kids are on school vacation) will uproot to New York, along with five members of her Curitiba team who will move to the city on a permanent basis.
The thought of leaving so much to the last minute for a venture this size starts to make me nervous, but Brazilians are more at ease with a last-minute approach. "Creating a dish is like conceiving a child for me. I can't just grab a pen and paper and start writing it," she says. "I'm going to get there and see what produce I have that season. My creativity comes a lot from the produce, so I need to eat, and I need to understand the ingredient."
And, yes, there will be caipirinhas, of course, but there will also be meditations on Brazilian fruits — infused, centrifuged, and served in the cocktails created by Buffara's friend Márcio Silva, a São Paulo bar star on the rise. The 6,000-square-foot open space will be planned by Marcio Kogan, an architect who has reinvented Brazilian modernity in some of Brazil's smartest hotels and wealthiest homes.
"It's going to be cool because it's a new challenge, and life is made up of challenges," Buffara explains. "I've got my whole life ahead," she adds. "I'm not opening a restaurant to last a year. I'm opening a restaurant to last a lifetime. I want it to be a legacy."